×
remind me tomorrow
remind me next week
never remind me
Subscribe to the ANN Newsletter • Wake up every Sunday to a curated list of ANN's most interesting posts of the week.
read more
News

EGOIST Creates Opening Song for Kabaneri of the Iron Fortress Show From Attack on Titan Animators

posted on by Egan Loo
April anime by
Attack on Titan
studio & director, who gets his own Spring art exhibit
---

The artist group EGOIST is creating a song specifically for the opening theme of Kabaneri of the Iron Fortress (Kōtetsujō no Kabaneri), the April original television anime from Wit Studio (Attack on Titan). The song shares the same English title as the anime.
EGOIST, a group produced by supercell composer ryo, had previously contributed theme songs to the 2011 Noitamina television anime Guilty Crown, the first original anime (not based on an earlier story) by director Tetsuro Araki. Not coincidentally, Araki is also directing Kabaneri of the Iron Fortress. The group also worked on theme songs for the two Psycho-Pass television anime on Noitamina and film. More recently, they contributed the theme songs for all three Project Itoh films — Empire of Corpses, Harmony, and the unreleased Genocidal Organ — produced by Noitamina. Wit Studio animated Empire of Corpses.
The second promotional video for the Kabaneri of the Iron Fortress anime will debut tonight during Fuji TV's Noitamina programming block, and it will preview the theme song. Then, a long version of this video will debut on the anime's official website.
An exhibition of Araki's production materials from Death Note, Highschool of the Dead, Guilty Crown, Attack on Titan, and Kabaneri of the Iron Fortress will run from March 19 to April 17 at the Aqua City Odaiba Mediage venue. In addition, a Kōtetsujō no Kabaneri Joshō (Kabaneri of the Iron Fortress: Preface) film will screen for a limited one-week engagement in theaters, starting on March 18.
The first promotional video and commercial debuted in December:
Promotional video:
Commercial:
The anime reunites director Tetsuro Araki and Wit Studio, the team responsible for Attack on Titan. Code Geass creator Ichiro Okouchi is writing the scripts. Haruhiko Mikimoto (Macross 7, Gunbuster) is designing the original characters and Hiroyuki Sawano (Attack on Titan, Aldnoah.Zero) is composing the music.
The "steampunk survival action" story takes place on the island country Hinomoto, where humans hide themselves in fortresses called stations against the threat of zombie-like beings with steel hearts known as "Kabane." Only armored locomotives known as "Hayajiro" go between the stations.
The cast includes: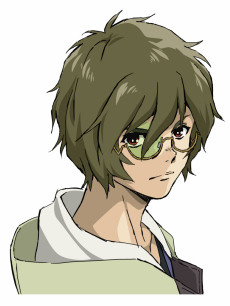 Tasuku Hatanaka
(
Ushio & Tora
's Ushio) as Ikoma, a young steam smith who make a living in Aragane Station making iron and steam engines. He and his good friend Takumi developed a weapon called "Tsuranuki Zutsu" in order to defeat the Kabane. Everyone makes light of him now, but he looks forward to a day when he will be triumphant.



Sayaka Senbongi (Chronicles of the Going Home Club's Claire Kokonoe) as Mumei (Nameless), a mysterious girl who boards the Kōtetsujō and appears at Aragane Station. It seems she gets special treatment from warriors, but her true colors are...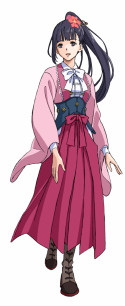 Maaya Uchida (Charlotte's Yusa and Misa) as Ayame, the eldest daughter of the family that governs Aragane Station. She will someday govern in her father's stead, but until now hasn't expressed her opinions clearly.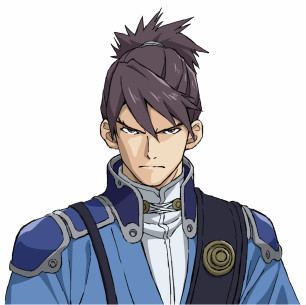 Toshiki Masuda (Samurai Flamenco's Masayoshi Hazama) as Kurusu, a young warrior who serves Ayame's family as her personal bodyguard. Among warriors his sword arm is considerable. He is usually sober and honest, and he maintains his honor as a warrior.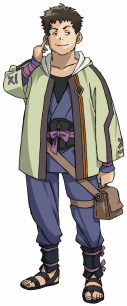 Yuuki Kaji (Attack on Titan's Eren) as Takumi, Ikoma's friend and fellow steam smith. Although he's shocked by Ikoma's rashness, he admires how Ikoma isn't afraid of anyone.





Kanae Oki (Fresh Pretty Cure's Cure Peach) as Kajika, Ikoma and Takumi's friend and fellow steam smith. She has a familial personality.






Mariya Ise (Hunter × Hunter's Killua) as Yukina, a crew member of the Hayajiro "Kōtetsujō," who transports items across Hinomoto. She is a shy but big-sisterly hard worker who loves her job.





Ryota Ohsaka (Snow White with the Red Hair's Zen) as Sukari, a steam smith who lives at Aragane Station. He puts up a cynical front, but has good judgement.





Kensuke Satou (Chaika the Coffin Princess' Nikolai Aftotorr) as Kibito, a warrior who serves Ayame's family. He is understanding and treats people of all social classes without discrimination.
In addition, the website lists Mamoru Miyano as a character named Biba, but no picture or information has been released.
Source: MyNavi
---