News

Final Code Geass: Akito the Exiled Episode Earns 43 Million Yen on 36 Screens

posted on by Egan Loo
---

The fifth and final Code Geass: Akito the Exiled episode opened in 36 theaters in Japan this past weekend. It sold 36,161 tickets for 43,099,100 yen (about US$375,000) to rank #9 on the weekend's box office chart.
The Code Geass: Akito the Exiled series is a spinoff of the original Code Geass: Lelouch of the Rebellion television anime series. Set in between the two seasons of the original series during the Britannian invasion of Europe, Akito the Exiled centers around Akito Hyuga, a member of the "W-0" unit, a suicide outfit of exiled Japanese (Elevens) sent to the battlefield to perform dangerous missions against Britannia, with only a 5% survival rate.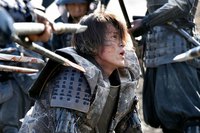 The live-action film of Ayumi Ishii's Nobunaga Concerto historical manga dropped to #2 in its third weekend, after The Martian opened on top. The film is still playing on 324 screens. Star Wars: The Force Awakens dropped to #4 in its eighth weekend. The film has earned over 10 billion yen (about US$82 million) as of Sunday, January 31.

Eiga Yo-kai Watch: Enma Daioh to Itsutsu no Monogatari da Nyan!, the second film in the Yo-kai Watch franchise, Eiga Yo-kai Watch: Enma Daioh to Itsutsu no Monogatari da Nyan!, rose from #7 to #6 in its eighth weekend in 358 theaters

The Shuriken Sentai Ninninger vs. Ressha Sentai ToQGer: The Movie - Ninja in Wonderland film combining the 38th and 39th Super Sentai series fell from #6 to #7 in its third weekend on 318 screens.
The live-action Orange film dropped from #10 off the chart, while the third new Initial D film opened at #12.
Sources: Eiga.com, Movie Walker
---