News

Hiroshi Motomiya Ends Katsu Fūtarō!! Manga in March

posted on by Rafael Antonio Pineda
Manga about Buddhist scholar who shares his teachings with society launched in 2013
---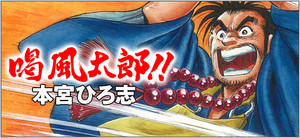 This year's sixth issue of Shueisha's Grand Jump magazine announced on Wednesday that Hiroshi Motomiya will end his Katsu Fūtarō!! manga in the magazine's next issue, which Shueisha will publish on March 3.
The Grand Jump website describes the manga:
Fūtarō is an ascetic Buddhist scholar living in a temple deep in the mountains. Although he studies every day, he is one day filled with the desire to descend the mountain and apply what he's learned to society. So he learns what he can from the common people, and breathes new life into an unfair world. But what truth of Buddhism will Fūtarō find on his thrilling journey?
Motomiya launched the manga in Grand Jump in 2013. Shueisha published the manga's fourth compiled book volume on January 19. Many of Motomiya's manga in his long career have been adapted into anime, including Otoko Ippiki Gaki Daisho, Ore no Sora Keiji Hen, Kumo ni Noru, Koha Ginjiro, Gin no Otoko, Don - Gokudo Suikoden, Otaku no Seiza, and Salaryman Kintaro.
---