News

Gundam Thunderbolt English Dub Trailer Reveals Main Cast

posted on by Karen Ressler
---
The Gundam Global Portal Facebook page began streaming an English-dubbed trailer for the anime of Yasuo Ohtagaki's Mobile Suit Gundam Thunderbolt manga on Friday. The video reveals the main English cast. The video can be viewed here.
The English dub will star: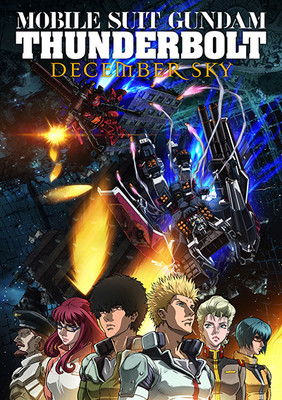 Right Stuf will release an import edition Blu-Ray Disc with both English and Japanese audio tracks on July 2. The bonus content included with the Blu-ray Disc will be the same as the Japanese release, but will not include English subtitles. The Blu-ray Disc will include: a box with an illustration by Hajime Katoki, a special disc that includes the "Those Who Challenge the One Year War ~Documentary of Thunderbolt~" video, a storyboard collection, a 108-page "animation works" book, a specially designed inner jacket, a specially designed sleeve case by Ohtagaki, a 16-page booklet, cast and staff audio commentary, and a promo video and commercial collection.
The first episode became available digitally on December 25, the second episode launched on February 12, and the third episode launched on March 18. Episodes are available via an EST (Electronic Sell Through) service that allows purchasers to download the episode, and it is the first time a Gundam series is available via this method.
The anime will get a director's cut edition that will screen for two weeks in 15 Japanese theaters starting on June 25. The home video releases will have the director's cut.
The story is set in the same One Year War in UC 0079 as the first Mobile Suit Gundam anime series, and it follows the battles between two ace pilots at the "Thunderbolt Sector," a shoal zone with numerous wrecks of space colonies and warships.
Ohtagaki launched the manga in Shogakukan's Big Comic Superior magazine in March 2012, and Shogakukan published the seventh compiled book volume on December 25. The manga has more than 1.6 million copies in print.
---