×
remind me tomorrow
remind me next week
never remind me
Subscribe to the ANN Newsletter • Wake up every Sunday to a curated list of ANN's most interesting posts of the week.
read more
News

Scarlett Johansson, Live-Action Ghost in the Shell Producers Comment on Adaptation

posted on by Karen Ressler
Film's Major will search for her sense of self
---

Media news website Nerdist spoke to actress Scarlett Johansson about the upcoming live-action Ghost in the Shell film and its relation to Masamune Shirow's original manga and the anime. IGN spoke to executive producer Michael Costigan and producer Avi Arad, also on the process of adaptation.
Johansson commented that the movie will not be taking the character right from the source material. "One thing that will be very different, probably, is we're not making the Frank Miller world where those graphic novels come to life. We have kind of the iconic iconography of the manga and stuff, but I think people will be surprised at the gritty kind of realness of this. For a person that doesn't have a heart, it has a lot of heart, I think. The way that we're telling it."
The film will not be adapting just one story — it will draw story elements from Ghost in the Shell: Stand Alone Complex and Ghost in the Shell: Stand Alone Complex 2nd GIG. In particular, according to Arad, the Major's story will be inspired by the episode 'Affection' in Ghost in the Shell: Stand Alone Complex 2nd GIG, and the film will address the Major's sense of self.
"When we first started talking about getting rights for adapting it, the creators went out of their way to suggest that we don't try to adapt one thing," Arad told IGN.
On her character's journey, Johansson said, "I think it's important for the Major to own her…experiences that she's been through and that she didn't really have an active choice in where she is. Instead of kind of fighting that, by accepting that, she becomes a young woman, you know? She goes kind of from being a child-woman to becoming a young woman... It's kind of a loss of innocence that happens, but the gain is really significant."
Both Costigan and Arad were optimistic about making a faithful adaptation. "I feel like such a geek making this movie because we are really bringing it to life so faithfully," Costigan said. "We are bringing things we saw in the anime to the fore in live action so I'm very excited for the fans."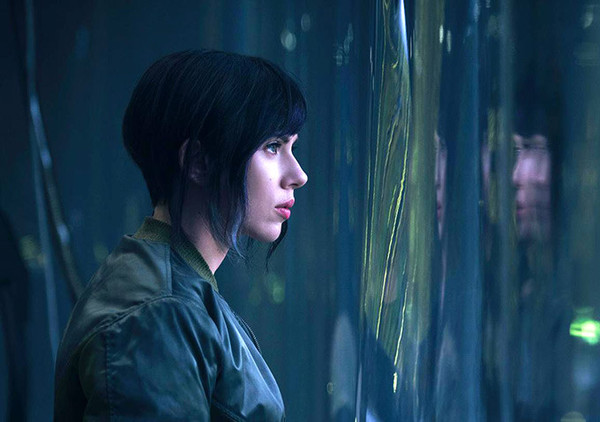 In addition to Johansson, Pilou Asbæk (Lucy) will play Batou. Michael Pitt (Boardwalk Empire) will play the Laughing Man. Director, comedian, and actor Beat Takeshi (also known as Takeshi Kitano) plays the Public Security Section 9 founder and chief Daisuke Aramaki.
French actress Juliette Binoche (2014's Godzilla, The English Patient, Chocolat) will play Dr. Ouelet, and Kaori Momoi (Sukiyaki Western Django, Memoirs of a Geisha, Helter Skelter) and Rila Fukushima (The Wolverine) will also have roles in the film. The actors for the other Section 9 task force members include: Chin Han (Independence Day: Resurgence), Danusia Samal (Tyrant), Lasarus Ratuere (Terra Nova), Yutaka Izumihara (Unbroken), and Tuwanda Manyimo (The Rover).
Rupert Sanders (Snow White and the Huntsman) signed on to direct the film. Jonathan Herman (Straight Outta Compton) reworked the earlier drafts of the script written by William Wheeler (Hoax, The Reluctant Fundamentalist) and Jamie Moss (Street Kings). Weta Workshop and its co-founder Richard Taylor are working on the film. Deadline reported last year that Johansson was offered US$10 million for the lead role.
Additional staff members include cinematographer Jess Hall (The Spectacular Now, editor Neil Smith (Snow White and the Huntsman), production designer Jan Roelfs (Fast & Furious 6), and costume designers Kurt Swanson and Bart Mueller (The Hunger Games: Mockingjay).
DreamWorks and Paramount are co-financing and co-producing the film. Paramount Pictures is the film's new distributor, after DreamWorks ended its distribution deal with Walt Disney Pictures. Principal photography began in Wellington, New Zealand in January.
The anime studio Production I.G pitched the rights for Masamune Shirow's original cyber-police manga on behalf of the manga's publisher Kodansha in 2007, and DreamWorks acquired the live-action film rights in 2008. Ari Arad (Ghost Rider: Spirit of Vengeance), Avi Arad (formerly of Marvel Studios as well as of the Spider-Man and X-Men movie franchises), and Seaside Entertainment's Steven Paul (Ghost Rider: Spirit of Vengeance) are producing. The executive producers include Michael Costigan (Prometheus), Jeffrey Silver (Edge of Tomorrow, 300), Tetsu Fujimura (Tekken), and Production I.G founder and head Mitsuhisa Ishikawa.
---