News

Fall in Love Like a Comic!'s Chitose Yagami Ends Hapikon! Manga

posted on by Anita Tai
Girl accidentally marries two princes in
Ciao
series
---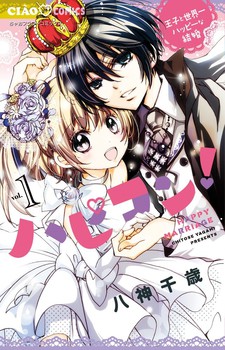 The July issue of Shogakukan's Ciao magazine announced on June 2 that Fall in Love Like a Comic!'s Chitose Yagami will end her Hapikon! ~Ōji to Sekai Ichi Happy-na Kekkon~ ("The Prince and the World's Happiest Marriage" or Happy Marriage) manga in the August issue, which goes on sale on July 3.
The manga revolves around middle-school student Non Honda. Three handsome princes from the Kingdom of Kokona transfer to her school one day and she accidentally touches the chests of two of them. According to the law of their kingdom, she has to marry them now.
Yagami launched the manga in Ciao last August. Shogakukan published the first volume in December last year and the second volume is set for release on June 29.
Yagami's earlier Oresama Kingdom (Kings of My Love) manga was adapted into two anime specials. Viz Media published the two volumes of Fall in Love Like a Comic in North America in 2007 and 2008.
(Note: Yagami's Happy Marriage series is unrelated to Maki Enjōji's Happy Marriage!? manga.)
---