Pop-Punk Rockers ketchup mania to Play SXSW and Japan Nite Tour 2008
January 9, 2008 - Pop-punk rockers ketchup mania will perform at the SXSW Music Festival in March 2008, followed by a set of shows as part of the legendary Japan Nite lineup. They will finish their USA tour by playing at Sakura-Con 2008 in Seattle, WA.
ketchup mania tour dates:
3/14 - SXSW (Japan Nite) - Austin, TX
3/16 - Knitting Factory, New York, NY
3/17 - TT The Bears, Boston, MA
3/18 - Empty Bottle, Chicago, IL
3/19 - TBA, Denver, CO
3/21 - TBA, San Francisco, CA
3/23 - TBA, Los Angeles, CA
3/28-3/30 - Sakura-Con, Seattle, WA
ketchup mania has been red-hot since winning Shojo Beat's "Best Japanese Punk Group" award in the 2007 Music Issue.
In June 2007, ketchup mania partnered with JapanFiles.com to make their debut in America at A-Kon 18 in Dallas, Texas. The band rocked the stage for over 2000 fans, their biggest audience ever. "It was like a dream," said singer Hiro, who couldn't stop smiling after the show. "Meeting our fans in the USA made me so happy!"
ketchup mania returned to Japan for non-stop touring, with songs from their first Toys Factory release " U.R.G.E." and their chart-topping CD "Greetings from Tokyo" dominating the set list.
In August 2007, they released the follow-up CD "L.O.V.E." For their performance at Sakura-Con, the band will play hits including "Namida Vacuum Sound," "Real Yaayo," "Life Size," and tracks from their upcoming third release on the Toys' Factory label.
LINKS
ketchup mania links!
MP3s - www.japanfiles.com/ketchup
MySpace -
www.myspace.com/ketchupmaniajf
Hiro's Blog - www.ketchup-mania.com
Sakura-Con 2008 - www.sakuracon.org
ketchup mania appears at Sakura-Con 2008 by arrangement with JapanFiles.com.
About JAPANFILES.COM:
JapanFiles.com is the only online service that specializes in MP3 sales for Japanese rock artists, with over 250 indie bands reaching their USA fans through our site - rock, hip-hop, punk, and techno! JapanFiles.com is the largest source in the USA for legal downloads of Japanese music and DRM-free. Downloads are only 99 cents each!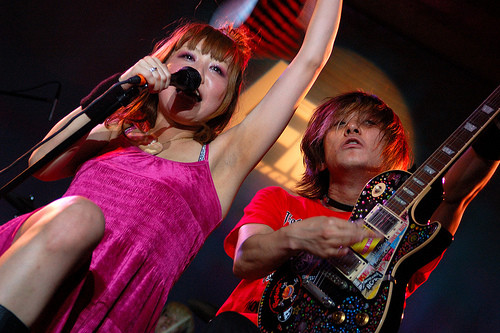 ---