Capcom and Eagle One Media Team Up for Street Fighter Animated Comic DVD Series
Based on the acclaimed Udon Studio Street Fighter® comic book series
September 3, 2008. Eagle One Media is proud to announce it has teamed with CAPCOM® to produce a line of animated comic DVD based on the iconic video game property Street Fighter® for the retail market. This DVD series will utilize the acclaimed Street Fighter® comics published by Udon Studios and be presented as a direct adaptation in the form of an Eagle One Media animated comic production.
An Eagle One Media animated comic production utilizes the actual artwork and story content from a series of published comic books and with the addition of animation, motion-style techniques, character voice-over, music, and special effects, creates a fact-paced, content production that can be watched on any DVD device or made available for download. Each entertaining animated comic production DVD has a run time of 70 to 80 minutes and can be found at your local DVD store or on-line retailer.
The initial Street Fighter animated comic DVD, titled Street Fighter: Round One – FIGHT! will be released on February 3, 2009, in anticipation of the worldwide theatrical release of the live action motion picture Street Fighter: The Legend of Chun Li on February 27.
In the universe of Street Fighter, fighters of every size, shape and color collide in a global battle for supremacy. From every corner of the world, martial artists, boxers, wrestlers and fighters of every conceivable sort perform superhuman acts in their willing (or unwilling) participation in the Street Fighter Tournament-the contest being hosted by M. Bison, the sadistic dictator and leader of the underground Shadaloo criminal organization. Some contestants fight for reasons as diverse as their nationalities...some fight for money, answers, or vengeance, while others fight for reasons completely shrouded in mystery. Street Fighter, the legendary franchise by CAPCOM that revolutionized gaming and entertained players and fans for over a decade with its unforgettable cast of World Warriors, comes to DVD based on the bestselling comic series. A unique DVD series that will carry every pulse-pounding Dragon Punch and bone-crushing Sonic Boom intact, just
like it was meant to be!
Street Fighter: Round One - FIGHT!: Ryu and Ken set out to investigate the murder of their martial arts master. Their search for answers takes them to Japan where M. Bison and his assorted minions including Cammy, Vega, and Sagat keep a close eye on Ryu for reasons unknown. This draws the attention of up and coming Hong Kong Interpol agent Chun-Li and US Special Ops officer Guile who each bears their own personal grudge against the evil Shadaloo syndicate.
About Eagle One Media:
Eagle One Media, Inc. (www.eagleonemedia.com), a multi-media company, produces animated comic DVDs based on well-known, globally recognized, licensed properties for the retail market. It has recently released animated comic DVDs based on the anime classic television series Voltron: Defender of the Universe, the blockbuster sci-fi film The Terminator, and the world-wide popular toy line of the Micronauts. Eagle One Media also releases feature length "family friendly" animation features on DVD for the retail market such as Dragon Blade: The Beginning - the world's first 3D computer animated martial arts feature film from action director Stanley Tong. And Dragon Hill, the GOYA Award (Spain's Academy Award) winning and European hit animation feature film.
For additional information contact Eagle One Media (
[email protected]
).
®Capcom is either a registered trademark or trademark of Capcom Co., Ltd., in the U.S. or other countries. Street Fighter is either a registered trademark or trademark of Capcom U.S.A., Inc. in the U.S. or other countries. All other marks are the property of their respective holders.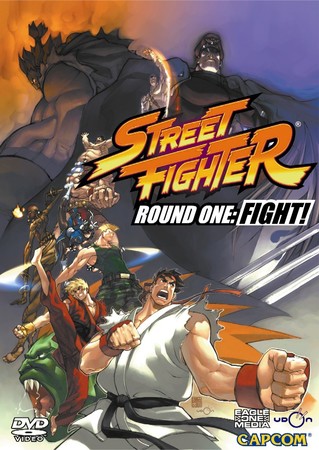 ---