Traditional Japanese Musicians The Yoshida Brothers to Perform at Otakon®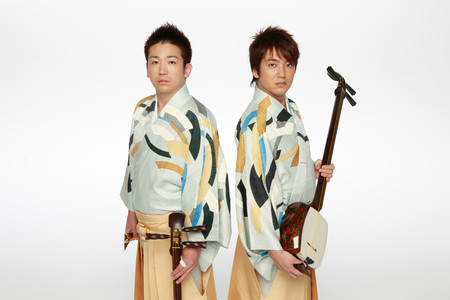 Baltimore, MD (February 3, 2010) – Award-winning global sensations the Yoshida Brothers, whose music builds on traditional Japanese music, will be guests at Otakon 2010. They will perform on Friday night (exact time to be announced later), as well as signing autographs and participating on a panel.
"We've been trying to enhance our cultural content over the last few years," said Jim Vowles, Otakon Guest, Industry, and Press Relations Chief. "It supports our broader educational mission, of course, but the response from our membership has been great. Since we're kind of well known for musical acts, we've wanted to bring in a traditional music act for some time. We actually approached the Yoshida Brothers two years ago, but this is the first time their schedule and ours have meshed well enough to bring them. We're very excited."
The Yoshida Brothers were born in Noboribetsu, Hokkaido. Each picked up the shamisen at the tender age of 5, and began studying Tsugaru shamisen under Takashi Sasaki I in 1990. After sweeping prizes at national Tsugaru shamisen conventions, the brothers made their major debut in 1999. The debut album sold over 100,000 copies, an extraordinary figure for a traditional folk music release.
This album was selected "Traditional Japanese Music Album Of The Year" in the 15th annual Japan Gold Disc Awards, as well as the "30th Anniversary Of Normalization Of Japan-China Diplomatic Relations Commemorative Special Prize."
In 2002, the brothers followed their success with their first national tour, "Live Soul." performing in 30 cities. The following year, they made their U.S. debut with Yoshida Brothers from Domo Records and performed in New York and Los Angeles.
An international release followed in Korea in 2004, where they performed their first concert in Seoul, in addition to a domestic tour that included 28 cities. In the meantime, they released their second U.S. album, Yoshida Brothers II, and went on a U.S. promotional tour, visiting seven cities. It was a year of significant breakthrough, through their participation in other various projects such as an international exchange event in Sweden and a TV commercial in Japan.
In 2005, the brothers recorded an album in Los Angeles, followed by a West Coast tour and a concert in Hawaii. In 2006, they toured the U.S., Spain, and Hong Kong. In Hong Kong they released their very first greatest hits album and marked favorable sales. Domestically, they launched a shamisen-only national tour. And in 2007, their music created buzz in the U.S. as their music was used in the TV commercial for Nintendo's Wii. At the end of that year, the brothers recorded another much-anticipated album in the U.S., which is yet to be released.
Vowles said, "While most of our membership will know the shamisen music from those Nintendo Wii commercials, the Yoshida Brothers are one of Japan's best exports — internationally acclaimed and respected for their skills, and crossing genres to work with some of the hottest acts around. They bring a traditional Japanese sound, but infuse it with a very modern energy."
In 2008, they released Best of Yoshida Brothers and toured in U.S. and Canada. They followed that in 2009 with Prism, for which the brothers collaborated with notable talents, including an inspired cover of "The National Anthem" from Radiohead's Kid A.
As one of the artistic groups whose scope of activities go way beyond traditional Japanese music, the Yoshida Brothers continue to make not only Japan but also U.S., Europe, and Asia their stage.
"We had an incredibly enthusiastic response to Eminence in 2007, which featured a string section playing anime and video game music," Vowles said. "And last year, we had Kanon Wakeshima playing a cello to a packed house. We want to keep showcasing some great music and top-notch performances, and with this year our visual theme is all about music, so it seemed the right time to push the bar — and we know our members are willing to look beyond the J-Rock and Visual Kei spectrum."
Official home page: http://www.domo.com/yoshidabrothers/
MySpace: http://www.myspace.com/yoshidabrothers1
Otakon 2010 will be held July 30 – August 1 at the Baltimore Convention Center in Baltimore, Maryland.
ABOUT OTAKON AND OTAKORP, INC.: Now entering its seventeenth year, Otakon is an annual celebration of Japanese and East Asian popular culture, and also one of the largest gatherings of fans in the United States. Otakon celebrates popular culture as a gateway to deeper understanding of Asian culture, and has grown along with the enthusiasm for anime, manga, video games, and music from the Far East. Since 1999, Otakon has been held in Baltimore, Maryland; currently, Otakon is one of Baltimore's few large, city-wide events, drawing over 25,000 individual members for three days each year (for a paid attendance of over 70,000 "turnstile" attendees). Otakon is a membership-based convention sponsored by Otakorp, Inc., a Pennsylvania-based, 501(c)3 educational non-profit whose mission is to promote the appreciation of Asian culture, primarily through its media and entertainment. Otakorp, Inc. is directed by an all-volunteer, unpaid staff – we are run by fans, for fans.
For more information about Otakorp, Inc., see http://www.otakon.com/otakorp/index.asp
For more information and the latest news on Otakon 2010, see http://www.otakon.com/
---