Lazaro Bellido Wins Yu-Gi-Oh! Championship Series in Toronto
EL SEGUNDO, Calif. – (September 7, 2010) –
Playing to a raucous crowd inside Mississauga's International Centre, near Toronto, Lazaro Bellido rose above the rest to win the most recent stop in Konami Digital Entertainment, Inc.'s (Konami) Yu-Gi-Oh! Championship Series (YCS) for the global trading card game powerhouse.
Bellido took on the challenge of a new tournament season and a new format, in the first major competition held since the latest Forbidden & Limited Cards List was enacted on September 1. Bellido assembled an X-Sabers Deck that dominated in a competition defined by creative strategy and inspired tactics. Nearly 500 enthusiastic players clashed during the two-day YCS, held near Canada's financial and cultural centre of Toronto.
Bellido, a Mississauga, Ontario native, squared off against Roy St. Clair from Charlottesville, VA for the title, with their friends and peers cheering during the much anticipated finals matchup. Bellido and St. Clair both played X-Sabers Decks with success throughout the weekend.
Bellido earned a monster prize package that included such items as a set of Ultra Rare YCS Prize Cards, an exclusive YCS Game Mat, a netbook computer, a paid trip to their country's 2011 World Championship Qualifier, and more!
For more information on Konami, the Yu-Gi-Oh! TRADING CARD GAME or the Yu-Gi-Oh! Championship Series, please visit
www.yugioh-card.com
.
About The Yu-Gi-Oh! TCG
The Yu-Gi-Oh! TRADING CARD GAME is the #1 trading card game in the world with over 22 billion cards sold. It is a game of strategy, where players create individual Decks of cards collected from Structure Decks and Booster Packs. Two players engage in a Duel while using cards that represent powerful monsters, magical Spells and surprising Traps. Duelists with well-constructed Decks, dominating monsters, solid strategy and good fortune are the victors in the Yu-Gi-Oh! TCG. Konami Digital Entertainment, Inc. is the exclusive licensee and rights holder to the Yu-Gi-Oh! TCG in North America and Latin America.
About KONAMI
KONAMI is a leading developer, publisher and manufacturer of electronic entertainment properties and traditional trading card games. KONAMI's software titles include the popular franchises Metal Gear Solid, Silent Hill, DanceDanceRevolution and Castlevania, among other top sellers. KONAMI is also the manufacturer of the wildly popular Yu-Gi-Oh! TRADING CARD GAME, which has sold more than 22 billion cards worldwide. The latest information about KONAMI can be found on the Web at
www.konami.com
. KONAMI CORPORATION is a publicly traded company based in Tokyo, Japan with subsidiary offices, Konami Digital Entertainment Co., Ltd. in Tokyo, Japan, Konami Digital Entertainment, Inc. in the United States and Konami Digital Entertainment GmbH in Frankfurt, Germany. KONAMI CORPORATION is traded in the United States on the New York Stock Exchange under the ticker symbol KNM. Details of the products published by KONAMI can be found at
www.konami.com
.
KONAMI is a registered trademark of KONAMI CORPORATION.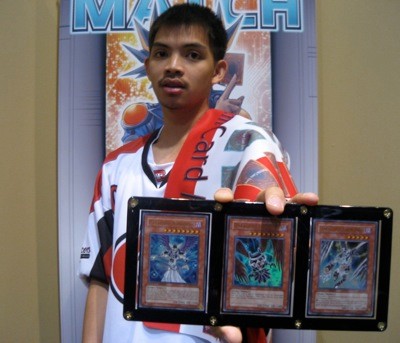 ---