Tune in Tokyo Presents Otsukare-Sama Royal/T Grand Finale Event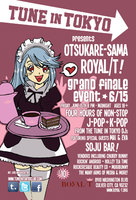 LOS ANGELES, CA (May 10th, 2012)
— Tune in Tokyo presents OTSUKARE-SAMA ROYAL/T!, our Grand Finale Event at the Akihabara-inspired Maid Cafe, Shop and Artspace on Friday, June 15th! As Royal/T prepares to close its doors later this summer, we want to invite all our friends back for one last big party, celebrating the amazing maid cafe that's been a centerpiece of the Japanese fashion community and J-Pop scene over the last five years.
"Otsukare-sama" means "job well done" in Japanese, and we want to show our appreciation to Royal/T for its many years of memorable events, and the lasting impression its made on art and fashion in Los Angeles.
We'll be welcoming vendors Chubby Bunny, Rockin' Android Games, MugiBunny, Holley Tea Time, Rockeresque Beauty Company, The Many Arms of Misha, and more!
We will also have a Soju Bar in the club room, serving $5 J-Pop + K-Pop themed cocktails all night!
Tune in Tokyo DJs Greg Hignight, Tora, Del and Ally will keep the dance floor moving with a non-stop video mix of the best in J-Pop and K-Pop, featuring special guest dancers Mai and Eva!
Royal/T's maid cafe will be open until 10:30 PM, serving High Tea and tasty Asian-Fusion cuisine!
Admission is $10, all ages admitted. The event runs from 8 PM - 12 AM.
This is your last chance to join the party at Royal/T, LA's one-and-only Akihabara-style Maid Cafe! Tune in Tokyo would like to invite all of our friends to take part is this memorable tribute on Friday, June 15th! All Japanese fashion styles are encouraged! Together, let's say "OTSUKARE-SAMA, ROYAL/T!" in style!
Vendors:
Chubby Bunny
www.facebook.com/ChubbyBunnyAccessories



Rockeresque Beauty Company

www.facebook.com/rockeresque
Rockin' Android, Inc.
www.rockinandroid.com
MugiBunny
www.facebook.com/MugiBunnyDesigns
The Many Arms of Misha
www.misha-art.com
Holley Tea Time
www.facebook.com/HolleyTeaTime
ShibuyaLA
www.facebook.com/la.shibuyala
Additional Vendors To Be Announced.
About Tune In Tokyo
Tune in Tokyo has been spinning J-Pop, K-Pop, and International Club beats since 2008, bringing the sound of modern Asian dance pop to clubs and special events throughout Los Angeles. This five member DJ unit, featuring co-founders Greg Hignight and Del Martin, and DJs Tora, Ally, and Leett, hosts monthly events at Royal/T Maid Cafe, Shop, & Artspace, and 2nd Street Jazz in Little Tokyo, and have also presented an array of live performances featuring musicians from the United States and Japan. Tune in Tokyo presents the best in Asian and global dance pop, weaving together cutting edge electro, dance rock, and Indie with the bold Japanese street fashion scene to create a unique club experience. For more information, visit
www.tuneintokyoclub.com
or
tuneintokyoclub.tumblr.com/
.
About Royal/T
Located in Culver City, Royal/T is a playful blending of café, concept shop, and art exhibition space. The 10,000-square-foot space reflects the interior realm of fantasy that strongly influences the artist's included in Owner Susan Hancock's art collection. Royal/T's café is inspired by the meido kissa (maid café) phenomena of Akihabara, Tokyo's electronic district. Re-contextualizing the underground culture of Japan that celebrates "cosplay" (costume play), waitresses dress in maid uniforms with a Lolita-esque touch, while serving an amalgam of French and Japanese cuisine with local California style. The art space showcases curated exhibitions with a focus on Japanese contemporary art; and an inventive concept store emulates the collection's sophistication, a seamless merging of Japanese pop culture and high-end design. Royal/T is open for breakfast, lunch, and dinner daily. The Royal/T café is open from 10 a.m. – 5 p.m. daily. The concept store and space are open from 10 a.m. – 6 p.m. daily. Walk-ins are welcome. For additional information, guests can call Royal/T at 310.559.6300 and visit
www.royal-t.org
. Royal/T is also on Facebook and Twitter.
---