Street Fighter Animated Comic Productions Now Available on iTunes and North American Cable Video-On-Demand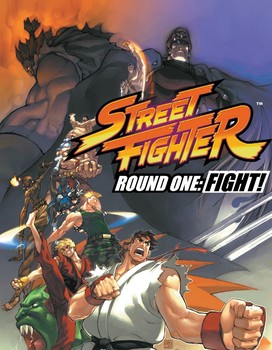 June 12, 2013. Eagle One Media is proud to annnounce their animation-style features Street Fighter: Round One – FIGHT! and Street Fighter: The New Challengers, based on CAPCOM's worldwide popular video gaming franchise and UDON comic series, have now been made available on itunes and North American cable video-on-demand systems.
Both features are each available on itunes for rental ($3.99) or purchase ($9.99) in over 25 countries including: United States, Canada, Australia, Bulgaria, Canada, Cyprus, Czech Republic, Denmark, Estonia, Finland, Greece, Hungary, Ireland, Latvia, Lithuania, Malta, Netherlands, New Zealand, Norway, Poland, Romania, Slovakia, Slovenia, Sweden, U.K.
Both features are also available in millions of North American homes as video-on-demand ($4.99) on cable systems Comcast/xfinity, Cox, Verizon, Frontier, Cablevision, and Dish Online.
Street Fighter: Round One – FIGHT!
Ryu and Ken find themselves setting out to investigate the murder of their martial arts master. Their search for answers takes them to Japan where M. Bison and his assorted minions including Cammy, Vega, and Sagat keep a close eye on Ryu for reasons unknown. This draws the attention of up and coming Hong Kong Interpol agent Chun-Li and Special Ops officer Guile who each bear their own personal grudge against the evil Shadaloo syndicate.
Street Fighter: The New Challengers:
The epic
Street Fighter
saga continues as Ryu begins his journey around the world, Cammy's quest to discover her past takes a number of unexpected turns, Chun-Li's investigation into Shadaloo takes her from the depths of the Hong Kong underworld to the jungles of Brazil, and Ken must contend with a vengeful Vega who wants nothing but to turn Ken's wedding shower into a bloodbath. Many familiar faces from the Street Fighter universe return including US Special OPs Guile and the spunky and determined schoolgirl Sakura, while fan-favorites such as Fei-Long, Gen, Balrog, and Blanka, make their debut.
About Eagle One Media:
Eagle One Media is a multi-media company that acquires, represents, and distributes feature films for the global market along all media platforms. The company is also a producer of animated motion comic features based on popular worldwide properties such as Capcom's Street Fighter video game franchise and involved in the production of live action feature films such as Zombie Apocalypse: Redemption featuring legendary actor Fred 'The Hammer' Williamson.
About CAPCOM:
Capcom is a leading worldwide developer, publisher and distributor of interactive entertainment for game consoles, PCs, handheld and wireless devices. Founded in 1983, the company has created hundreds of games, including best-selling franchises Resident Evil®, Street Fighter®, Mega Man® and Devil May Cry®. Capcom maintains operations in the U.S., U.K., France, Germany, Tokyo, Hong Kong and Korea, with corporate headquarters located in Osaka, Japan. More information about Capcom and its products can be found at www.capcom.com or www.capcom-unity.com.
---
©CAPCOM. Licensed for use by Eagle One Media. Street Fighter is either a registered trademark or trademark of Capcom U.S.A., Inc. in the U.S. or other countries. All other marks are the property of their respective holders.
---