×
remind me tomorrow
remind me next week
never remind me
Subscribe to the ANN Newsletter • Wake up every Sunday to a curated list of ANN's most interesting posts of the week.
read more
RIGHT TURN ONLY!!
Last Ninja Standing
by Carlo Santos,


With the North American convention season heating up, it's time once again to play everyone's favorite geek guessing game: License Announcements! Will anyone ever pick up the Gantz manga or Yokohama Shopping Trip? Have we finally run out of yaoi to print? And will ADV Manga ever work in this business again?
What titles are
you
hoping to see licensed this year?
---
BASILISK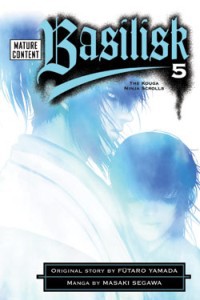 Vol. 5
(by Futaro Yamada and Masaki Segawa, Del Rey, $13.95)
FROM THE BACK COVER:
"With only three ninja remaining on each side, the battle between the Iga and the Kouga clans is nearing its bloody end. Believing he has slain Yakushiji Tenzen, shape-shifter Saemon Kisaragi morphs into Tenzen's body and infiltrates Iga territory. But what Saemon doesn't know is that Tenzen is an immortal ninja and has a plan to dispose of Saemon and the Kouga clan.
Meanwhile, Oboro, leader of the Iga clan, has sworn that she will die rather than fight her lover, Gennosuke. Every death brings these two star-crossed lovers closer to confronting each other on the battlefield at last!"
EVIDENCE FOR:
We all knew it was coming: the last volume of Basilisk is finally here! With just three characters left on each side, this once-bloated tournament has now slimmed down into a heart-pounding race against time. Even with so few combatants, it's hard to guess who's going to die next—how do you kill an unkillable man like Tenzen? If the Kouga clan can ever figure it out, well, you can be guaranteed that there's plenty of blood and guts involved. The battle scenes may not feature the wild superpowers of earlier volumes, but there are still plenty of creative ways to kill and be killed out there. But what of Gennosuke and Oboro's romance? Believe it or not, but for the first time in the entire series, it finally feels like they truly loved each other. Whether it's action or emotion, the spacious layouts on each page give plenty of room for the moody artwork to stand out, and it's truly like being transported to an alternate historical world. Sadly, the end of the series means it's time to leave this world, but it's one that few will ever forget.
EVIDENCE AGAINST:
Basilisk may be over, but the finale is hardly the action-adventure spectacular that some would make it out to be. For starters, there's about 50 pages wasted throughout the book on scenes of people talking and planning and trying to outthink each other. The entire subplot with evil godmother Ofuku, for example, is just pointless political waffle (come on, we just want to see badass ninjas kill each other). Even the battle scenes come up short, with some plot points being completely telegraphed: when a mysterious stranger comes up to Saemon-in-disguise, who do you think it is? Two guesses and the first one doesn't count! Even Gennosuke and Oboro's ending is completely predictable, touching as it might be. Guessing who dies next isn't that much fun if it's already been given away half-a-chapter in advance. The artwork has its shortcomings too; most of the action happens at night so everything gets washed out in shades of murky gray. Let's face it: all the good stuff in Basilisk already happened in the earlier volumes, and this one is just left to mop up the loose ends.
FINAL VERDICT:
The ending does meet expectations ... but it fails to do anything more than that. The excitement runs out before the story does, so mark it down with a
C+
.
---
BRAVE STORY


Vol. 1
(by Miyuki Miyabe and Yoichiro Ono, Tokyopop, $9.99)
FROM THE BACK COVER:
"Life couldn't be more average for junior high school student Wataru, whose only real skill is playing video games. But that all changes in the blink of an eye when a mysterious transfer student comes to his school and drags him into a land of magic and monsters. Now, Wataru must face challenges he could not imagine in even his wildest dreams!"
EVIDENCE FOR:
Wow, could the summary for this series sound any more generic? Please don't judge this book by its front and back covers, as it contains a surprisingly rich story that's as much about school and family as it is about might and magic. Where other tales might fly off into fantasyland, this one stays grounded by giving Wataru real-life problems to deal with. Who's got time for battling monsters when your dad just walked out on your family? Rival character Ashikawa has his complexities as well; it's hard to see him as just some mean, irritating guy once his troubled past is revealed. It turns out the boy's got a serious reason to fight, after all. When the series shifts into fantasy mode, the artwork goes all out, with detailed landscapes and creatively designed monsters—check out the headless "spiral wolves". The visuals don't lose any of their effectiveness in the real world, either, where strong facial expressions carry the emotional depth of a true family crisis. Everyone wants to be a sword-wielding hero, of course, but perhaps the real triumph of the spirit comes from challenges we face in our everyday lives.
EVIDENCE AGAINST:
There's a good reason why the story description sounds ugly and generic: because for the first few chapters, it is. The opening plotline is a remarkably bland rendition of the "young hero sucked into alternate world" formula, and it's easy to mistake this at first for some kind of lame-duck Rayearth/Twelve Kingdoms clone. The setup might be a good hook for younger readers, but veterans and critics of the fantasy genre will probably find it more like a barrier to entry. And even once past the barrier, the story still trips up with inappropriate comedy moments that shift the tone the wrong way. Please, let's stick to straight-up adventure and coming-of-age, because slapstick gags and quips just don't work in this kind of world. Here's what else doesn't work: the character designs, which are strangely stocky and stiff. While the level of detail is admirable, it's no excuse for off-kilter body proportions and awkward action poses—a problem that can only get worse as the kids get deeper into the adventure.
FINAL VERDICT:
So maybe it's not perfect—but how many times have you seen a fantasy hero who also has to deal with personal and domestic problems? That's the kind of forward thinking that nets a
B+
.
---
THE GENTLEMEN'S ALLIANCE†


Vol. 2
(by Arina Tanemura, Viz Media, $8.99)
FROM THE BACK COVER:
"In return for a business loan of 50 million yen, the prestigious Kamiya family gave their daughter Haine away to the Otomiya family. Haine, now an Otomiya, is appointed to the student council of the aristocracy. Even though Haine is of proper lineage to be on the council, she finds herself struggling to find her place among the many secrets of its elite members, especially of the president who holds her heart—Shizumasa Togu, aka 'the Emperor.'
Haine has been introduced to the entire academy as 'Platinum,' the title granted to Shizumasa's (albeit fake) girlfriend. Haine must now adapt to her newfound popularity among the students, as well as get along with the jealous Maguri—the boy Shizumasa jilted in favor of her!"
EVIDENCE FOR:
If there's one thing that makes The Gentlemen's Alliance so gripping, it's the intense emotional challenges that these characters face. Haine and Shizumasa are both plagued with issues of self-worth (and worthlessness), and the "love" between them is more of a mind game than a wishful ideal. The last chapter digs especially deep, with its harrowing account of Haine's childhood—rejected by her family, turning to life on the streets—and even the hardest heart will feel a twinge of pity for this poor girl. Such severe melodrama is still balanced out by a gentle sense of humor, though, with enough cute little chibis and cheeky remarks to know that not everything in Haine's life is dead serious. (And you just have to laugh at a manga that can poke fun at the BL and fujoshi subculture.) Confident lines and character designs show another step forward in Arina Tanemura's artistic technique, and the florid backgrounds capture the distinctive feel of a high-class school. It's a place you'll want to go to, and a place you'll want to stay, to see how this emotional merry-go-round pans out.
EVIDENCE AGAINST:
Heartfelt emotions and personal adversity don't mean a thing if the plot doesn't flow smoothly—and sadly, this one is all over the place. Events and revelations seem to come out of nowhere, like the bizarre truth about Maora, and the real situation surrounding Shizumasa. There's a difference between genuine plot twists and random surprises being shoved in for the hell of it, and this series relies too much on the random surprise effect. "Surprise! I'm actually a ****!!" says Character X. No, it doesn't work that way. Sloppy layout also hurts the flow of the story, with dialogue bubbles and panels just thrown around haphazardly, making it hard to follow individual scenes and transitions between scenes. Also playing havoc on the eyes is the rampant screentone madness that fills every page: look, I enjoy a patterned background as much as the next reader, but slap them all together at once and it looks more like a kidnapper's ransom note made out of manga parts. But what do I know? Maybe I'll just wait for the super ultra Arinacchi fan club to jump down my throat at my reviews like they always do.
FINAL VERDICT:
Conflicted characters and swirling emotions are a surefire heart-tugging experience, but the shaky storytelling makes it hard to stay focused—so call it a
C
.
---
KING OF THORN


Vol. 1
(by Yuji Iwahara, Tokyopop, $9.99)
FROM THE BACK COVER:
"Kasumi and her sister, Shizuku, were infected with the Medusa virus, which slowly turns the victim to stone—and there is no cure! Hope for salvation rests in Kasumi and a select few who are put into a cryogenically frozen state until a cure is found. But Shizuku is left behind, and in the not-too-distant future, Kasumi awakens to find herself in an unfamiliar world with terrifying beings roaming the terrain.
Resolving to unlock the mysteries of the disease and the fate of her twin sister, Kasumi struggles to survive in this treacherous world!"
EVIDENCE FOR:
As a certain future-dwelling delivery boy will tell you, cryogenic stasis leads to nothing but trouble. This time it sets the stage for a high-intensity survival scenario, something like 28 Days Later minus zombies plus dinosaurs (Dinosaurs! YEAH!). It's edge-of-the-seat action all the way, traversing a wide range of settings as the survivors dash from one peril to the next. One moment they're trying to flee a ruined castle, then fighting it out on a sea cliff, and finally trying to make some sense of the world while camped out in an industrial cubbyhole. The spirit of exploration is there, but driven mostly by fear and tension. A varied cast of characters adds the human angle to this scenario, with mostly adults leading the way (I know, it's a freaking miracle whenever a manga consists of something other than teenagers) and arguing fervently about how to survive. It's the kind of chaos and panic that makes this story feel so disturbingly ... real. Also adding to the realism is a bold-lined visual style full of textures and hatching: rocks look like rocks, metal looks like metal, and water splashes about like water. With the environment so clearly defined, this is one dread-filled survival experience that's almost like being there.
EVIDENCE AGAINST:
Strip away the fancy setting and all you get is an ordinary run-through of yet another post-apocalyptic scenario. Surely we've seen this one hundreds of times before: a world in ruins, vicious monsters, and of course, a mysterious evil person who shows up late in the volume. Even the characters, for all their variety, are just the same old stereotypes who always get thrown together in times of crisis. Kasumi provides the naïve viewpoint, and around her we have a morally questionable tough guy, a grizzled politician, a military man, a brainy thinker, and a mother and child. What, did they forget the horny teenage couple? The bold art style, which seems so striking at first, actually backfires when it comes to action scenes, as speedlines and debris and loose body parts only serve to obscure what's going on. Yes, those monster attacks look cool—but who exactly is fighting what, can you say? Ultimately, this is a series that's only worth it for the thrills and the tension, and the actual themes and ideas get lost in all the running and screaming.
FINAL VERDICT:
What's wrong with thrills and tension? If you're in the right mood for some action and a visually impressive world, this one is surely worth a
B
.
---
MY HEAVENLY HOCKEY CLUB


Vol. 1
(by Ai Morinaga, Del Rey, $10.95)
FROM THE BACK COVER:
"Hana Suzuki loves only two things in life: eating and sleeping. So when handsome classmate Izumi Oda asks Hana—his major crush—to join the school hockey club, persuading her proves a difficult task. True, the Grand Hockey Club is full of boys—and all the boys are super-cute—but given a choice, Hana prefers a sizzling steak to a hot date. Then Izumi mentions the field trips to fancy resorts. Now Hana can't wait for the first away game, with its promise of delicious food and luxurious linens. Of course there's also the getting up early, working hard, and playing well with others. How will Hana survive?"
EVIDENCE FOR:
Sometimes, failing to meet expectations can be a good thing. Take My Heavenly Hockey Club, for example, where the school team keeps planning to play a game of field hockey, but then they never do. Instead, the entire sports genre gets turned on its head as the main character turns out to be a narcoleptic slacker, the team captain is a loopy spendthrift, and team goes around sampling regional delicacies around Japan because all their games are away games. Oddball humor comes in many forms throughout this volume, from snappy one-liners to funny faces to absurd situations—and oh, what situations they are. The trip to Karuizawa sees Hana bathing with a monkey and sleeping with a bear, which is every bit as literal and bizarre as it sounds, proving that anything involving exotic animals is inherently funny. A solid sense of layout helps with the comic timing as well; every punchline arrives right when you want it to, with a wacky mugshot or pratfall to set off another round of the giggles on each page. Attractive and memorable character designs also make this a nice series to look at—you've got a cast of hot guys with distinctive personalities, which is always a plus, and even Hana is pretty cute as a girl-next-door type. So come for the sports, and stay for the comedy.
EVIDENCE AGAINST:
After Ouran High School Host Club, all other male harems are automatically inferior. This is especially evident when you can deconstruct a series and spot the obvious ripoffs: the prince, the brain, the girly-boy, the twins. Yes, they're funny, but at the same time, they're predictable. Even the individual chapters take preplanned routes when exploring Hana and Izumi's budding relationship: he does something stupid, she gets mad at him, he does something sweet, and then she changes her mind. The only thing that varies is the degree of absurdity: pigging out on train-station bento, or fighting a wild bear, take your pick. The central gag of the series is going to get tired pretty quickly, too—yes, we know they're supposed to schedule hockey games but never play any, but add that up over several chapters and it's going to get very irritating. Please, just send them on a scrimmage match or something—otherwise this is just a bishounen harem series disguised as a sports manga where the sport never actually happens.
FINAL VERDICT:
Yeah, it'll probably get dumb and repetitive quickly—but the crazy characters and sharp sense of humor are still fresh in this first volume, which easily scores a
B
.
---

OOKIKU FURIKABUTTE


Vol. 1
(by Asa Higuchi, Kodansha, ¥514)
FROM THE ENCYCLOPEDIA:
"Mihashi moves on to high school convinced he is a lousy baseball pitcher. There he meets the catcher Abe and the team manager Momoe who together work to make Mihashi and the team shine."
EVIDENCE FOR:
Are you ready for some baseball?! Mihashi sure isn't, but that's what makes him fascinating, as a reluctant-genius type taken to the extreme. His middle-school experience has convinced him that he's no good—surely a far cry from the typical "I've gotta get stronger!" sports hero—and this inner conflict is what makes the series more interesting than most other baseball stories (although it's probably evenly matched with Adachi's works). Nowhere is Mihashi's personal struggle more deeply felt than in conversations with his catcher, who must play every psychological game possible to give Mihashi the confidence he needs. Right before he faces his old school, Mihashi goes through a character-building moment with Abe that is as tense and heart-pounding as anything that happens on the field, and with every word of encouragement he hears from a teammate, you can practically see him getting stronger. Of course, what happens on the field is awesome in its own way, with eye-popping action scenes that stretch the layouts magnificently, and a fluid inking style that makes the characters look loose and lively while still completely under the artist's control. In the end, Ookiku Furikabutte succeeds because it breaks through all those high school championship fantasies and reveals a universal truth about sports: that the game as much mental as it is physical.
EVIDENCE AGAINST:
First off, a word of warning: if Shinji Ikari types irritate you, then tread around this series carefully, as Mihashi is one of the most insufferable crybabies in recent manga and anime history. A memorable character, sure, but perhaps not in the way we'd like to remember him. His introduction into the story is also not the smoothest; Chapter 1 (a rambling 60 pages) sputters from scene to scene as it tries to set the stage. The pacing and flow don't settle down until about the middle of the volume, and even then it becomes a drag as the team goes through some training exercises and introduces the other players by name and personality. Supporting casts are good and all, but these pages could have been better spent expanding on Mihashi's character and making him look like less of a whiny-boy stereotype. Baseball newbies should also be advised that this series presumes a certain level of knowledge, so you can't just jump in like with Hikaru no Go or Eyeshield 21. It's still possible to enjoy it as a coming-of-age tale, but technical talk like forkballs and "floating straights" are strictly fanservice for the diamond geeks and stat freaks.
FINAL VERDICT:
Although it might take a serious baseball fan to understand Mihashi's pitching genius, any manga fan can understand Higuchi's storytelling genius, which takes a classic formula and fills it with liveliness and heart.
---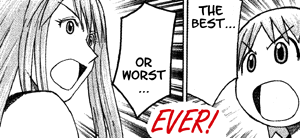 Oh no, not another one! Let's lay off the negative waves this week and give praise to one of the most ridiculous, hilarious,
Best Manga I've Ever Read
:
CROMARTIE HIGH SCHOOL

(by Eiji Nonaka, ADV Manga, $10.99 each)
Although it may not seem like it, comedy means a lot to me. I wouldn't love cartoons and comics as much as I do if they hadn't made me laugh as a child, and even today, if I really want to be
entertained
, I'll take a raucous thigh-slapper over some dramatic and artistic work. But comedy is also a genre that's very hard to get right, so when something like Cromartie High School comes along, it's like discovering the one thing that makes your life complete.
The story (if there is a story) is simple enough—Takashi Kamiyama is a normal guy who, by some freak accident of the placement exams, ends up attending a school full of delinquents and punks. But these punks are so dumb, and Kamiyama so rational, and the characters so ridiculous (a gorilla? A robot? Freddie Mercury?) that every single chapter in the series is a guaranteed laugh riot. Seriously, every chapter. There's no risk of falling into dull, serious story arcs EVER because the story is always secondary to the pursuit of pure nonsense humor. And what nonsense it is—you've got thugs trying to overcome motion sickness, a gang that wears face paint in the style KISS, guys trying to figure out the name of a song stuck in their heads, and tons of other things that I've forgotten but will immediately cause me to crack up as soon as I remember them. Even Eiji Nonaka's limited artistic ability works in his favor—the only thing he can draw is rough-looking bad dudes, so when these bad dudes start doing decidedly non-bad-dudely things, the sheer incongruity is priceless. In the hard-knock school of comedy, Cromartie is the kingpin.
---
discuss this in the forum (36 posts)
|