×
remind me tomorrow
remind me next week
never remind me
Subscribe to the ANN Newsletter • Wake up every Sunday to a curated list of ANN's most interesting posts of the week.
read more
Tankobon Tower
Procrastination is a State of Mind
by Allen Divers,
I love chaos. It tends to show up in my life when I least expect it. In case you're wondering, this is my attempt at an excuse for why this column hasn't appeared in over a month. Well, don't despair: I'm back with another selection of recent and upcoming manga releases for you to consider. Why waste time? Let's get right into it!
---
Buy it!

Naruto Vol 1
Released by VIZ
Story & Art by Masashi Kishimoto
$7.95 U.S.

Ah, the way of the ninja, probably one of the most easily recognized character types to come out of Japan. What boy didn't run around his backyard with a towel or shirt around his head, chasing down his friends. Strangely enough, Naruto features a young boy ironically named Naruto, who's just trying to make it as a ninja. As an orphan, he's had it tough, and when it comes right down to it, he's just not really all that good. With obvious inspiration from Dragon Ball Z, Naruto takes the tired action genre adds in some good old potty humor and makes a fun series that even the girls will like. And being part of the Shonen Jump line, you can't beat the low price attached to this one.

One Piece Vol 1
Released by Viz
Story & Art by Eiichiro Oda
$7.95 U.S.

Another action adventure, and another fun series. One Piece follows Luffy, a young man who wants to be the Pirate King. There's a ton of action, lots of adventure and plenty of laughs in this first volume as Luffy gathers his crew for a journey to the Grand Line where the legendary treasure, One Piece, is hidden. On the surface, One Piece comes across as yet another typical shonen series, hidden underneath is a unique jewel that sets off in its own direction. The artwork is also very unique, almost looking more American than Japanese with a much more cartoonish feel. What really makes this series come to life is a strong mix of characters, both good and bad, that keep this story moving along. This series is still running in Japan as both an anime and manga, so you can expect to see lots more in the future.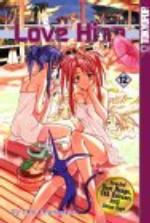 Love Hina Volume 12
Released by TOKYOPOP
Story & Art by Ken Akamatsu
$9.99 U.S.

Yes, the romantic comedy has gotten a bit cliché, and in the eyes of many, Love Hina is one of the biggest offenders. Despite that, I still love this series. It's got everything you could possibly want in a series, with pretty girls, plenty of action, lots of comedy, a variety of romantic complications and hijinks and the occasional flying turtle. Seriously though, as this series comes winding down near the last volume, the pace continues to frantically beat down Ketaro as now Naru is forced to confront her feelings. While the themes may feel repeated, Love Hina remains fresh and fun and a joy to read.

Alien Nine Volume 2
Released by COM
$12.95 U.S.

Well, I'm doing my best to not let this week's list be dominated by shoujo series like last time, so here's another niche title that shouts the question, just what the heck is this? Aliens have invaded and its up to a bunch of pre-teenage girls to save the day. Even with a simple premise, the story has a good habit of leaving the reader wondering just what is going on. This story turns into a massive head screw as the main character is thrown into every situation possible to make her scream and squeal. There's a lot of strong emotional depth to the storyline and the art is very striking. To sum it up, this series is a head trip and if you don't like stories that take pleasure in mentally torturing the characters, then this story isn't for you. For the rest of you, enjoy the chaos!

Boys Over Flowers (Hana Yori Dango)
Released by Viz
Story & Art by Yoko Kamio
$9.95 U.S.

Well, I guess I spoke to soon. With the amount of shoujo being licensed these days, you can't do a column without hitting one of them. Amongst fans, this is one of the most popular shoujo titles out there, so of course it's a buy it series. Starting with the simple premise of a fish out of water, Tsukushi Makino finds herself in a prestigious school. After a small accident, she finds herself at odds with the four hunks of the school. It's all out war as Tsukushi decides to stand up for herself. HANO Yori Dango already has a major following in Japan and is already a fan favorite in North America with its unique twist on a solid storyline.

Erica Sakurazawa: Angel
Released by TOKYOPOP
Story & Art by Erica Sakurazawa
$9.95 U.S.

Yet another mysterious magical girl befriends hopeless guy type series, but this time done with style thanks to Erica Sakurazawa. Using her unique style first seen in Between the Sheets, Erica gives a bit of new life to a tired cliché. The artwork for this title relies more on a simple black and white form, which helps convey the story rather well. There's nothing really flashy here, just a good solid story that works well.

Kodocha - Sana's Stage Volume 8
Released by TOKYOPOP
Story & Art by Miho Obana
$9.95 U.S.

Remaining one of my personal favorites, Kodocha continues to barrel through the life of young Sana as she makes her way through life. While the comedy and hijinks remain staples of this series, the story has moved in a very serious direction. A lot of the magic of this series is the way the characters all grow with the story. This is a solid story about a young girl coming of age that remains entertaining the entire way. This is a definite must buy!
---
Borrow it!

Lupin III Volume 6
Released by TOKYOPOP
Story & Art by Monkey Punch
$9.99 U.S.

Ah, another month and another Lupin book in the borrow section. For those more familiar with the anime and the movies, the tales of Lupin and his friends in the manga are starting to take on that familiar tone. The stories are becoming a bit more connected and the characters are really falling into a rhythm as their true characters come to light. Despite the witty storylines and fun adventures Lupin and company find themselves in, this book remains rooted in the borrow section thanks to its outdated appearance. For true fans of the series, the artwork is no detriment to the enjoyment of the series and Lupin remains a fun tale. For new fans though, you just have to read it to get into it. A quick browsing of the book won't suffice, so it's highly recommended that you borrow this one to get a true feel for what Lupin has to offer.


Adventure Kid - The Original Manga Book 03: MegaBITE
Released by Central Park Media
Story & Art by Toshio Maeda
$16.95 U.S.

The first hentai manga to enter the halls of Tankobon Tower, so why not make it a fun one. Everyone's taste run a bit different, so it's always hard to recommend any hentai as a must buy. For the adventurous, Adventure Kid is a well drawn tale with a variety of sight gags and quite witty dialogue. This time around it's a romp into the world of a "stimulation" as Kazu and Midori must find a way to convince Kazu's father that the real world is actually better. OK, there's a bit of a furry vibe going on with this one, but what the heck, try before you buy!


Jing: King of Bandit vol 2
Released by TOKYOPOP
Story & Art by Yuichi Kumakura
$9.99

If a sitcom can be about nothing, then so can a manga. Jing fits into that category with a wise-cracking womanizing bird and his human sidekick, Jing: King of Bandits. In a typical, larger than life role, Jing is the Bandit King that no one takes seriously when he first shows up. He then proceeds to kick major butt, save the girl and steal away his prize before anyone grows wiser. So far this series plays its one trick pony to the hilt, without stopping for breath or any thing like character development. The artwork also comes across as a bit generic and nothing new, acting as a kind of mix between Dragon Ball and Pokémon. This one is definitely an acquired taste, so take a sneak peek before taking on the Kir Royale!


Magic Knight Rayearth I Vol I
Released by TOKYOPOP
Story & Art by CLAMP
$9.99

So what is a CLAMP book doing in the borrow section? Magic Knight Rayearth is one of the premiere series in the CLAMP arsenal. In fact, its such a fun and exciting story that the reason I'm putting it in the borrow section is the fact you should probably try and buy the $30 buck box set that contains the first 3 volumes. There's a nice little omake book that comes with the set and you get the entire first series all at once. The box is a little cheap, but sometimes you want something for its contents. For the uninitiated, Rayearth is a fantasy series about three girls pulled into a magical world. Of course its up to them to save the world and the action and adventure goes from there. The characters are lovable, the story features a few good twists and all I can say is don't read the omake book before you read the series. For lovers of CLAMP, this series is a must have, and if you have to, borrow the book before rushing out to buy the set.

---