×
remind me tomorrow
remind me next week
never remind me
Subscribe to the ANN Newsletter • Wake up every Sunday to a curated list of ANN's most interesting posts of the week.
read more
Buried Treasure
Like the Clouds, Like the Wind
by Justin Sevakis,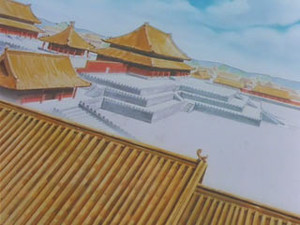 It's almost inconceivable today, with all of the knowledge we have at our disposal, that one could mistakenly think something a Miyazaki movie and go for months, nay years, uncorrected. But this actually happened to many anime fans in the late 90's with a made-for-TV movie called Like the Clouds, Like the Wind. This belief was further complicated by the film's lone fansubber, who actually translated the credits: Directed by Hayao Miyazaki. (It was written by a Miyazaki, but not THE Miyazaki. It was Akira Miyazaki, no relation to the Ghibli guy.)
Looking at the film, it's an easy mistake to make. The character designs were by Katsuya Kondo, a Ghibli animator who did character designs for Kiki's Delivery Service and the Jade Cocoon games for PlayStation and PlayStation 2. The protagonist is a spunky young peasant girl trying to make it in a new unfamiliar place, and wins the hearts of those around her. It tastes like Kiki on the Silk Road, with a dash of Princess Mononoke and a pinch of Spirited Away.
Maybe that's oversimplifying it a bit. There are times when Like the Clouds, Like the Wind feels like one of Fellini's portraits of absurdity; a dead-pan humorous look at truly strange people. A classic ancient Chinese state has had its emperor die, and so his son is to claim the throne. Trouble is, he's unmarried, so the eunuchs scramble about, posting notices that concubines are wanted. Technically, any teenaged girl is welcome to apply, but it's commonly known that only the higher echelons of society are really wanted. A peasant girl named Ginga, however, is blissfully unaware of this unspoken rule, and upon reading how much money is involved, proclaims herself a top-pick.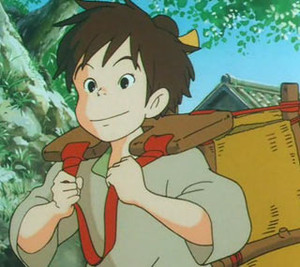 The girls arrive, and Ginga falls under the care of one particular eunuch named Eno, who considers her little more than a liability. She's completely tomboyish and unladylike. She's still built like a kid, she talks like a hick, and never hesitates to speak her mind when some incomprehensibly silly rule of the court comes up... which is quite often. She easily passes the entrance test (walk with a mute old lady through a very long dark corridor without freaking out) and ends up sharing a dorm room with three other bridal candidates.
As one might predict, cattiness ensues. The roommates include an Aristocrat girl (stuck up and condescending), a slacker type, and a mysterious knife-wielding martial artist -- and they do their best to not kill each other. Ginga is so honest that she doesn't even know when she's being insulted. She also has more friends that she realizes, and those friends turn out to be the very ones that can guarantee her place in the court.
Although the story meanders a bit, the film is more about inspired moments, often created not so much by circumstance but by Ginga herself. One example takes place in class: the decrepit old professor (with a mustache longer than most people's arms) teases the class that he's discovered the TRUE difference between men and women, but he can't tell them. Ginga, the sole person finding any meaning in the class, stands up and complains loudly. Touched by her curiosity, the professor takes her into his study and reveals the secret it took him his entire lifetime to uncover. I'll not reveal it here, but suffice it to say Ginga is less than impressed.
While the courtesans are busy with their ridiculous studies (one of which is the infamous morning exercises loathed by Japanese schoolkids everywhere), a plot is brewing to overthrow the newly crowned king. Invaders from another land are coming as well. Before long, it's all hands on deck, as the entire cast gangs together to guard the castle.

At it's heart, Like the Clouds, Like the Wind is a kid-friendly comedy, based on a well-loved children's book. It's funny without being over-the-top, full of heart, and ceaselessly entertaining. And yet, there's a slight edge of satire here; we get the idea that modern day Japan is easily just as ludicrous as court life. More than that, there's a sense of nostalgia -- both the opening and ending shots are of the entire castle, deserted and in ruins.
If there's one place Like the Clouds, Like the Wind doesn't feel like a Ghibli project, it's the animation itself. Being a made-for-TV movie, the low budget means that Studio Pierrot just couldn't pull off the pure visual spectacle that Ghibli is famous for. Still, it's at least OAV quality for an early-90's work. Ginga is voiced by then-idol singer Ryoko Sano, who turns in a decent, if unremarkable performance.
Even if it's not actually by Miyazaki, what makes Like the Clouds, Like the Wind great is the same thing that makes Miyazaki great: memorable, spunky characters and a whole lot of heart. It should not be missed.
---
Obscure-O-Meter™

A
Abundant. Available anywhere that carries anime.
C
Common. In print, and always available online.
R1
US release out of print, still in stock most places.
R2
US release out of print, not easy to find.
R3
Import only, but it has English on it.
R4
Import only. Fansubs commonly available.
R5
Import only, and out of print. Fansubs might be out there.
R6
Import long out of print. No fansubs are known to exist.
R7
Very rare. Limited import release or aired on TV with no video release. No fansubs known to exist.
R8
Never been on the market. Almost impossible to obtain.
Adapted from Soviet-Awards.com.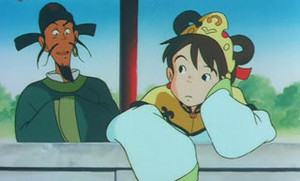 How to get it:
The film has never been released outside of Japan, but the region 2 DVD was released in 2002 and at 3800 yen, is still available for a decent price. (Catalog # VPBY-11202) Unfortunately it has no English on it at all. English fansubs have been sighted in the wild, if you know where to look. (DON'T POST LINKS IN THE FORUM PLEASE.)
Wow, that was easy.


---
Like the Clouds, Like the Wind is one of countless anime that seems directly influenced by a very famous documentary series little known to anime fans, but seen by nearly every person in Japan. In this special section, we'll examine this series and its effect on anime as we know it.
To understand the history of an art form, one must understand the factors that shaped its creation. Anime is no different, and most people that are serious about anime take an interest in other Japanese things, from idol singers to ancient history, its food and even its politics. But one area where we often don't pay much attention is to that other stuff on TV. Sure, there are a few of us that get into Japanese dramas, and we've all seen clips on YouTube of the silly variety shows, but for the most part Japanese television remains somewhat of a mystery to us.
Well, that's for good reason. Like American television, 90% of Japanese television is utter garbage; a vast wasteland of cooking shows and talking-head political roundtables. But there are many gems here for an anime fan that have been completely overlooked. And one, in particular, has been so influential to anime and manga that its importance is almost impossible to overstate.
If one were to take anime and manga of various ages and group them by subject matter, one would notice that around 1981 to 1984 there would be a sudden appearance in material about non-Japanese Asian and Middle Eastern antiquity. Countless shows, from Heroic Legend of Arslan to Time Stranger to Nausicaä* to Twelve Kingdoms, have taken these themes and given rise to vast expanses of fantasy, endowing us with some of the best anime has to offer.
But why the sudden interest in ancient culture? The answer lies not in anime, but in a documentary series.
SUPER SPECIAL TREASURE: The Silk Road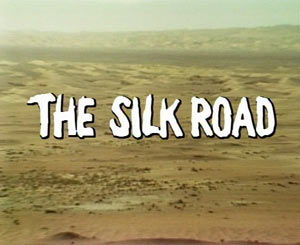 The term "Silk Road" describes a great network of ancient trade routes from the old Chinese capital of Chang-An (now Xian) to Rome, from around the time of Alexander the Great (329 BC) until the collapse of the Mongol Empire around 1400 AD. It's the road by which Western cultures discovered the luxuries of silk, and by which China (and thereby Japan) got Buddhism. The route gave rise to whole civilizations, had many of its own wars, and today the spectacle of its ruins seem even more impressive than what Egypt offers. It's a whole section of world history that Western textbooks barely mention, and the route itself is so inhospitable that many merchants spent their entire lives trying to cross it.
The series came about just as China was starting to open itself up to the rest of the world, after a long period of isolationism. Japanese public television network NHK met with Chinese officials, looking for a way to bridge international gaps. The concept soon emerged, and so from 1979 to 1980 joint crews from NHK and government-run China Central Television (CCTV) crossed China in search of its ancient history, which is quite hard to miss. The idea was to make little mention of any modern day strife, and to concentrate on reimagining the lives of those in the distant past.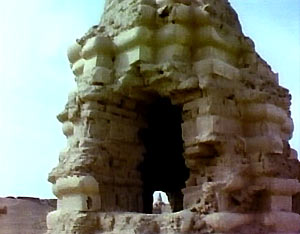 Early episodes were a little dry, covering a little too much ancient Buddhist art and not enough humanity, but then the journey quickly took on a life of its own. Vast stretches of the Silk Road cross various deserts, which even with modern Jeeps are nearly uncrossable. Sandstorms and 120-degree temperatures made it impossible, at times, to even stand. Overheating trucks, uncooperative camels, and the need to cart along literally tons of drinking water made life unbearable. And yet, every once in a while, they would come across a whole ancient city, now a badly weathered ghost town, full of artifacts, art, and whispering a story of the people that once lived there.
Other aspects of the journey that will surprise Western viewers is that a large portion of the Western lands of China are inhabited by people of Turkish ancestry, whom were once nomads. They have their own language, their own customs, and a way of life that has changed little since the time of Christ. The crew, of course, spends time getting to know their customs, their songs and rituals, and of course their outdoor shopping markets. For China, this was an interesting period of change, and the bits of 1979 China we see are no less facinating than what took place millennia past. Everyone is still dressed in olive green military outfits, and technology is hardly anywhere to be found. What a difference a quarter century makes!
But what's most noteworthy in the series is its mood; the feeling of melancholy nostalgia one gets when thinking about whole peoples and civilizations long past. History can so easily be about faceless nations and politics, but when one stops to contemplate the day-to-day life of a laborer or farmer, or the artists that sculpted something thousands of years old, or the billions of other individuals that have come before ours living lives we might think unfathomable today, it's hard not to get a little misty. The mood is further underlined by an evocative electronic score by internationally-renowned New age musician Kitaro, whose simple, lilting melodies remind us of the eternal.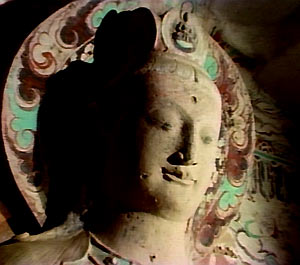 The Silk Road began broadcasting in 1980 as a series of specials on NHK, and its success was nearly beyond comprehension. Indeed, it sometimes seems like every single man, woman and child in Japan at the time tuned in. So rousing was the success that NHK decided to continue the journey to Rome on its own (that is, without CCTV).
The team found itself in the middle of Borat country. Kazakhstan, Uzbekistan, Turkmenistan, Tajikistan and Kyrgyzstan, then Soviet-controlled states, revealed their ancient burial grounds, past emperors and long-lost cities. Pakistan and India remind us of the birth of Buddhism, and where it is today. Somehow, the team got to travel through Syria, Iraq and Iran, revealing the daily lives of obscure pockets of people, including an occasionally-island community, living alongside ancient ruins, that make everything from snacks to houses with the never-ending stalks of reeds growing around them; pockets of Christianity and Zorostrianism; and Buddhist art that has largely been defaced.
The political challenges were immense, but the reputation built on the first series (along with, no doubt, large gobs of bribery) got the team admission to everywhere but Afganistan, which was completely war-torn at the time (and hasn't recovered since). Iran, which ruled that all film must be developed domestically so that customs inspectors can see it, gave into the team after they complained that Iran's poor quality film labs would destroy their footage. Even Iraq, described as "currently undergoing a building boom," allowed access to everything but helicopters. Persian tea houses, Muslim festivals, Turkish fish markets dominate one episode, while the next has the team literally teetering on the edge of a three thousand foot cliff in their iconic red Jeeps.
The 30 hour-long episodes took a total of ten years to produce, and the series has been broadcast in many countries all over the world. To go back and live the essence of ancient history is something I find endlessly fascinating, and the gentle, nostalgic tone the series captures so well is one reason, to this day, I watch one episode every night before bed. (I'll admit I don't always make it through a whole episode.) It's given me an entirely new perspective on the world that I never would have gotten any other way. (Lord knows, I am not going to try to cross the Gobi desert on camel-back.)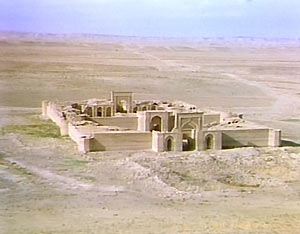 After thoroughly ingesting "The Silk Road", the roots of ancient history apparent in anime are impossible to ignore. What Westerner would have noticed that the ninja hand gestures (as seen in Naruto) are derived from Buddhist signs of peace? Or that townspeople's outfits in Nausicäa look so much like what peasants wear in Central Asia? To see The Silk Road is to glimpse the history of Japan before there was a Japan. The series served to remind Japanese of their history, and it serves to teach us every crevice.
*(Yes, I know Nausicaä really takes place in the far "future", but the whole point of that is that mankind has regressed to Silk Road status.)


---
Obscure-O-Meter™

A
Abundant. Available anywhere that carries anime.
C
Common. In print, and always available online.
R1
US release out of print, still in stock most places.
R2
US release out of print, not easy to find.
R3
Import only, but it has English on it.
R4
Import only. Fansubs commonly available.
R5
Import only, and out of print. Fansubs might be out there.
R6
Import long out of print. No fansubs are known to exist.
R7
Very rare. Limited import release or aired on TV with no video release. No fansubs known to exist.
R8
Never been on the market. Almost impossible to obtain.
Adapted from Soviet-Awards.com.
HOW TO GET IT:

The very good English version of The Silk Road has been available on DVD for years from Central Park Media. Unfortunately the Japanese track is not available, but narrator Graham Webster is so involving to listen to that I don't particularly mind. Only the China portion of the series (episodes 1-12) has been released on DVD, so to get the remaining 18 episodes one must get the Hong Kong release from TVBI. Boxed sets 2 and 3 cover the ground that the CPM box doesn't, and they include the official English version as well as the Cantonese narration. These boxed sets are available from YesAsia.com; for those unwilling, the VHS release from CPM is available at most libraries. (Finding it for sale, however, is another story.)
The second series has a different team producing its English narration, and they are not nearly as thorough in their translation. Their narrator, Cliff Underwood, is also more stereotypically the "dry British narrator" of the kind we used to see on the Discovery Channel. A knowledge of Japanese in some places is still helpful for this section of the series.
Many will complain about the video quality. Yes, it's not great. Shot on 16mm film in the roughest of conditions, and having post-production work done in the very early 80's, the show is quite grainy. Unfortunately, it doesn't look like we're likely to get any better version of these materials. More concerning is that neither the Hong Kong or US releases have any chapter stops at all! I'm told that this is due to early legal confusion over the "interactive" status of DVD, and what rights were involved. I'm sure that if these discs had been authored today that this would not have been an issue.
NHK recently returned to the Chinese section of the Silk Road to create a New Silk Road series in gorgeous high definition. I have not seen this series, and am told it's very pretty, but coma-inducingly boring. (This, told to me by a Buddhist monk!)
---
"Like the Clouds, Like the Wind" screenshots © Studio Pierrot • 
NTV
.
"Silk Road" screenshots © NHK.
---
discuss this in the forum (29 posts)
|