×
remind me tomorrow
remind me next week
never remind me
Subscribe to the ANN Newsletter • Wake up every Sunday to a curated list of ANN's most interesting posts of the week.
read more
The Incredible Artists of Kyoto Animation: Part 1
by Lynzee Loveridge & Evan Minto,

How do you write a responsible obituary for a tragedy of this magnitude? The attack on
Kyoto Animation
's Studio 1 was unlike anything the country had seen since World War II. It was a place overflowing with love that was imbued in each of the studio's works and in the way management treated its employees. Kyoto Animation reverberated with talent and sincerity that reached millions of fans so that they too felt the studio's unyielding love. Their works connected people across oceans. Behind each and every anime film and television show was a host of immensely talented people trying to share something through the medium of animation.
To acknowledge each individual's contributions, we hope to offer a clear record of their art and skill. Of the 35 lives lost, police have released the names of 10 as of this writing. These are their works, the memories from their families and colleagues, and their passions as best we can describe.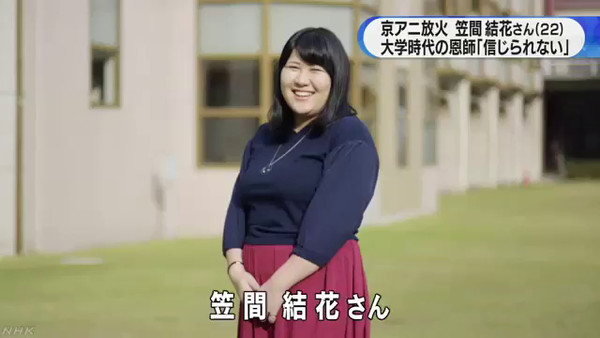 Yuka Kasama's death puts a particularly fine point on just what was lost in the fire. One thing Kyoto Animation was particularly known for was its policy of recruiting recent college graduates directly into staff positions, where they would go through training programs run by veteran KyoAni animators, including the late Yoshiji Kigami. Kasama was just 22 years old and had just joined the studio this spring, and; she apparently hadn't even been credited on any KyoAni productions yet at the time of her death, though in an interview with NHK, an old professor of hers from Osaka Seikei University mentioned that she had started work on a film just a month before the attack. He also released footage of Kasama's thesis project, featuring simple, expressive character animation depicting what appears to be anxiety over finding a job. It's clear from her student work that Kasama had a promising career ahead of her, and with the help of KyoAni's training program she would have no doubt blossomed into a talented professional animator.
Yūki Ōmura

Like Yuka Kasama, Yūki Ōmura was a recent college graduate who joined Kyoto Animation just this year. But even before he joined the studio, Ōmura was already making waves. He won seven awards at the Nika Exhibition for animation, and produced a stunning graduation project that his alma mater, Tohoku University, released to the public after his death. The project, a digital illustration arranged into a long scroll, is called "Dokkun Dokkun" (Japanese onomatopoeia representing a heartbeat) and depicts the history of life on Earth using big manga-style sound effect lettering. Ōmura hadn't yet been trained in the KyoAni house style, and his artwork in Dokkun Dokkun has more in common with Hayao Miyazaki, particularly the vibrant colors, children's book illustration style, and wobbly line work of Ponyo.
Uda began working at Kyoto Animation as early 2009 creating in-between cels for three episodes of K-ON! The 34-year-old would continue to work at the studio, credited as an in-between animator on all of the works in the Love, Chunibyo & Other Delusions! franchise, several works in the Free! - Iwatobi Swim Club franchise, A Silent Voice, Tamako Market, The Disappearance of Haruhi Suzumiya, Nichijou, HYOUKA, Liz and the Blue Bird, and most recently, Sound! Euphonium The Movie - Our Promise: A Brand New Day.
Uda's job was to make sure the motion for the cuts he was given were fluid.
Yoshiji Kigami
Every single death and injury in the Kyoto Animation arson attack is a tragedy, but one of the most brutal ones is the death of Yoshiji Kigami, a master animator who was integral to Kyoto Animation's growth as a home for some of the most talented artists in the industry. Kigami's career stretches all the way back to Shin-Ei Animation, the successor to the legendary A Production and the studio behind long-running hits like Doraemon and Crayon Shin-chan. His detailed realist animation featured fine character and creature motion, and he reveled in effects like water and smoke.
His talent was so respected in the industry that in 1988 Katsuhiro Otomo trusted him to animate the entire fight scene in the drainage pipe in Akira.
Animator Toshiyuki Inoue, a living legend in his own right, recently recounted how when he first joined the industry, Kigami was the first animator he looked up to, and how it was Kigami who taught him the philosophy of "fast and good." In fact, Inoue is such a big fan of him that he often shows Kigami's sequences from The Fox of Chironup to young animators as inspiration when he begins work on a new project.
At Kyoto Animation, Kigami served as a director, animator, and mentor to others. He directed the studio's debut work, Munto, as well as an incredibly cute 2017 short called Baja no Studio loosely based on KyoAni itself. He storyboarded and animated a number of key sequences in KyoAni shows, with one of the most noteworthy being the emotionally charged scene of Kumiko running across the bridge in Sound! Euphonium episode 12.
And perhaps most tragically of all, Kigami was one of the teachers in Kyoto Animation's animator training program, helping to inspire a new generation to follow his stellar example. Kigami was 61 years old.
The 30 year old Ami Kuriki was a key animator who worked on many of Kyoto Animation's recent works, including Violet Evergarden, Liz and the Blue Bird, Free! Dive to the Future, Free! -Take Your Marks-, High Speed! -Free! Starting Days-, Sound! Euphonium 2, A Silent Voice, Miss Kobayashi's Dragon Maid, Love, Chunibyo and Other Delusions! Take On Me, Myriad Colors Phantom World, Tsurune: Kazemai Kōkō Kyūdō-bu, and most recently, Sound! Euphonium The Movie - Our Promise: A Brand New Day.
Early on as people scrambled to figure out who was caught in the arson attack at KyoAni, it became clear that two of the studio's star directors, Naoko Yamada and Taichi Ishidate, were safe and sound. Unfortunately it did claim another major Kyoto Animation director: Yasuhiro Takemoto. Unlike Yamada and Ishidate, who came into their own in the more recent years of the studio, Takemoto directed some of Kyoto Animation's earliest works, including its first TV series, Full Metal Panic! Fumoffu, and its follow-up, Second Raid.
He took over as director on fan-favorite comedy series Lucky Star when controversial director Yutaka Yamamoto left the project after episode 4, and directed The Disappearance of Haruhi Suzumiya movie under supervision from another early KyoAni director, Tatsuya Ishihara. Amongst the flourishing of his fellow directors, including most notably Yamada (who went from directing K-ON to A Silent Voice and Liz and the Blue Bird in just about seven years), Takemoto remained an important director for the studio on projects like Amagi Brilliant Park, High Speed! -Free! Starting Days-, and Miss Kobayashi's Dragon Maid.
Like many directors, Takemoto started his career as an animator, and continued to contribute animation to projects at the studio, both his own and those of his peers. Some of his most notable scenes are the walk cycles in the Tamako Market OP and Clannad After Story ED, which bring out the individual personalities of their characters through subtle changes in posture and gait. Takemoto was 47 years old.

Tsuda suffered from severe asthma as a child and so could not be very active. Her father told the Kobe Shimbun that she liked to draw anime characters at her desk as a kid. She went on to enter an animation technical school after finishing high school.
Tsuda was a long-time employee of KyoAni having worked there for almost 20 years, but she would always go visit her family in Kakogawa for the New Year's and Obon holidays. Her father is recently widowed so Tsuda brought him a lunch and came to see him in May.
Her dad remembers the first time he saw her name in the ending credits for Detective Conan and Crayon Shin-chan. Finding her name was something he enjoyed doing with his wife. Tsuda worked primarily in finishing animation for final approval, making sure the sequences were clean and coloring frames as needed.
Tsuda's dad flew to Kyoto and went to the KyoAni studio site immediately after he received news that they weren't sure of his daughter's status. He gave his DNA and went to her apartment and met one of her friends there. Talking with her concerned friend, her father learned that his daughter was not only kind to her parents, but to everyone.

A recurring story with many of the Kyoto Animation staff who died in the arson attack is one of versatility. The studio had a reputation from some fans for making series with a very similar design style and fan appeal, likely fueled by their early adaptations of Key visual novels. But especially in the past decade, KyoAni showed themselves to be highly adaptable creators. The late Futoshi Nishiya was an animator and character designer who showed that more than almost anyone else. His most enduring contribution as a designer was Free!, a series where character design and differentiation played an important role in its popularity. Its focus on cute boys was also a major departure for a studio that previously specialized in cute girl characters, and any Free! fan can tell you that he absolutely hit it out of the park with the designs.


But when you look across Nishiya's career, you can see a designer capable of a wide range of styles, including the more traditional designs of Hyou-ka, the subdued delicacy of Liz and the Blue Bird, and even Nichijou!
On that show in particular, Nishiya pulled off the difficult task of precisely adapting Keiichi Arawi's manic and cartoony designs to animation. It's remarkable how much that series recreates the exact look and feel of the original manga! As an animator, Nishiya, like many of his contemporaries at the studio, was a talented realist, depicting carefully constructed human motion with attention to the physics of limbs and clothing. And like many of the best realists, he incorporated a little bit of exaggeration, including a slightly floaty sense of inertia and the occasional smear frame, that elevated his work above slavish realism. Despite such an accomplished career, Nishiya was only 37 years old.
Yokota was 34-years-old and worked as a production manager for Clannad, Clannad After Story, K-ON!, HYOUKA, Love, Chunibyo & Other Delusions!, Love, Chunibyo & Other Delusions! -Heart Throb-, Love, Chunibyo and Other Delusions! Take On Me, Sound! Euphonium, A Silent Voice, Tamako Market, Violet Evergarden, Tsurune: Kazemai Kōkō Kyūdō-bu, Free! - Iwatobi Swim Club, Free! Dive to the Future, Free! Eternal Summer, High Speed! -Free! Starting Days-, Gekijō-ban Hibike! Euphonium: Todoketai Melody, Beyond the Boundary, and Beyond the Boundary -I'LL BE HERE- Future, among others.
As a production manager, Yokota was responsible for maintaining the studio's work schedule on a project and ensuring it stays within budget.
Kyoto Animation gets a lot of attention for their richly detailed character animation, but backgrounds have played a huge role in their series as well. One of the handful of art directors who made that background art come alive was Mikiko Watanabe. She drew backgrounds for lots of series at KyoAni, and served as the art director, a role that entails supervision and correction of individual background artists, on Amagi Brilliant Park, Nichijou, and more.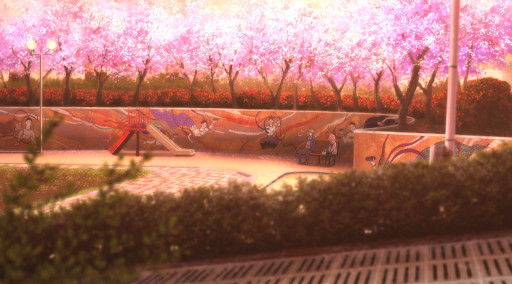 Like many of the highly talented background artists at the studio, Watanabe displayed a remarkable versatility, sometimes even more so than her animator counterparts. Under her supervision, backgrounds could transform as necessary to fit the needs of the show, from atmospheric environments packed with signage and other details in Beyond the Boundary to scratchy, textured, storybook art in Miss Kobayashi's Dragon Maid and the stunning, nearly photorealistic European locations of Violet Evergarden. Watanabe was 35 years old.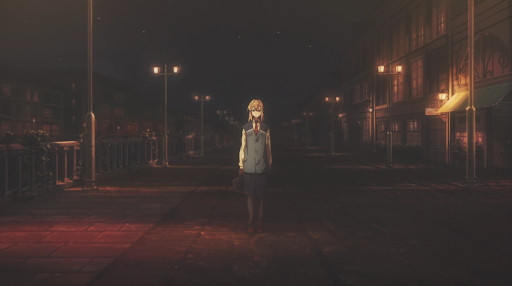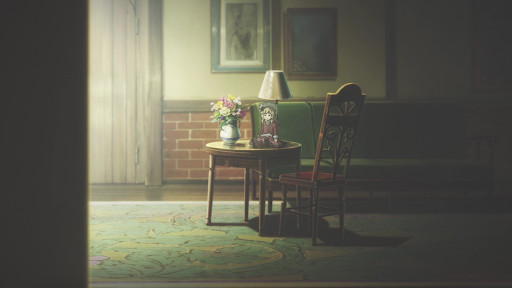 ---
If you'd like to learn more about how you can help KyoAni heal, you can read about the studio's fundraising efforts here and here.
---
discuss this in the forum (20 posts)
|