Interest

Rose of Versailles, Sensual Phrase Creators Cosplay

posted on

2010-09-29

22:30 EDT by Gia Manry
Phrase's Shinjo dresses as K-ON's Yui; Versailles' Ikeda appears as Marie Antoinette
---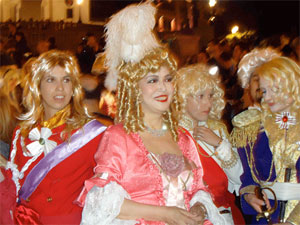 Rose of Versailles creator Riyoko Ikeda is presently appearing as a guest of honor at Italy's Romics 2010 anime convention from September 30 to October 2 in Rome. At a kick-off event last evening at the Piazza del Popolo, Ikeda joined other cosplayers dressed as Marie Antoinette, a primary character in the Rose of Versailles.
Ikeda is a member of the "Year 24 Flower Group" consisting of female manga creators who revolutionized the shōjo manga genre, including Moto Hagio, Keiko Tanemiya, and others. (The group is named after the year 24 of the Showa era, 1949.) The Rose of Versailles manga launched in 1972 and spawned a television anime and a live-action movie. The series has proved popular in Europe, and Ikeda was awarded France's Ordre national de la Légion d'honneur, the nation's highest honor, in 2009. Both the anime and manga are unlicensed in North America, although Frederik L. Schodt translated the first two volumes for Sanyusha.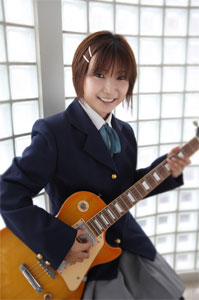 Sensual Phrase creator Mayu Shinjo recently tweeted a link to a photo of her own cosplay, as protagonist Yui Hirasawa from Kakifly's manga K-On! In the tweet, Shinjo expresses excitement about the costume, "even though the guitar is different."
Shinjo debuted as a shōjo manga creator in 1994 with a series called Make Love shiyo!! Her 1997 series Sensual Phrase (Kaikan Phrase) was translated into English by VIZ Media, as was her later work Haou Airen. Shinjo has also had many works published in German by Egmont Anime + Manga.
[Via Romics, La Repubblica XL via iStock Analyst, 2channel]
Images © La Repubblica XL; Mayu Shinjo
Update: Viz has not released Haou Airen in North America. Thanks, brand.
---