Interest

Daily Video: Evangelion Hotel Room Previewed

posted on by Egan Loo
Hotel of park with 1/1-scale
Evangelion
to feature entry-plug-shaped bed
---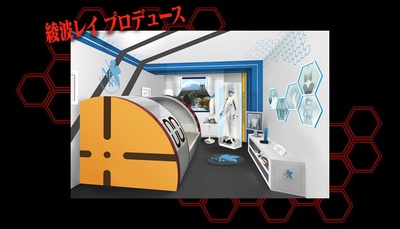 On Thursday, the official website of the Yoshimoto troupe's fan club posted a 10-minute video report about "Japan's first Evangelion-themed guest room" at Highland Resort Hotel & Spa, the official hotel of Japan's Fuji-Q Highland amusement park. The hotel room is part of the park's larger revamp of its attractions based on the Evangelion anime franchise.
The hotel room will feature an entry plug-shaped bed where guests can watch DVDs while lying on their backs. Guests can also wake up to a morning call exclusively recorded with the character Rei Ayanami's voice, and an interactive "voice touch panel" and telephone will emit comments in Rei's voice. Lines of dialogue and graphics will appear on the walls with the use of black light lamps, and there will be a statue of Rei as well as replicas of original Evangelion artwork and other features.
Guests will receive exclusive amenities and a badge as presents during their stay. The hotel will begin accepting reservations for its only Evangelion room for 37,000 yen (about US$450) a night (subject to seasonal price changes), and the room will officially open on March 1.
The Yoshimoto Gekijō troupe had previously reenacted the opening and other sequences from the original television anime series in a promotion for the Evangelion: 2.0 You Can (Not) Advance film.
Source: Gadget Tsūshin
---