Interest

Happy Halloween -- Anime Style

posted on by Lynzee Loveridge
Voice actresses in costume and artists show off their Halloween spirit
---
Professionals in the anime and manga industry showed off their costumes and spooky tricks for this year's Halloween holiday. Here are some of the ways that anime/manga/game fans and professionals are celebrating Halloween this year:
Yui Ogura

Voice actress Yui Ogara showed off her witch costume for this year's festivities.
Saki Fujita, Marina Inoue, Rie Tanaka, Yuka Iguchi

Voice actresses Saki Fujita, Marina Inoue, Rie Tanaka, Yuka Iguchi posed for a photo as Cheshire Cat, the White Rabbit, Donald Duck, and Minnie Mouse, at Disney Night.
Konami
Video game developer Konami posted a new trailer and screenshots of Castlevania: Lords of Shadow – Mirror of Fate. The game takes place 25 years after Lords of Shadow. Players control Simon and Trevor in the 3DS title, scheduled for release early next year.
Rina Hidaka

Voice actress Rina Hidaka wrote on her twitter account, "Trick or Treat! Nyaa!" with an attached photo of her as a black cat.
Kaori Fukuhara


Voice actress Kaori Fukuhara dressed as both Madoka from Puella Magi Madoka Magica and Vocaloid idol Kagamine Rin.
CAPCOM
Capcom released a parody trailer for Okami HD, "the only game that matters on October 30th", and the soon-to-be-released hoodie.
Yui Horie

Voice actress Yui Horie posted a photo of herself and fellow coworkers from her radio program "Yui Horie no Tenshi Tamago". Horie dressed up as Shizuka from Doraemon.
Minami Tsuda

Voice actress Minami Tsuda posted a photo of herself in a hoodie costume of Gachapin, the green dinosaur character on the Hirake! Ponkikki children's television program.
VIZ Media

North American manga publisher, Viz Media,
released
a special One Piece Halloween wallpaper on their Twitter account.
XSEED Games

Video game publisher XSEED Games
posted
an image of the company's staff in costume on their official Twitter.
The Right Stuf

Online anime store The Right Stuf held their annual staff Halloween costume contest. All of the entries are viewable in a gallery on the company's Facebook
page
.
Juni Iogi ( Reinou Tantei Miko )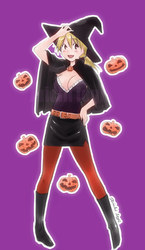 Manga artist Juni Iogi
joked
, "Trick or work!"
Yana Toboso (Kuroshitsuji/Black Butler)

Manga creator Yana Toboso
drew
Black Butler's Undertaker crunching on a human finger.
Yuki Midorikawa (Natsume's Book of Friends)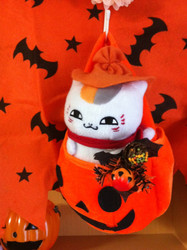 Manga creator Yuki Midorikawa
posted
a Halloween-themed photo featuring a plush Nyanko-sensei.
There are many more anime/manga/game Halloween images out there, so if you know of one we've missed, feel free to let us know in our forums or by email (newsroom at animenewsnetwork.com).
[Via Yara-On!, Otakomu, Moe Otaku News Sokuhou]
---