Interest

New Year's Greetings — Anime Style (Part XII)

posted on by Crystalyn Hodgkins
---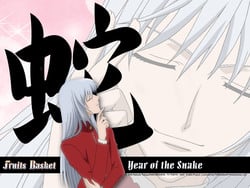 For generations, people in Japan have celebrated New Year's Day by sending specially designed cards — nengajō — to each other. As part of the tradition, postal workers store all the nengajō that are mailed in the final weeks of the old year, and then deliver every single one on New Year's Day. Many nengajō mark the Chinese Zodiac by depicting the animal of the year. (In 2013, that animal is the snake.) Here are some New Year's greetings from the folks that will be bringing you anime, manga, and games in the new year.
Click on the thumbnail images to see the original greetings!

Leaf

To see the original greeting, click "Yes" on the website linked in the image if you are 18 years or older.
Little Busters

Love Hina (Ken Akamatsu)

Click on the thumbnail to see full NSFW image.
Ruri Miyahara (Love Lab)

Majikoi

Takashi Matsumoto (Yasaihata de Tsukamaete)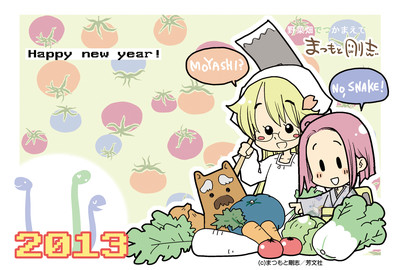 Temari Matsumoto (Kyo Kara Maoh!)

Thanks to glitteringloke for the news tip.
Max Factory

Suzuko Mimori
Voice actress Suzuko Mimori posted a New Year's Day greeting video announcing her solo
debut
.
Kazuya Minekura (Saiyuki)

There are many more anime/manga/game nengajō out there, so if you know of one we've missed, feel free to let us know in our forums or by email (newsroom at animenewsnetwork.com). Akemashite Omedetō Gozaimasu!
(Here are 2012's greetings, 2011's greetings, 2010's greetings, 2009's greetings and 2008's greetings!)
Fruits Basket image © 2004 Natsuki Takaya/HAKUSENSHA • TV TOKYO • NAS • Fruba Project. Licensed by FUNimation® Productions, Ltd.
---
This article has a follow-up:
New Year's Greetings — Anime Style (Part XIII)
(2013-01-01 19:40)
follow-up of
New Year's Greetings — Anime Style (Part XI)