Interest

New Year's Greetings — Anime Style (Part XIII)

posted on by Egan Loo
Greetings from Minamo Minamori, Minato, Ichiro Mizuki, Keinojou Mizutama, Gundam AGE, Shokotan, Nagamu Nanaji, Namco Bandai, Nantoka, Nekomonogatari (Black)
---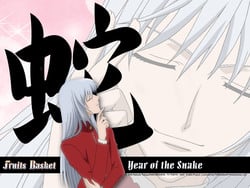 For generations, people in Japan have celebrated New Year's Day by sending specially designed cards — nengajō — to each other. As part of the tradition, postal workers store all the nengajō that are mailed in the final weeks of the old year, and then deliver every single one on New Year's Day. Many nengajō mark the Chinese Zodiac by depicting the animal of the year. (In 2013, that animal is the snake.) Here are some New Year's greetings from the folks that will be bringing you anime, manga, and games in the new year.
Click on the thumbnail images to see the original greetings!

Minamo Minamori (Waratte! Sotomura-san)

Minato Soft

Happy New Year
Please continue to give Minato Carinval your support this year!
Thanks to Vio Deni for the tip!
Ichiro Mizuki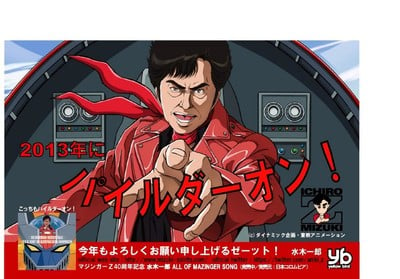 In Greeting: "Pilder On in 2013"
[Pilder is the Mazinger Z robot's hovercraft]
I ask for your continued support this year ZETTO!"
On Twitter: "Happy New Year, Snake.
Please continue to support my work this year. I will be on the Kids Station show AniPara Ongakukan today."
Keinojou Mizutama (Original Character Designer, MAOYU)
Mizutama posted an image of New Year's and holiday postcards. The pack will contain six images.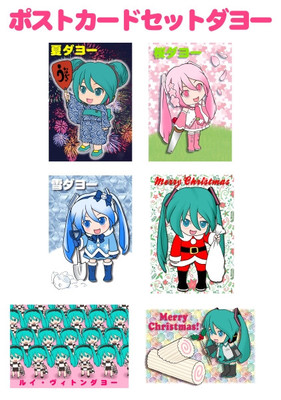 (Japan only)
Mobile Suit Gundam AGE

December 28: "We're finishing this year's work today in the studio. We apologize for not being able to announce this year the good news about the Asemu/Zeheart sketch
reposted
here, but please continue to believe in us next year. It has been a good year. (Producer Masakazu Ogawa)"
Shoko Nakagawa

Please continue to support my work this year!!!!!!!!!!
Nagamu Nanaji (Parfait Tic!)

Nanaji thanked fans for the support in 2012 and asked for their continued support next year.

Namco Bandai Games

"Please continue to support Namco Bandai Games' Facebook page this year! We will do our best to give all of you the latest game info, so please keep on giving us your 'Likes' and comments this year."
Nantoka (Kage Muchahime, Mē Tantei Fuwaro)

Nekomonogatari (Black)

[Via Yaraon!]
There are many more anime/manga/game nengajō out there, so if you know of one we've missed, feel free to let us know in our forums or by email (newsroom at animenewsnetwork.com). Akemashite Omedetō Gozaimasu!
(Here are 2012's greetings, 2011's greetings, 2010's greetings, 2009's greetings and 2008's greetings!)
Fruits Basket image © 2004 Natsuki Takaya/HAKUSENSHA • TV TOKYO • NAS • Fruba Project. Licensed by FUNimation® Productions, Ltd.
---
This article has a follow-up:
New Year's Greetings — Anime Style (Part XIV)
(2013-01-01 21:00)
follow-up of
New Year's Greetings — Anime Style (Part XII)