Interest

High-Speed Train Gets a Gundam-Inspired Makeover

posted on by Eric Stimson
Ride to Osaka's airport on the Red Comet
---
The seventh installment of the OAV series Mobile Suit Gundam Unicorn, "Over the Rainbow," premieres on May 17. To celebrate, Nankai Electric Railway is remodeling one of its high-speed trains as the "Second Coming of the Red Comet" — a reference to Full Frontal, the leader of the Neo Zeon faction and the "second coming of Char Aznable" (who carries the title "Red Comet").

The train line is called the Limited Express Rapi:t and runs from Namba Station in Osaka to Osaka's international airport in Osaka Bay. The promotion doubles as a 20th anniversary commemoration for the line. The train will be painted red to evoke Full Frontal's mobile suit. What's more, three seats will be "reserved" in Car 5 for the Neo Zeon leaders Full Frontal, Mineva Zabi and Angelo Sauper — although in reality, Gundam fans can sit in them and take pictures, as long as they have bought "super seat" tickets.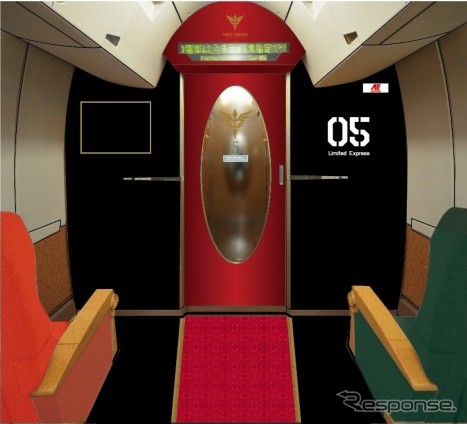 In addition, Red Comet merchandise will be available at Namba and Kansai International Airport Stations. The scarf/towel and clear files below cost ¥1,000 and ¥700 ($9.82 and $6.87), respectively.

The Red Comet will blast along from April 26 to June 30. Entrance tickets cost ¥890 ($8.74), regular express voucher tickets cost ¥1,020 ($10.02) and super seats cost ¥1,440 ($14.14).
[Via Response and Nankai Electric Railway; Image from cibits]
---