Interest

Event Report: "Anime Day" at Tokyo Meat Festival

posted on by Kim Morrissy
Pigging out on steak while grooving to an anisong concert sounds like a very specific definition of paradise. I did not realize how much I craved this until I actually experienced it.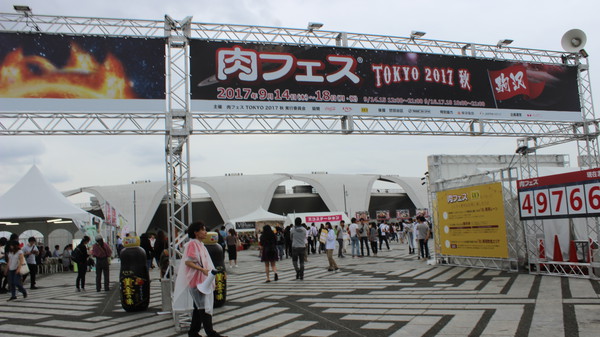 Tokyo's NikuFes ("Meat Festival") has been getting more anime-influenced over the years. In 2015, the Food Wars! Shokugeki no Soma actress Minami Takahashi had her own Food Wars! booth, where she cooked meat dishes for the attendees. This sounds amazing on so many levels, and my only complaint about it is that they didn't get Ikumi Mito's actress to do it.
At this year's autumn NikuFes, there was no Food Wars! booth, but there was a stage that played anime songs all day on September 16th, the designated "anime day." There were performances by artists such as ORESAMA (opening themes of Magical Circle Guru Guru, Wolf Girl & Black Prince, and Alice & Zoroku), singer and voice actress Megu Sakuragawa, singers Faylan and Haruka Tōjō, idol group i☆Ris' Dzu, the multimedia entertainment work LiveRevolt, The Niigata prefecture AKB48 sister group NGT48, DJ Time PriPara ft.Blacklolita, DJ Caesar, and more.

For me, though, the highlight of the day was the Anime Creators Roundtable Discussion, which featured Seiji Mizushima (the director of the first Fullmetal Alchemist anime) and the producers of Popin Q and Urawa no Usagi-chan. In person, Seiji Mizushima is larger than life, and tends to talk excitedly about the things he's passionate about. The topic of discussion was "how anime is becoming more mainstream," which made a lot of sense considering that all of this anime stuff was happening at a meat festival in Komazawa Olympic Park.
As interesting as this conversation was, part of me was disappointed that nobody asked Seiji Mizushima about his favorite types of meat. What a missed opportunity. But I was still highly entertained throughout, and so was the crowd of anime fans. The conversation went all over the place, from how they got into the industry to how the feel about the recent trend of live-action anime adaptations (Mizushima had a lot of strong opinions about this). The audience laughed at every joke, and a lot of people even applauded whenever Mizushima complained about live-action films.
My favorite part came at the end of the discussion, when the guests were asked about what steps the anime industry should take to appeal to the mainstream. Mizushima said that people should focus on making their works good, first and foremost, and that Makoto Shinkai was an inspiration to follow. Mere minutes after this conversation ended, the DJ started playing the Eromanga Sensei ED theme. The crowd went wild.
Also, I got a free single of the Teekyuu 9th season's ED just for showing up. I was stunned. After nine seasons, it looks like Teekyuu is finally starting to take over the world.

In sum, NikuFes had the strangest blend of "mainstream" and "niche anime stuff" I've seen in a while. But what can I say? As bizarre as the experience was, it was fun. And hey, the meat tasted good too!
---