News

Pokemon Licensor, Toymaker Vie for KidScreen's Awards

posted on by Mikhail Koulikov
---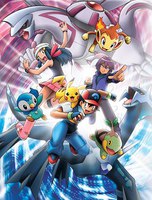 KidScreen Magazine, a periodical which covers the children's television entertainment market, has announced the nominations for its first-ever Best of the Year awards. Pokemon USA (PUSA), the brand management company for the Pokemon anime, videogames, card games, and other merchandise, has been nominated for Licensor of the Year. It is one of five nominees in the category, alongside BBC Worldwide, Hasbro Properties Group, Disney Consumer Products, and Nick and Viacom Consumer Products. PUSA was recognized for its decision to regain control of the Pokemon brand from 4Kids Entertainment, which led to the success of the current Pokemon Diamond & Pearl incarnation of the franchise.
Jakks Pacific, the company Pokemon USA selected to develop and manufacture the new line of Diamond & Pearl toys, was also recognized with a nomination for Best Licensee. In addition to Pokemon, it holds the master toy license for Dragon Ball Z and has also created Yu Yu Hakusho toys.
Update: Jakks Pacific holds the master toy license for Dragon Ball Z for 2007 (the year covered by the current list of awards), but Bandai America has re-acquired the master toy license for Dragon Ball Z from Funimation Entertainment, and will make new toys starting in the Spring of 2008.
---