News

Future US Publishes 2nd Future Anime Mag Issue

posted on by Egan Loo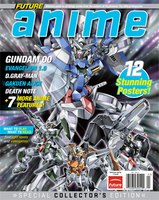 Future US, the California-based publisher of Nintendo Power, Guitar World, Maximum PC, and other gaming and lifestyle magazines, has published a second one-off issue of its Future Anime magazine. Gary Steinman, the former editor-in-chief of A.D. Vision's Newtype USA magazine and the editor-in-chief of Future's PC Gamer, helmed this issue as he did the first issue last summer. Like the first issue, the second issue features 12 posters but no DVD. Instead of Gurren Lagann which adorned the first issue's cover, the second issue's cover showcases the Mobile Suit Gundam 00 anime series. Steinman told the AnimeVice.com website, "We produced a second Future Anime because the first one sold so well for us. We're very proud of this second issue, so if we continue to see strong support, we'll definitely consider producing more!"
Viz Media's Animerica magazine ceased publication as a periodical for retail sales and subscriptions in 2005, and Newtype USA ceased publication in 2008. Wizard Enertainment's Anime Insider, the last monthly anime magazine in the United States, ended last month.
---