News

Live-Action Blood: The Last Vampire's 2nd U.S. Trailer Streamed

posted on by Egan Loo
---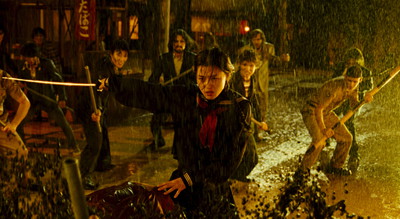 The ComingSoon.net and ShockTillYouDrop.com websites are hosting a new 112-second trailer for the American release of Chris Nahon's live-action Blood: The Last Vampire film. The film remakes director Hiroyuki Kitakubo (JoJo's Bizarre Adventure, Roujin Z) and Production I.G's Blood: The Last Vampire anime film, with South Korea's Jeon Ji-hyun (under her English name, Gianna Jun) as a sword-wielding girl hunting down supernatural creatures. Mamoru Oshii (Ghost in the Shell films, Mobile Police Patlabor) conceived the original anime's story with screenwriter Kenji Kamiyama (Ghost in the Shell: Stand Alone Complex, Eden of the East). Chris Chow adapted the story for East Wing Holdings Corp. and SAJ's live-action version.
Sony Pictures Worldwide Acquisitions Group acquired all North American rights to the new film, and Samuel Goldwyn Films will release the film in American theaters this summer. Sony already launched the official North American website for the film with an earlier trailer. The live-action film will open in Japan on May 29 (under the title Last Blood), in the United Kingdom on June 12, and then in France on June 17. It will also open in Hong Kong, Singapore, Korea and other countries in June.
Manga Entertainment released the original Blood: The Last Vampire anime film in North America, while Sony Pictures Home Entertainment is releasing the Blood+ television anime series. Viz Media published the graphic novel sequel to the first movie, and Dark Horse Comics is publishing the different Blood+ manga and text novel.
Source: Affenheimtheater
---