News

Morning Musume, Public Enemy, AKB48, Idoling!!! Members on Magical Girl Anime CD

posted on by Egan Loo
Turn A Gundam/Capcom's Akira Yasuda draws cover for Andrew W.K.'s Gundam Rock album
---

Not-So-Daily Links of the Day: Former Morning Musume singer Ai Kago (Mini Moni the TV) and Public Enemy producer/guitarist Brian Hardgroove are among the dozen duos performing electronic-music-influenced covers of magical girl anime theme songs on the Kirakira Majocco Cluv album. The other duos include Christopher Just and Tomoe Shinohara (Kodocha), Franck Muller and Erika Asakura, Paolo Scotti and the female idol group AKB48's Miho Miyazaki, DJ Scotch Egg and Nakano Fujoshi Sisters' Chiaki Kyan, Bymski and Yumi Sugimoto, Electrocute and Marin Nishitani, Plastic Operator and Mao Miyaji, Maho Thaidisco and AKB48's Tomomi Kasai (ICE), Sexy-Synthesizer and former Idoling!!! member Mira Takiguchi, Pan Pacific Playa and Sayaka Isoyama (Chouseishin GranSazer), Kazuo Gondayama (a.k.a. Cherryboy Function) and Mina Fukui.
The album's 26 tracks range from the earliest magical girl theme songs like Mahōtsukai Sally to recent hits such as Zettai Karen Children's "Over the Future." In between are songs from Cutie Honey, Urusei Yatsura, Magical Princess Minky Momo, Kiki's Delivery Service, Sailor Moon, Card Captor Sakura, and Zero no Tsukaima. The album will ship on October 7.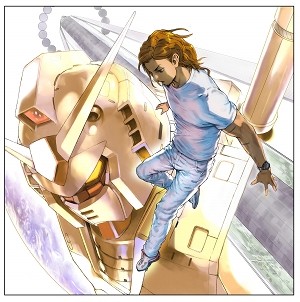 In related news, Turn A Gundam and Capcom character designer Akira Yasuda has drawn the cover art for the Gundam Rock album by Andrew W.K. The Californian singer is performing English-language covers of theme songs and rock versions of background music from Yoshiyuki Tomino and Sunrise's first Mobile Suit Gundam television series and its movie trilogy remake. Andrew W.K. is also reenacting the opening narration and Garma Zabi's funeral speech by Gihren Zabi (a.k.a. the "Sieg Zeon!" speech) from the anime in English. The album ships in Japan on September 9, 2009.
Image © Sotsu, Sunrise
---