News

Website Offers Japanese IT, Computer News via Manga

posted on by Egan Loo
Nihon IT Manga Shimbun began last week; spinoffs planned for economics, politics
---

The Japanese company Trend-Pro launched Nihon IT Manga Shimbun ("Japanese IT Manga Newspaper"), a website that reports on information technology (IT) news via manga, on November 12. The site covers new trends and product releases in net services and related fields in computer technology.
In its first two days of operation, Nihon IT Manga Shimbun covered the image-based pixpedia encyclopedia, the Keitai PuriKura Hōdai photo album service for mobile phones (pictured at right), and Japan's 69.5% household adoption rate for over-the-air digital television. It has since covered Tokyo Disneyland's mobile site for real-time status updates on attractions' wait times, the Firefox web browser's fifth anniversary and 25% adoption rate, Google's new Japanese postage code search, and a Twitter-based recipe-sharing service (pictured below).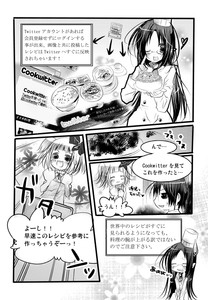 The website devotes an average of two manga pages to each news item. Trend-Pro intends to launch a Nihon Keizai Manga Shimbun spinoff for economic news and a Nihon Seiji Manga Shimbun for politics.
Another net services company, KaBa Net, launched its "Manga no Shimbun" website for manga adaptations of mainstream daily news last month. KaBa Net told the Shinagawa Keizai Shimbun paper that they aim to distribute their news manga in English, French, and Korean in about half a year.
Source: ITmedia News, J-Cast News
Image © Trend-Pro
---