News

Keshikasu-kun Children's Manga Gets TV Anime Green-Lit

posted on

2009-12-26

13:58 EST by Egan Loo
Comedy follows an eraser's battles to be the strongest in stationery supplies
---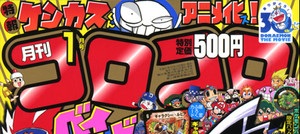 The January issue of Shogakukan's Monthly Coro Coro Comic magazine confirmed on December 15 that an anime adaptation of Noriyuki Murase's Keshikasu-kun children's comedy manga has been green-lit. The licensing company Shogakukan-Shueisha Productions lists the anime as a television production.

The story centers on a white eraser (keshi-gomu) that strives to be the strongest in stationery supplies. The eraser dons a paper costume and a piece of eraser crumb (kasu) on his head to become Keshikasu-kun. Keshikasu-kun vows to erase the correction fluid (shūseieki), the blackboard eraser (kokuban-keshi), and his other rivals.
The manga has been running in Monthly Coro Coro Comic since 2004, and the eighth compiled book volume shipped this month. The manga won the children's category in the 53rd annual Shogakukan Manga Awards. Keshikasu-kun has already appeared as a computer-graphics character in the Oha Coliseum television program since last year.
---