News

Ex-Johnny's Jr. Idol Makes Cross-Dressing Essay Manga

posted on by Egan Loo
---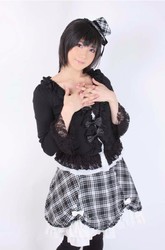 Nanami Igarashi, a former Johnny's Jr. male idol and the son of Candy Candy shōjo manga artist Yumiko Igarashi, wiil debut his cross-dressing essay manga Wagahai wa "Otokonoko" dearu! on November 27. The title means "I Am Otokonoko!"; Otokonoko is the Japanese term for boys and men who dress in women's clothing.
Igarashi, who was born Keiichi Igarashi, is also the son of famed voice actor Kazuhiko Inoue (Candy Candy's Anthony, Fruits Basket's Hatori Sohma, Naruto's Kakashi Hatake). The book covers different episodes in Igarashi's life as he explored cross-dressing. It began when he secretly tried out his live-in girlfriend's cosplay outfits and cosmetics while she was away — then she discovered his secret.

In addition to Igarashi's autobiographical manga stories, the book features his makeup lessons and an essay by his mother about how she raised him. His mother wrote a blurb of praise for the wraparound jacket band on the book. Igarashi still lives with his girlfriend as he approaches his 30th birthday next year.
Sources: Cinema Today, Akiba Sōken
---