News

Ashita no Joe Film to Screen in France, Southeast Asia

posted on by Gia Manry
Live-action adaptation of boxing manga to open in 9 regions
---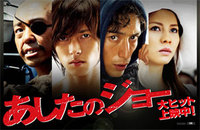 The live-action film adaptation of Asao Takamori and Tetsuya Chiba's boxing manga Ashita no Joe will be screened in nine regions: France, Hong Kong, Taiwan, Malaysia, Singapore, Thailand, Brunei, Macau, and Indonesia. Only one region's release date has been announced at this time: the film will open in Taiwan on March 18.
Ashita no Joe revolves around an orphan named Joe Yabuki who rises from the Tokyo slums under the tutelage of a former boxer. Takamori and Chiba's original 1968-1973 manga is among the most critically acclaimed stories in Japanese popular culture, and Osamu Dezaki's television series added to the story's iconic status. It would later influence two generations of sports and shonen manga, including Hajime no Ippo (Fighting Spirit). A crucial twist in the Ashita no Joe television anime's plot made headlines in Japan as people marked the occasion with public ceremonies.
The film stars Tomohisa Yamashita, an actor and singer with the boy band NEWS. Yamashita has appeared in several Japanese television dramas based on manga, including Tsutsumi Yukihiko's IWGP and Takeshi Natsuhara and Kuromaru's Kurosagi (not to be confused with Kurosagi Corpse Delivery Service).
Source: Sankei Sports, Screen International via Tokyograph
---