News

Nabeshin to Attend San Japan Anime Con in Texas

posted on

2011-04-22

23:58 EDT by Gia Manry
---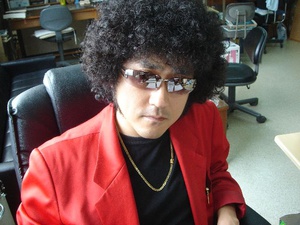 The San Japan anime convention announced on Thursday that it will host anime director Shinichi "Nabeshin" Watanabe as a Guest of Honor at its August 5-7 event in San Antonio, Texas.
Watanabe is best known for directing anime series such as Excel Saga, The Wallflower (Yamato Nadesico Shichihenge), and Puni Puni Poemy. He has also appeared as an exaggerated version of himself in many anime, including several of those directed by himself (most notably Excel Saga) and by others (Hayate the Combat Butler, Zettai Karen Children). Watanabe also famously dresses in a style mimicking that of anime character Lupin III with his hair styled in an afro.
San Japan will take place at the San Antonio Marriott Rivercenter Hotel. Other announced guests include voice actors Chris Ayres, Josh Grelle, Clarine Harp, Carrie Savage, Brad Swaile, and J. Michael Tatum, as well as musical guests Rai Kamishiro, the Descendents of Erdrick, and The LoliHolix.
---
discuss this in the forum (12 posts)
|
bookmark/share with:
RightStuf - Anime, Manga and More
The widely-acclaimed mangaka behind Goodnight Punpun and Dead Dead Demon's Dededede Destruction dives deep on his intense career, the intense feelings in his intense manga, piracy, millennials and a whole lot more.
― Inio Asano is the renowned artist and writer behind a small library of emotionally complex manga that have been embraced and celebrated by audiences in Japan and around the world. Asano ...
Is your anime cosplay in violation of copyright law? Would that even be enforceable? Justin digs into it.
― Chris asked: Following up on your column from earlier this week, you said most fan works are copyright violations. What about cosplay? I've heard that some creators don't like their characters being cosplayed. Is it possible that they can sue the fans that dress up as their characters? Legally...
If you think that a dragon and a knight sound like the coolest possible dads, this thoughtful dark fantasy adventure is well-worth your time. Rebecca Silverman digs in.
― Sometimes you just know that an author has done her research. That's true of Tsubaki Tokino's novel Little Princess in Fairy Forest: from names to folk songs to fairy tale elements, it's obvious that she really looked into the cultu...
Not one but TWO new Persona dancing games are out in Japan! Both of them are supposed to snap right in to the overarching Persona timeline... but how? When did our heroes take to the dance floor? Richard Eisenbeis has done the homework.
― With two new Persona music games on the market in Japan you might be wondering, how exactly do they fit in with the rest of the series? While about different sets o...
Darling in the FRANXX has given some viewers whiplash with its unprecedented plot twists over the last few weeks. Nick and Steve discuss where things went wrong for them in this ambitious mecha series.
― Darling in the FRANXX has given some viewers whiplash with its unprecedented plot twists over the last few weeks. This week, Nick and Steve discuss where things went wrong for them in this ambitious ...
This slightly more creepy-crawly take on isekai reincarnation doesn't break from formula too much, but it does everything refreshingly better than its many peers in the genre. Theron Martin has the details.
― The field of isekai reincarnation novel series is so dense and thickly populated with weird options that even a catchy title and premise might not hold reader attention for long; a series has to...
In Tokyo, Haruka reunites with Ikuya, a young man who swam alongside him in relays in middle school. Haruka's memories of middle school begin to resurface; he remembers Ikuya from "that moment" extremely clearly...
― Free! -Dive to the Future- Official Website: http://df.iwatobi-sc.com/ Introduction Characters Cast & Staff Gallery Premieres in July 2018 Key Staff Director: Eisaku Kawanami Series Com...
When it comes to fan works - cosplay, fanart, fan films and games - copyright seems to be only enforced arbitrarily. Why is that - and which fan works are less likely to get the hook? Justin gets into it.
― James asked: I have noticed that most companies tolerate fanart, fanfiction, and cosplay of their works, but not fan-films or fan-made video games, which seems very arbitrary and random, to me. W...
James delves into a divisive CG sci fi thriller from last spring while Paul breaks down all this week's new anime releases!
― I've officially hit the point in every anime season where I look at my streaming queue and think, "Aw, crap." Apart from the two shows I'm covering for streaming reviews, I'm weeks and weeks behind on everything. I sense a late-night marathon in my immediate future. Welcome t...
The first two thirds of this fantasy road trip are humble yet satisfying. Rebecca Silverman explores the attractive art and charming idiosyncrasies of the dragonewt kingdoms.
― Everything eventually cycles back around. That's part of the philosophy behind the world building of Kiyohisa Tanaka's debut manga series, Juana and the Dragonewt's Seven Kingdoms: first there were dinosaurs, then there were h...
This special sunday edition of This Week in Games collects E3's most exciting game announcements, plus the rest of this week's gaming news. If you feel like you missed anything at E3, catch up here!
― And we're back with the second part of our E3 news extravaganza! Except that, as I write this, the internet is losing its mind over something totally unrelated to E3: a tease by Studio Trigger that it's...
"This one felt a little more scattershot than the previous two, and they're still repeating themes that have been fully clarified at this point, but I'm still dying to know where all this is going."
This steampunk adventure novel explores the stigmatization of illness in refreshing and engaging ways. Rebecca Silverman explores how.
― Despite having some of the trappings of a standard reverse harem school story, Mia and the Forbidden Medicine Report is much more of a science drama than a romance. The story takes place in a vaguely early 20th century steampunk setting, where country girl Mia Bauma...