News

New U.S. Speed Racer Comic Announced

posted on by Andrew Osmond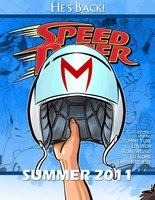 A new comic series of Speed Racer (the American dubbed adaptation of Tatsuo Yoshida and Tatsunoko's Mach Go Go Go, anime) is slated to ship next summer. Five staff members have been named: Len Wein, Tommy Yune, Robby Musso, Lee Kohse, and James Rochelle.
Wein co-created such American comic characters and titles as Swamp Thing, Wolverine, and The Human Target. Yune previously wrote and drew the Speed Racer graphic novel Born to Race for the 1990s American comic version by Wildstorm Publications. Yune also co-directed the feature film, Robotech: The Shadow Chronicles.
In the 1960s Speed Racer anime and manga, a teenage race car driver named Speed goes on adventures with his girlfriend, his candy-crazed brother whose best friend is a monkey, and his mysterious brother Racer X (whose real name is Rex). Speed's father, Pops, created the teenager's Mach 5 car The series was remade as a live-action film in 2008 by the Wachowski Brothers.
Digital Manga Publishing released Yoshida's original Japanese manga of Speed Racer in North America. The American Speed Racer comics have been previously published by NOW Comics, WildStorm Productions, and IDW Productions.
Source: comicmix.com
---