News

Funimation Confirms Some Geneon Licenses Have Expired

posted on by Andrew Osmond
Paradise Kiss, Kamichu, Kyo Kara Maoh, The Story of Saiunkoku, The Law of Ueki
---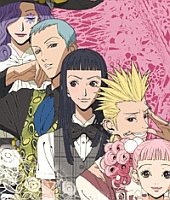 Sophie McNutt, an online community lead for the North American anime distributor Funimation, confirmed on Tuesday that Funimation will let some of its licenses from Geneon Entertainment expire:
Paradise Kiss (pictured)
Kamichu
Kyo Kara Maoh
The Story of Saiunkoku
The Law of Ueki
Also listed was When They Cry (Higurashi no Naku Koro ni), whose license expiration Funimation had confirmed in June. Funimation had listed The Familiar of Zero as an expiring license in June as well.
Funimation had agreed to distribute these titles as part of its deal with Geneon in 2008. McNutt added, "As far as I know, there are no plans to re-acquire these titles."
[Via The Fandom Post, Crunchyroll]
Image © 2005 Yazawa Manga Seisakusho/Shodensha / Paradise Kiss Committee
Update: "Via" link fixed. Thanks, Shiroi Hane.
---