News

Sentai to Release This Boy Can Fight Aliens in English

posted on by Ko Ransom
Alien invasion/teen anime by
Soubi Yamamoto
receiving North American release
---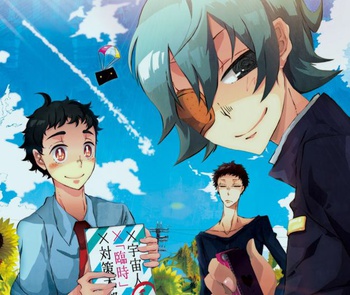 Anime News Network has received confirmation that This Boy Can Fight Aliens (Kono Danshi, Uchū-jin to Tatakaemasu), Soubi Yamamoto's professional anime debut, will be released in North America by Sentai Filmworks. The original anime DVD was first released in Japan last year by CoMix Wave Films with English subtitles on the disc.
In the anime's story, aliens suddenly invade the world, and a boy named Kakashi stands alone with the power to fight back against the aliens — except he lost his memories. The anime stars Ryohei Kimura (Eden of the East, Natsume Yūjin-Chō) as Kakashi, Toshiyuki Toyonaga (Katekyo Hitman Reborn!, Durarara!!) as an anti-alien forces member named Arikawa, and Daisuke Hirakawa (Gankutsuou: The Count of Monte Cristo, School Days) as Arikawa's superior and Kakashi's guardian Shiro.
On Wednesday, it was announced that production of a second anime in the "KonoDan" series, Kono Danshi, Ningyo Hiroimashita (This Boy Has Picked Up a Merman) has begun.
---