News

Japan's Comitia Convention Plans Foreign Comic Festa

posted on

2012-05-14

20:20 EDT
Foreign comics event to be held Sunday, November 18 at Tokyo Big Sight Exhibition Center
---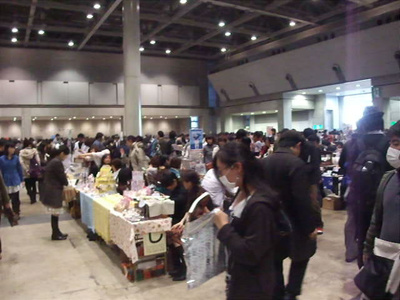 Event organizers recently announced the launch of Kaigai Manga Festa, a festival focused exclusively on showcasing "foreign" (non-Japanese) comics by amateur and professional artists. The event will be co-organized by Comitia, a quarterly sokubaikai (literally "selling event") devoted to the sale of original manga and dojinshi.
Kaigai Manga Festa will be held in conjunction with Comitia 102 at the Tokyo Big Sight Exhibition Center. The one-day festival will be held on Sunday, November 18 from 11am to 4pm. The festival itself is a free event, but participants must pay the Comitia entrance fee (the cost of purchasing the guidebook Tia's Magazine, ¥1000, about US$12.50) because the events will be held jointly. Kaigai Manga Festa lists Japan's French and Belgian Embassies as its sponsors, as well as the Japanese Ministry of Foreign Affairs.
ANN representative Evan Miller had the chance to attend Comitia 90 in 2009 (image seen at right). Last year's event showcased a charity illustration book to support disaster victims based on Gainax's Gurren Lagann anime called Jibun o Shinjite (Believe in Yourself). The participants included both Japanese and foreign artists such as Gurren Lagann director Hiroyuki Imaishi, and Bobby Rubio, a storyboard artist for Nickelodeon's Avatar: The Last Airbender and Pixar's Up.
[Via Deb Aoki]
---