News

Ninja Scroll Cinema Screening Details

posted on by Andrew Osmond
Special screening at Hackney Picturehhouse on November 16, wider release from 23rd.
---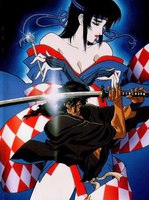 Fetch Publicity has confirmed more details of the limited cinema release of Yoshiaki Kawajiri's classic anime action film Ninja Scroll in November.
It will be screened in Picturehouse Cinemas and Picturehouse Partner Screens from Friday November 23. As of writing, the confimed venues are: Brighton, Norwich, Southampton, The Ritzy, Brixton, FACT Liverpool, Greenwich Picturehouse, Stratford East Picturehouse, The Cameo - Edinburgh, Lancaster, and The ICA London.
In addition, there will be a special screening of the film at the Hackney Picturehouse Cinema on Friday November 16 at 9 p.m. (tickets here or call the box-office at 0871 902 5734). The ticket includes admission to the movie, an advance copy of the standard edition Blu-ray and a limited edition, signed and numbered variant Ninja Scroll movie poster by British illustrator Sam Gilbey (Call of Duty, Scott Pilgrim).
On ticket holder will also win a £500 bundle of Manga Entertainment boxsets and blu-rays, including Dragon Ball Z, Puella Magi Madoka Magica, Akira and more.
The film will also be released in DVD, Blu-ray and steelbook formats on November 26.
---