News

One Piece Film Z Sells 600,000 Tickets on 1st Day

posted on by Lynzee Loveridge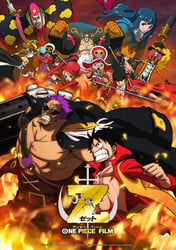 The Twitter account of the media trade paper Bunka Tsūshin reported on Saturday that One Piece Film Z sold 600,000 tickets on its opening day. The film grossed 750 million yen (about US$9 million) at the box office on Saturday, and is expected to sell 1 million tickets by Sunday and gross over 1.3 billion yen (US$15,576,340). If it does, it will top Evangelion: 3.0 You Can (Not) Redo for Japan's highest weekend box office of 2012.
By comparison, Evangelion: 3.0 sold 771,764 tickets for 1,131,004,600 yen (US$13,913,200) during its opening weekend last month.
Deputy director of Shonen Manga Group and former editor-in-chief of Weekly Shonen Jump Hisashi Sasaki posted a picture of the film's staff on the roof of Toei headquarters. According to Sasaki, there is a "TOEI shrine" where the staff got "together to pray for success of the movie."
The film features "Z" (Zetto), the Straw Hat pirate crew's "strongest enemy yet" who was designed by Oda. Oda served as the executive producer of this film, as he did for the 10th feature film, 2009's One Piece Film Strong World.
Attendees of the movie are getting 2 million copies of an 84-page "Volume 1000" of One Piece, which contains designs and an exclusive One Piece Treasure World card.
---