News

Crunchyroll to Stream Rowdy Sumo Wrestler Matsutaro!! Anime

posted on by Lynzee Loveridge
Series to launch on Saturday at 6:30 p.m. ET
---

Media distributor Crunchyroll announced on Saturday that it will stream Toei Animation's Rowdy Sumo Wrestler Matsutaro!!(Abarenbō Rikishi!! Matsutarō) anime series.
The series will launch on Saturday at 6:30 p.m. EDT and be available in the following countries: U.S., Canada, South Africa, Australia, New Zealand, Latin America (Central and South America including Mexico), Albania, Algeria, Andorra, Armenia, Austria, Azerbaijan, Bahrain, Belarus, Belgium, Bosnia and Herzegovina, Bulgaria, Croatia, Cyprus, Czech Republic, Denmark, Djibouti, Egypt, Estonia, Finland, Georgia, Germany, Hungary, Iceland, Iran, Iraq, Israel, Italy, Jordan, Kuwait, Kazakhstan, Latvia, Lebanon, Libya, Liechtenstein, Lithuania, Macedonia, Malta, Mauritania, Moldova, Montenegro, Morocco, Netherlands, Norway, Oman, Palestine, Poland, Portugal, Qatar, Republic of Ireland, Romania, Russia, San Marino, Saudi Arabia, Serbia, Slovakia, Slovenia, Somalia, Spain, Sudan, Sweden, Switzerland, Syria, Tunisia, Turkey, Ukraine, United Arab Emirates, United Kingdom, Vatican City, Western Sahara, and Yemen.
The story follows Matsutarō Sakaguchi, a giant roughneck man with strength far beyond ordinary people. He never uttered words like "work hard," "strive," and "dream" like the typical shōnen manga protagonist. However, he is stronger than anyone and peerless in sumo wrestling. His greatest weakness is his own carefree personality. He grows into a full-fledged sumo wrestler.
The anime's cast will star: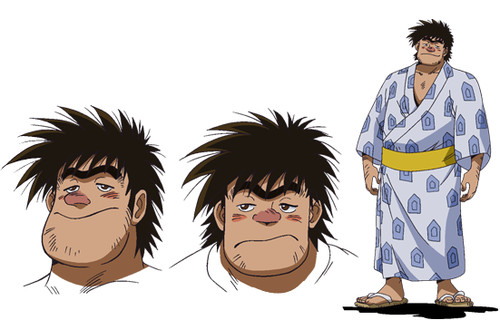 Actor and singer Ken Matsudaira as Matsutarō Sakaguchi

Yuko Mizutani (Black Jack's Pinoko, Digimon Adventure's Sora) as Reiko Minami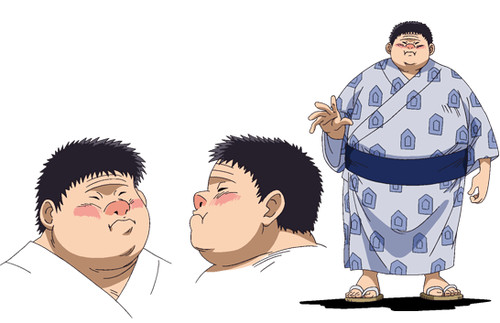 Kôzô Shioya (Dragon Ball Z's Majin Buu, Mobile Suit Gundam ZZ's Mondo) as Shin Tanaka

Issei Futamata (Ashita no Nadja's Herman, Ah! My Goddess's Ohtaki-senpai) as Shimada-sensei

Bin Shimada (Gintama's Gengai, Mobile Suit Zeta Gundam's Paptimus) as Nishio

Masaharu Satou (Dragon Ball Z Kai's Kame-sennin, Mewtwo ~Kakusei e no Prologue~'s Oscar) as Company President
Chiemi Chiba as Tsuruko
Yukiko Morishita as Takeshi
Shino Shimoji as Yuri
Rieko Mima as Kiku
Chiemi Chiba as Umeo
Kimiko Saito as Ei
The anime's website also lists the staff:
Producers: Tomohiro Tsuji (TV Asahi), Gyarmath Bogdan (Toei Animation)
Series Director: Yukio Kaizawa
Character Design: Noboru Koizumi
Art Director: Shinzo Yuki
Series Composition: Akatsuki Yamatoya
Production: Toei Animation, TV Asahi
The long-running original manga ran from August 1973 to June 1993 and again from October 1995 to May 1998 in Shogakukan's Big Comic Magazine. It won the Shogakukan Manga Prize in 1977. It already inspired a string of original video anime episodes in the 1990s.
---