News

New Bravely Second 3DS Game's Trailer Introduces More Cast

posted on by Karen Ressler
---
Square Enix began streaming a new trailer on Monday for its upcoming Nintendo 3DS game Bravely Second, the sequel to Bravely Default. The video announces that Kazuya Nakai and Hiromi Tsuru will voice the new antagonists Emperor Oblivion and Anne, respectively, and confirms the return of Mai Aizawa as Edea.

The previously announced cast includes:
Daisuke Namikawa as Yu Zeneolsia (center, in image to the right)
Yasuyuki Kase as Jean Engarde (left, in image)
Toru Okawa as Nicolai Nicolanikov (right, in image)
Ayumi Tsunematsu as Magnolia Arch
Ami Koshimizu as Agnès Oblige
Main character designer Akihiko Yoshida previously announced his decision to leave Square Enix; however, he said he will continue to work on the Bravely Default series "for as long as he is needed." The game's first teaser video confirms that Yoshida will again serve as main character designer for the sequel, which will also ship for the 3DS. Supercell's Ryo is composing the music.
Sword Art Online illustrator abec also designed two new characters for the game: Amy Matchlock, holder of the new "Tomahawk" asterisk, and Angelo W. Panettone holder of the new "Pâtissier" asterisk.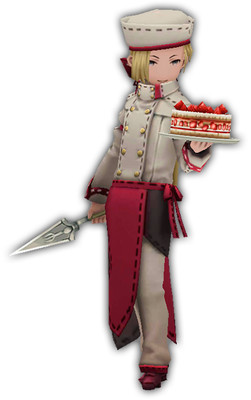 Other new characters include Minette Goroneze, holder of the new "Cat User" asterisk, and a mysterious old man who holds the new "Astrology Master" asterisk.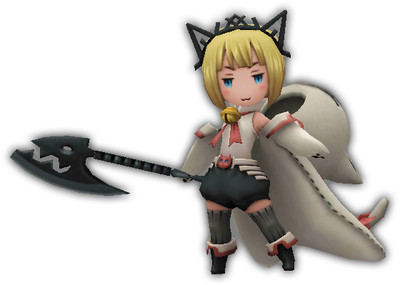 The game will ship on April 23. The game will get a special edition for 15,984 yen (US$134) bundled with an Agnès figure, a Bravely Default 200 years Later ~Kaze no Miko Edea Oblige (Wind Maiden Edea Oblige) art book and novel, a mini soundtrack CD, a U notebook, and a Magnolia rubber strap.

Square Enix collaborated with Naotaka Hayashi, scenario writer for 5pb.'s Robotics;Notes, Steins;Gate, and Chaos;HEAd games, to create Bravely Default. The game shipped in Japan in October 2012.
Bravely Default's enhanced version of the game, titled Bravely Default: For the Sequel, shipped in Japan on December 5 and in Europe on December 6. The game shipped in North America on February 7.
[Via Siliconera]
---