×
remind me tomorrow
remind me next week
never remind me
Subscribe to the ANN Newsletter • Wake up every Sunday to a curated list of ANN's most interesting posts of the week.
read more
News

Chika Anzai Joins Chaos Dragon TV Anime's Cast

posted on by Jennifer Sherman
---

The official website for the Chaos Dragon television anime series announced on Friday that Chika Anzai (Sky Wizards Academy's Amie, Chaika - The Coffin Princess's Chaika) will play Ibuki's twin sister Inori. The character was thought to have been killed with Nil Kamui's previous king during the Seven-Year War. However, she suddenly reappears as Donatia's candidate to be the small country's next ruler.
The anime's story takes place in the sparkling era year 3015, where the great nations Donatia and Kōran divide the world in a cold war as they fight for supremacy. In the middle of this standoff is island country Nil Kamui, which has lost its independence.
The main cast includes: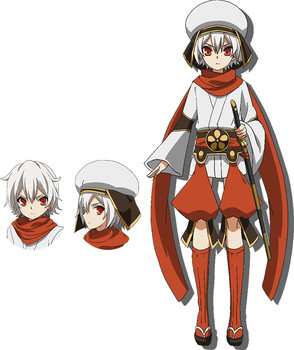 Marina Inoue as Ibuki, a descendant of the royal family of Nil Kamui. Created by Simadoriru.

Miyuki Sawashiro as Eiha, Ibuki's guardian who is fused with a demon. Created by Izuki Kōgyoku.

Sōma Saitō as Soirot Clasbari, a member of Donatia's prized black dragon knights. Created by Kinoko Nasu.

Maaya Uchida as Rō Chenfa, an assassin from a religious organization in Kōran. Created by Gen Urobuchi.

Unshou Ishizuka as Kagraba, a mysterious immortal trader from the independent city of Haiga. Created by Ryohgo Narita.

Houchu Ohtsuka as the Red Dragon (one of only seven dragons in the world and the guardian deity of Nil Kamui)


Kenji Akabane as Fugaku, Ibuki's fellow disciple in kendō


Takuya Eguchi as Hien, a boy swordfighter. He lost a little sister who was like his other half, during the Seven-Year War.


Kouichi Yamadera as Agito, leader of the revolutionary army


Nozomi Furuki as Mashiro, a girl who was with Ibuki at an orphanage in Nil Kamui


Haruka Watanabe as Kai, who lived in an orphanage after losing both parents in the Seven-Year War between Nil Kamui and Kōran


Haruka Terui as Meryl, a follower of Soirot


Jouji Nakata as the Black Dragon, the guardian dragon of Donatia


Keiji Fujiwara as Simeon, the leader of the third legion of the Black Dragon knights. He's ranked 3rd overall among the knights.


Aimi as Ulrika, the sub-leader of the third legion of the Black Dragon knights. She's ranked 22nd overall among the knights.


Tomokazu Seki as Qisha Tianling, a sword that can consume the souls of killers and has the personality of a young man. Rō Chenfa calls it "Your Highness" and keeps it in a coffin between battles because the blade will bewitch people.


Eriko Matsui as Gakushō, a Kōran commander who excels at using the guns developed there.


Sayaka Ohara as Kōkaku (kanji reading unconfirmed), a Kōran commander with mechanical body parts for use in battle


Toru Ohkawa as Lin (kanji reading unconfirmed), a Kōran soldier who despises the "savage" people of Nil Kamui


Ryoko Shiraishi as Shoren (kanji reading unconfirmed), a young girl who takes orders from Rō Chenfa. She can appear and disappear unexpectedly.

Additional cast includes:
Toru Ohkawa as Kurama
Haruo Satou as Enumael
Atsushi Tamaru as Hakuei (kanji reading unconfirmed)
Ryohei Kimura as Sol
Aoi Yuki as Shaddy
Ayaka Imamura as Miska


The anime premiered on Tokyo MX TV, KBS Kyoto, BS11, and Sun TV on July 2.
The project is based on Red Dragon, the "role-playing fiction" story born from the "table talk role-playing game" sessions by five prominent anime, game, and art creators. The five Red Dragon participants were Gen Urobuchi (Phantom ~Requiem for the Phantom~, Puella Magi Madoka Magica, Fate/Zero), Kinoko Nasu (Kara no Kyōkai - the Garden of sinners, Fate/stay night, Lunar Legend Tsukihime), Izuki Kōgyoku (Mimizuku to Yoru no Ō, Mama, Garden Lost), Simadoriru (illustrator), and Ryohgo Narita (Baccano!, Durarara!!). Each participant created a character to guide through six nights of tabletop role-playing game sessions devised by "fiction master" Makoto Sanda (Rental Magica, Record of Lodoss War).
The website Sai-zen-sen serialized the compiled transcripts of the Red Dragon role-playing sessions.
Masato Matsune (Fate/Prototype CG supervisor, Meganebu! opening storyboarder and animation director) is directing the television anime at SILVERLINK./CONNECT. Team Barrel Roll's Ukyō Kodachi (Neppu Kairiku Bushi Road, Macross Frontier novels) is in charge of the series scripts with assistance by Shou Aikawa (Fullmetal Alchemist, Ghost Slayers Ayashi, EUREKA SEVEN AO).
[Via Ota-Suke]
---