Konami Digital Entertainment, Inc. Unleashes a Myriad of Monsters with Latest Yu-Gi-Oh! 5D's Trading Card Game Structure Deck Release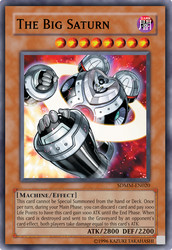 EL SEGUNDO, Calif. (February 23, 2010) – Let the mayhem commence with the first 2010 Yu-Gi-Oh! TRADING CARD GAME (TCG) Structure Deck release. Ready-to-play, with an arsenal of automatons, Machina Mayhem includes 11 brand-new cards and gives Duelists the tools they need to Summon awesome engines of destruction designed to pulverize an opponent's monsters!
Machina Mayhem introduces the "Machina" series of Machine-Type monsters. "Machina" monsters specialize in Special Summoning other "Machina" monsters, and then equip themselves to each other to assemble bigger and stronger machines! And as a special bonus, Machina Mayhem also includes "The Big Saturn" from the Yu-Gi-Oh! GX manga, one of the biggest Machines to ever appear in a Yu-Gi-Oh! manga series.
This 40-card Deck (including one Ultra Rare and two Super Rare foil cards) is now available at hobby and retail stores nationwide for an approximate retail price of $9.99.

Structure Decks like Machina Mayhem are perfect for Duelists who know the basic rules, but are looking for a launching point to build a competitive Deck for tournament use. Machina Mayhem has everything a Duelist needs, including Deck, full rulebook, deluxe Game Mat, and Dueling Guide with tips on how to customize and power up the Deck even more.
For more information on Konami Digital Entertainment, Inc., the Yu-Gi-Oh! TRADING CARD GAME, or the Machina Mayhem Structure Deck, please visit www.yugioh-card.com.
About The Yu-Gi-Oh! TCG
The Yu-Gi-Oh! TRADING CARD GAME is the #1 trading card game in the world with over 22 billion cards sold. It is a game of strategy, where players create individual Decks of cards collected from Structure Decks and Booster Packs. Two players engage in a Duel while using cards that represent powerful monsters, magical Spells and surprising Traps. Duelists with well-constructed Decks, dominating monsters, solid strategy and good fortune are the victors in the Yu-Gi-Oh! TCG. Konami Digital Entertainment, Inc. is the exclusive licensee and rights holder to the Yu-Gi-Oh! TCG in North America and Latin America.
About Konami
Konami is a leading developer, publisher and manufacturer of electronic entertainment properties and traditional trading card games. Konami's software titles include the popular franchises Metal Gear Solid, Silent Hill, DanceDanceRevolution and Castlevania, among other top sellers. Konami is also the manufacturer of the wildly popular Yu-Gi-Oh! TRADING CARD GAME, which has sold more than 22 billion cards worldwide. The latest information about Konami can be found on the Web at www.konami.com. Konami Corporation is a publicly traded company based in Tokyo, Japan with subsidiary offices, Konami Digital Entertainment Co., Ltd. in Tokyo, Japan, Konami Digital Entertainment, and Inc. in the United States and Konami Digital Entertainment GmbH in Frankfurt, Germany. Konami Corporation is traded in the United States on the New York Stock Exchange under the ticker symbol KNM. Details of the products published by Konami can be found at www.konami.com.
---