Win Free Tickets for Japan Anime Live in Europe at MJP
JAPAN ANIME LIVE is the first and official live event made and performed by
the Japanese creators of the famous Manga and Anime series.
An extraordinary event that brings on stage the "all-star" of Japanese animation such as
BLEACH
NARUTO SHIPPUDEN
FULLMETAL ALCHEMIST BROTHERHOOD
ONE PIECE
GUNDAM
On October 23rd, this special event will tour through Europe, starting in France, and leading
through Belgium, Germany and Italy. For the special collaboration between "JAPAN ANIME
LIVE" and MJP, a special MJP section has just been launched!
Together with the start of this special section, MJP has 2 tickets each to the event for 5 lucky
winners up as prizes! For everyone into anime and with an interest in Japanese actors and
actresses, take your chance and apply now!
http://bit.ly/dgeLcS
The application period lasts from October 4th to 17th and the winners will be informed through
an e-mail through the MJP staff. In response to that e-mail please also state again the date and
the place venue you would like to go to. The tickets will be made available for the winners at the
convention directly.
Moreover, you will find the event schedule and time table of the event in the special section for
the event! Please check the links below for the "JAPAN ANIME LIVE Special Corner"
http://bit.ly/caRaBR
JAPAN ANIME LIVE SCHEDULE
23.10.2010 Paris - France
29.10.2010 Brussels - Belgium
31.10.2010 Dusseldorf - Germany
06.11.2010 Milan - Italy
11.11.2010 Florence - Italy
13.11.2010 Rome - Italy
About musicJAPANplus
musicJAPANplus.jp brings you the most up-to-date information on Jpop,
Jrock
and visual
kei. This
webzine
contains information by respective japanese artists,management teams
and record labels in japan.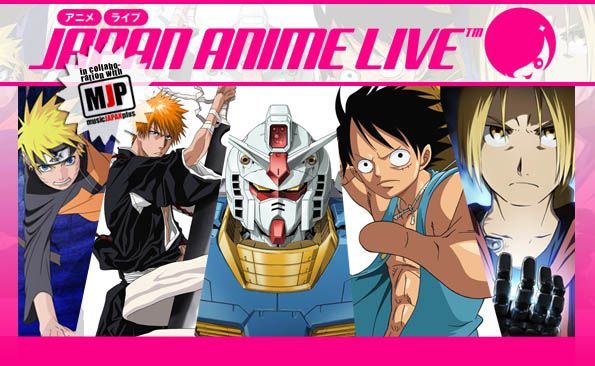 ---
discuss this in the forum (2 posts)
|