Rolling Thunder and Wonder Momo to Return as Action-Packed Webcomics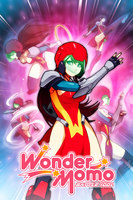 ShiftyLook re-imagining two more Namco classics for May 2012 release
TOKYO, JAPAN – April 14, 2012 – NAMCO BANDAI Games Inc., a subsidiary of NAMCO BANDAI Holdings Inc. (TYO: 7832), announced today the upcoming addition of webcomics reimagining arcade classics Rolling Thunder (under the title Rapid Thunder) and Wonder Momo (under the title Wonder Momo: Battle Idol) to its ShiftyLook webcomics platform. ShiftyLook can be accessed at shiftylook.com.
Re-imagining the 1986 coin-op side-scroller Rolling Thunder, Rapid Thunder will be written by highly-acclaimed writer of television, film, games and comics Jimmy Palmiotti, with art created by superhero comics veteran Juan Santacruz. Made for ShiftyLook by Irvine, California-based Cryptozoic Entertainment, Rapid Thunder will launch on May 2, 2012, and will be released twice weekly on Wednesdays and Fridays thereafter
Wonder Momo: Battle Idol, based on the Japan-only 1987 beat 'em up classic Wonder Momo, will be co-written by tokusatsu expert and super otaku Erik Ko and Sky Kid writer Jim Zub and feature the art of fighting game comics mainstay Omar Dogan. Wonder Momo webcomics, made for ShiftyLook by Toronto-based UDON Entertainment, will launch on May 15, 2012 and be released twice weekly on Tuesdays and Fridays.
"Both Wonder Momo and Rolling Thunder evoke strong, iconic nostalgia amongst gamers of different kinds," said Rob Pereyda, Producer and Editor-in-Chief of ShiftyLook for NAMCO BANDAI Games. "We hope that with these new webcomics, we have captured the cheeky magic of 80s arcades and created something fans will enjoy, both old and new."
---