The Dragon's Crown Adventure Begins Next Week
Dragon's Crown is almost here! The adventure in Hydeland begins on Aug. 6 and we have some orc-kicking trailer action.
Dragon's Crown will be exclusive to the PlayStation 3 and PlayStation Vita systems for $49.99 and $39.99 respectively and is available for pre-orders now from major retailers. The game is rated T for Teen by the ESRB. More details about the game are available on the official Dragon's Crown website at:
http://www.atlus.com/dragonscrown/
Pre-orders and first-run printings will include the 64-page full color Dragon's Crown Artworks book, pictured below.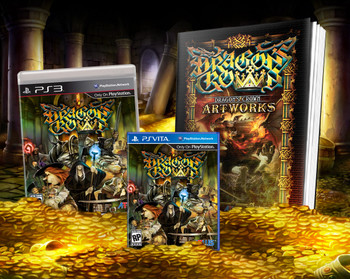 TITLE:
Dragon's Crown
PLATFORM(S):
PlayStation®3
PlayStation®Vita
RELEASE DATE:
Aug. 6, 2013
GENRE:
Action
Beat 'Em Up
Hack and Slash
ESRB:
T
PLAYERS:
1-4
GAME URL:
atlus.com/dragonscrown
MSRP:
$49.99 (PS3™)
$39.99 (PS Vita)
About ATLUS
Index Digital Media Inc.'s ATLUS brand has become known across the industry as a mark of high-quality, deeply immersive, uniquely Japanese video game experiences. With award-winning titles that reach across a variety of genres and platforms, including the Shin Megami Tensei® and Persona® series of role-playing games, the ground-breaking action-adventure/puzzle game Catherine™, and the much-celebrated RPG Demon's Souls™, ATLUS is committed to offering the highest standard in interactive entertainment experiences.
Twitter:
www.twitter.com/AtlusUSA
Facebook:
www.facebook.com/AtlusUSA
ATLUS is a brand of Index Corporation and its privately held subsidiary Index Digital Media, Inc.
For breaking news, special promotions, insider info, and more, visit http://www.atlus.com/faithful to join the ranks of the ATLUS Faithful
©Index Corp. 2013. Produced by ATLUS.
---