RIGHT TURN ONLY!!
My Heavenly Chevalier
by Carlo Santos,

Over the past week-and-a-half, I've been watching
The War
, Ken Burns' documentary miniseries about World War II. Of course, this website being what it is, everyone's got something to say about that war, and how it is interpreted in the arts. Surprisingly, Burns' sentimentalist American viewpoint produced no particular anger or pride in me—only a lingering melancholy, as I watched life after human life being stripped away. I did not see Axis or Allied; I did not see "wrong" or "right," "winners" or "losers"—I only saw human beings doing terrible things to each other, on all sides. It is depressing enough to lose one life, and for this to be compounded thousands upon millions of times ... it's almost too much to bear. The series did not teach me much about the political or strategic or historical elements—but it taught me the unimaginable hurt and tragedy that comes when the highest form of life on earth engages itself in an act of ritual killing.
---
AQUA


Vol. 1
(by Kozue Amano, Tokyopop, $9.99)
FROM THE BACK COVER:
"After 150 years of terraforming, Aqua, the planet formerly known as Mars, now has more than 90 percent of its surface covered in water. A young girl named Akari Mizunashi arrives at the city of Neo-Venezia, an exact replica of the old Italian city of Venice, hoping to become an Undine, the most coveted job on Aqua. Follow Akari's adventures as she discovers the wonders of Aqua in this prequel to the Aria anime and manga series."
EVIDENCE FOR:
Often times we throw praise at whichever manga-ka can draw the sharpest lines, the most striking characters, the bloodiest fights—but Kozue Amano earns it by avoiding such excesses. Subtlety and elegance are the visual trademarks of Aqua, from the cute retro-modern interior of the Aria Company headquarters to the rolling landscapes on the Hill of Hope. It's true that the premise sounds far-fetched—seriously, recreating Venice on Mars?—but it just makes everything
pretty
. With High Renaissance architecture and flowing waterways at every turn, who wouldn't want to visit? Akari, despite her novice skills as a gondolier (for that is what an Undine does), certainly seems to be having a relaxing time. This laid-back, feel-good vibe is present in every chapter, whether Akari's making new friends or discovering the secrets of Neo-Venezia. It's the latter that really makes this volume shine, especially in "The Kingdom of Cats," where Akari and newfound buddy Aika try to follow a mysterious feline and get caught in an M.C. Escher loop. How do you top something like that? Try the final chapter, where a long, winding gondola ride ends in one of the most touching scenes on any planet, terraformed or otherwise. A beautiful finish that should leave many readers longing for Volume 2.
EVIDENCE AGAINST:
This could very well be the poster child for bland, lifeless storytelling where Nothing Ever Happens. The toughest trial that Akari faces in the entire volume is losing her balance on a boat, or maybe rowing into an obstacle. Yeah, maybe there's too much of that relaxing laid-back atmosphere —even getting lost in Neo-Venezia ends up as a tranquil experience, and really, no story can run on one mood forever. Neither can it run on one personality type: lead characters Akari, Aika and Alicia all follow the generic girl-next-door mold (apart from Aika's occasional outbursts of "No sappy lines allowed!"), and the side characters are even more vanilla-flavored. With no real drama or personal conflict, no bursts of action, and no critical goal to reach (aside from improving as an Undine), this is a story without a line—just pretty scenes that fill you up but don't take you anywhere. While this is satisfying enough for some, it can also feel like going on an Italian vacation and spending the entire time sick in the hotel room.
FINAL VERDICT:
Give it a chance. It's not the usual action or dramatic fare, but the elegant art and relaxing mood are surely worth a
B+
.
---
KANNA


Vol. 1
(by Takeru Kirishima, Go!Comi, $10.99)
FROM THE BACK COVER:
"Kagura is living a perfectly happy, normal life ... until an adorable little girl shows up in his house and starts calling him 'Daddy'! As his once-leisurely existence turns upside down around him, he sets off to unravel the child's mystery, embarking on a journey which will change his life forever..."
EVIDENCE FOR:
I'm sure there are some among us whose greatest aspiration in life is to someday wake up in bed next to a pre-pubescent girl. But that's not the point. Yes, it's true that Kagura's first encounter with Kanna is exactly as described above, but as he learns more about the mysteries surrounding her, the bond between them becomes more like that of a family. But what kind of family has a "father" still trying to cram for college, while caring for a mute little girl on the run from otherworldly dark forces? It's a strange situation, to be sure, yet this story fares best when exploring that emotional strangeness between Kagura and Kanna. Even things as simple as buying clothes, cooking dinner or getting a haircut become adventures in relationship-building—see, having kids DOES change everything about your lifestyle. A simple visual style and straightforward pacing fit the slice-of-life mood, which puts a new angle on the spiritual-warfare background story.
EVIDENCE AGAINST:
Some styles and stories just don't belong together. The everyday-life segments in this volume do have their moments, but that's all they are—just moments. When taken as a whole, this series just starts crumbling apart, with its disparate elements failing to blend together. Is it a supernatural adventure story with a mysterious little girl at its centerpiece? Is it a coming-of-age tale where a young man learns how to take care of others? Things get even more ridiculous when Kagura discovers that he has powers of his own, except that he can't control them, and (dumb plot device alert!) it causes his hairstyle to change. Then there's the otaku comedy-relief guy who keeps showing up out of nowhere with his cosplay fantasies. Just how seriously are we supposed to take this anyway? You've got blood and guts and incantations, and then suddenly someone's cracking an Azumanga Daioh visual gag? It's not just the story tone that's inconsistent—the art and design also show the signs of someone who's trying to do everything at once and ends up being mediocre at all of it. The character designs and backgrounds are as generic as they come, the secret otherworld that Kagura keeps seeing doesn't have any mystical qualities to it, and the occasional scenes of spirit battle are just speedline-fests with people lunging at each other. What a mess.
FINAL VERDICT:
This story just doesn't know what it wants to be—and in doing so, it falls between the genre cracks into the plotless depths of a
D
.
---
KUROHIME


Vol. 1
(by Masanori · Ookamigumi · Katakura, Viz Media, $7.99)
FROM THE BACK COVER:
"Kurohime is a buxom witch with the power to control magical guns. She once made the mistake of challenging the gods and was cursed for her foolishness! Transformed into a little girl named Himeko, she can only regain her former body and powers when she falls in love. But finding love in a world fraught with evil is no easy task.
A master gunman named Zero searches the land for the legendary Kurohime. She saved him as a child, impressing upon him the importance of justice and helping others. While on his journey he meets a young girl named Himeko and is suddenly attacked by overwhelming forces. Outnumbered, outgunned and out of luck, he makes his last stand in order to protect this 'helpless' girl. Little does he know this girl has an incredible secret..."
EVIDENCE FOR:
"I've been cramming everything I like into Kurohime," says the author's preface, and that just about sums it up. This volume quickly establishes the series as a paean to all things action and adventure, with the main hook being the fusion of Wild West gunslinging and Eastern magic. The sprawling, 60-page chapters allow for plenty of development in each sub-story—the opener alone is long enough to introduce the main characters, give a little background, show Himeko/Kurohime's powers in action, and have our heroes fend off their first villain. Everything after that is an explosion of even wilder ideas, rendered in sharp fantasy detail: Chapter 2 sees a literal two-faced villain with a grudge, and its defining moment—not to spoil anything, but you'll know it when you see it—is pure sorcery-adventure eye candy. Of course, such outlandish ideas and imagery require a sense of humor to balance things out, and Chapter 3 plays the comedy angle with the ridiculous "fake Kurohime" and her goons. Yet it also manages to be the most touching story in this volume, ending on a bittersweet note about a knight's undying loyalty. No setting or subject matter is off limits in the world of Kurohime, which makes it all the more exciting and diverse.
EVIDENCE AGAINST:
They're really starting to scrape for licensable Jump titles, aren't they? While this may look like a thrilling explosion of ideas of at first, closer examination shows a quest story that doesn't know what, where or when it wants to be. You can throw in everything you like, but if there isn't a unified concept aside from the main characters having some powers, it's just going to ramble in all sorts of places and look cheesy. Take a look at Kurohime herself—she shoots magic bullets that turn into fantastic beasts ...
while yelling out the name of the attack
. Where's the originality in that? Even her transformation from Himeko into Kurohime by "falling in love" with Zero isn't particularly convincing: he says something heroic, she gives him a fawning look, and Kurohime shows up in the next panel. Where's the buildup and excitement? Clearly there's a critical flaw when a transforming heroine doesn't even have a good transformation sequence. And the less said about the character designs, the better, since they're all nondescript and generic in that fantasy-action-adventure way. Even the skintight, boob-jiggling fanservice isn't enough to save this one.
FINAL VERDICT:
The wild, gunslinging action and 60-page chapters offer their fair share of thrills, but it's a shallow
C
experience overall.
---
LE CHEVALIER D'EON


Vol. 2
(by Tou Ubukata and Kiriko Yumeji, Del Rey, $10.95)
FROM THE BACK COVER:
"The prophecy is coming true. It was predicted that France would fall in a terrible revolution ... and now the streets of Paris are running red with blood. An evil force is haunting the city, a force that turns ordinary men into horrifying monsters. The kingdom has only one hope: the Chevalier Sphinx, secret agent and master swordsman!"
EVIDENCE FOR:
Once again, the dead-trees-and-ink version of Chevalier is a pure adrenaline rush, loaded with vicious monsters and swordplay. It might as well be an alternate universe from the anime series, as the characters, storyline and mood project a very different experience. D'Eon de Beaumont is a hoot in his day-to-day role as a bumbling police officer, and when he switches to the soul of his dead sister Lia (the Chevalier Sphinx), the resulting action is always a thrill. In fact, the last few chapters are basically one big fight scene against an orchestra director gone evil, a glorious cavalcade of bloodshed and hand-to-hand combat. Thick, dark lines and shadows add to the action-horror feel, and the intricately drawn monsters are as gruesome as they come. The story side also gets its fair share of development in the earlier half of the book: the Bad Guy Controlling The Evil Poets shows up for a spell, and the circumstances of Lia's death are discussed between de Beaumont and polymath Jean d'Alembert (who, apparently, looks like Marilyn Manson, which is hilarious). Viva la France!
EVIDENCE AGAINST:
Somehow, amid the new wrinkles in the plot, this still feels like a monster-of-the-week parade. The monsters just take longer to kill now. (Does the orchestra director count as a boss battle?) As the mysticism behind the Psalms and Poets grows—Kabbalah, the
Sephirot
, something about the letter S—it starts to feel forced, like esoteric cultural material is being tacked on just for the hell of it. You even get a gratuitous symbolic crucifixion scene (unedited, thank you very much). Whether this actually adds to the depth of the story, or is just there to look cool and shocking, it's hard to say—the fight scenes take up so much page space that there's no time to develop the mysticism element any further. Speaking of fight scenes taking up the page, there is such a thing as drawing too much, and the artwork here can be excessive with all the thick lines. Bold imagery is good, but when it's all crammed together with no contrast, it loses its effectiveness.
FINAL VERDICT:
Another thrilling and violent escapade through the Age of Enlightenment, but if the story continues with its superficial schlock-horror ways, it's not much more than a
C+
.
---
MY HEAVENLY HOCKEY CLUB


Vol. 2
(by Ai Morinaga, Del Rey, $10.95)
FROM THE BACK COVER:
"Hana Suzuki has it good: she's the only girl in the Grand Hockey Club, and all the other members are super-hot guys. But the dream may be over. If the Hockey Club doesn't win its next match, the school will disband it! Hana and the boys are pretty much the worst hockey players ever. Can they get their act together in time to save the club?"
EVIDENCE FOR:
Good news, sports fans: the pseudo-Ouran Harem Club actually plays a hockey game this time ... not that they finish it or anything, but they do play. Not surprisingly, their athletic endeavor results in goofy slapstick humor, but that's what the series does best, so it's all good. Ai Morinaga just has this natural instinct for gag timing, guiding the storyline from one mishap to the next. The team's encounter with a poor rural school is a goldmine of class-struggle humor ("Poor people don't make any sense!" wails the princely male lead Izumi), taking the economic divide to outrageous new levels. Even when they're just farting around—complaining about their weight, vacationing in Okinawa, whatever—Hana and the boys manage to turn everything into a comedy of errors and misunderstandings. Flowery backgrounds and tones give the artwork a flashy touch, but it's the characters that still stand out the most, with the boys' good looks and clearly drawn visual gags. When Hana slams a door on Izumi, you can practically
feel
it. Now that's comedy.
EVIDENCE AGAINST:
Bad news, bishounen fans: this one is pretty much the Izumi and Hana show, and the rest of the team could just as well be replaced with stand-up dolls for all their participation. The only real "ensemble comedy" here is when the guys team up to flash their pretty-boy smiles. Anyone remember the other characters' names? No? No? See, that's how badly underused they are. Morinaga may be the master of situational comedy, but she doesn't quite have the knack for characters. That flaw is also what keeps the story from evolving; with no advancement of plot or character, the humor rests almost entirely on coming up with silly predicaments (the team tries some judo training! Izumi and Hana spend a night alone together!). Look, it's fine to have a sports series that doesn't take the challenge-and-victory route, but when the chosen route turns out to be a circle instead, one has to wonder how long it'll be before the humor run out of gas (and readers run out of patience).
FINAL VERDICT:
Well, it's only two volumes in so far, and there's still entertainment value to be had, so our favorite non-sports-playing sports team gets by with a
B-
.
---

ORETAMA (My Balls)


Vol. 1
(by Shigemitsu Harada and Takahiro Seguchi, Hakusensha, ¥530)
FROM THE ENCYCLOPEDIA:
"The Queen of Terror has been sealed away inside of Satou Kohta's balls in order to prevent her from wreaking havoc around the world. However, all is not well in Kohta's pants. A devil named Elyse has been sent to Earth to release the Queen from her unusual prison—at any cost. Elyse only has 30 days to make Kohta ejaculate in order to free the Queen. The future of mankind rests... on Kohta's balls."
EVIDENCE FOR:
You guys remember Midori Days? Where a hapless, sexually deprived teenage boy suddenly discovers that his right hand has turned into a cheery little girl? Think of this as a raunchy, adult-rated extension of that. The humor rides on two very simple principles: (1) Let's find out how many ways there are to make a guy shoot his load! (2) And then force him to hold it in. Naturally, this lends itself to plenty of absurd situations, but what's impressive is how the series manages to outdo itself with each successive chapter. You think it's bad enough when the demon inside Kohta tries to induce him into having a wet dream? How about when he gets magically circumcised? Or when his boss takes him to an illegal sex club? This fast-paced ecchi comedy will leave you shaking your head, but in a good way—you'll be shaking your head at just how creatively Kohta manages to squirm out of each situation. Oh, and Elyse's aversion to male genitalia makes for some hilarious depictions. (It really does resemble a monster, doesn't it?)
EVIDENCE AGAINST:
If you have taste, you will not read this. The premise itself is dumb enough, and the way it's carried out is even dumber. The plot simply repeats itself each chapter: demonic creature tries to make Kohta release the creature within, and each time Kohta miraculously avoids destroying the world. The only thing "creative" about this, apparently, is coming up with new porn poses for the loli-faced girls who are trying to stimulate Kohta's manly urges. Not that the art is particularly accomplished or anything—there's too much tone all over the place, the characters are generic-looking, if not copied (I see Mikuru, and a heavy dose of Disgaea) and the fanservice isn't much better than what an average H-doujin artist could do. It's ridiculous, it's lowbrow, and it's proof positive that anyone can come up with a toilet-humor idea and sell it as a publishable series. Only worth checking out if you seriously enjoy looking at cartoony naked girl parts.
FINAL VERDICT:
Yes, this whole series is riding on a gimmick, but it's a gimmick that actually works more often than not (provided you have the stomach for it).
---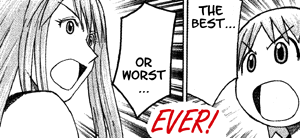 Sadly, for every ecchi comedy that succeeds (or barely gets away with it), there are many more that fail. Here's the bitter taste of failure in one of the
Worst Manga I've Ever Read:
IKETERU FUTARI


Vol. 1
(by Takashi Sano, Shonen Gahosha, ¥590)
Okay, we're only going to do the first volume of this one because I can't be bothered to read further in the series to see if "it gets better." If anything, Iketeru Futari only gets worse from chapter to chapter. It's a true product of its time, with schoolkids still using pagers (quaint!) and enjo-kosai (teenage prostitution) being a hot-ticket issue—and that's how the story gets started. Keisuke Saji accidentally catches a schoolgirl's call on his dad's cell phone, but when he goes to check it out, he discovers that his classmate Akira Koizumi likes to play pranks on older men by giving an incorrect self-description and then watching them hit on the wrong girl. Saji is the only one who sees through Koizumi's trick, and somehow, this leads to a one-night stand—but the next day at school, Koizumi is denying anything ever happened! Thus begins Saji's quest to win Koizumi's heart, which apparently involves lots of awkwardly timed pantyshots and random acts of undressing. The whole thing reads like a series of random fantasies that schoolboys like to imagine when they touch themselves in bed at night: hot classmate invites you to her house and undresses for you, or a big-breasted childhood friend shoves her goods in your face, or you win a basketball game to impress a girl. It's not like the story even has a direction—Saji and Koizumi's relationship makes about as much progress as a dog chasing its tail.
This would be almost acceptable if the characters or fanservice were at all attractive, but no. It's a parade of poorly proportioned faces, worse proportioned bodies, and—as mentioned before—awkwardly timed pantyshots that force the artwork into improbable angles. If you're going to do a garbage story about some meatheaded guy who scores with lots of girls, at least make the girls hot—but this one never even starts to approach that level.
---
discuss this in the forum (28 posts)
|