×
remind me tomorrow
remind me next week
never remind me
ANN Reader Survey • If you haven't had a chance yet, please fill out our annual survey, It's so helpful to us. As a thank you for filling out this massive survey, we're giving away 100 ANN subscriptions to people who fill it out.
read more
×
remind me tomorrow
remind me next week
never remind me
Subscribe to the ANN Newsletter • Wake up every Sunday to a curated list of ANN's most interesting posts of the week.
read more
RIGHT TURN ONLY!!
Lucky Eight
by Carlo Santos,


Have I been lured into buying a Nook yet? That's a very good question, and one that may be best answered by another question: Should I splurge on a Nook so I can read all the manga, or stick with my current tablet, with which I can view all the Crunchyroll anime ... ? Too many entertainment choices!
---
BLACK BUTLER


Vol. 8
(by Yana Toboso, Yen Press, $11.99)
FROM THE BACK COVER:
"When one curtain falls upon the big top stage, another rises behind the scenes, as young Earl Ciel Phantomhive and his virtuoso butler, Sebastian, face off against the villain absconding with the missing children. But as Sebastian, under orders from his master, single-handedly draws the gruesome tale to its sad conclusion on one front, battle lines are drawn on another! With the masterless Phantomhive Manor under attack from the Noah's Ark Circus and Sebastian nowhere nearby to protect its inhabitants, is Ciel's home once again headed for the same tragedy that took the lives of his parents?"
EVIDENCE FOR:
Admittedly, the previous volume's antics of
Black Butler joins the circus
didn't look promising. But good things come to those who wait, and this volume delivers all the high-stakes action one could ask for. The grim secrets of the circus and its owner are unveiled in all their grisly glory, the villains' back-stories are filled out for added drama, and even Ciel's normally bumbling servants get to show off their true skills (seriously, who keeps a machine gun in the kitchen?!) during the attack on Phantomhive Manor. This is also where Yana Toboso's art gets to shine: the Phantomhive servants square off against circus goons in a flurry of acrobatic fight sequences, and when Ciel orders Sebastian to unleash his demonic powers, we get page upon page of stunning fire-and-brimstone effects. Even the panel layouts are designed for maximum visual impact—it's hard to forget the perfectly framed shot of Sebastian carrying Ciel away from a burning mansion. Yet with all these serious incidents, the series' sense of humor still trickles through momentarily, with some cute Elizabethan-era slapstick as Ciel gets fitted for new clothes.
EVIDENCE AGAINST:
Normally, I'm not one to complain when a series comes barreling down the highway with intense life-or-death action. But
Black Butler
does too much, too quickly, resulting in a volume that is as confusing as it is thrilling. The first chapter, which finishes up the fight for Phantomhive Manor, is the perfect example of this: it continues from the previous chapter without even bothering to establish the scene, assuming that everyone will know
exactly
what was going on last time. (Even in serialization, that's a month between chapters!) After that head-scratching opener, the rest of the volume keeps charging onward with one over-the-top action scene after another, as if this will somehow cover up the lack of coherent storytelling. The art, with its emphasis on visual fireworks and "coolness" over clarity, also adds to the problem—sure, everyone is striking dramatic poses, but what for? When the circus arc does try to fill out the story with flashback scenes, it feels like a last-minute effort tacked on to the final act. Still, nothing will ever feel quite as tacked-on as the comedic last chapter, which is entertaining but meaningless.
FINAL VERDICT:
In terms of sheer action and impressive artwork, this one delivers the goods ... then leaves it all in a messy, crumpled-up heap. Sorry, but this volume scores a
C
.
---
CHI'S SWEET HOME


Vol. 8
(by Konami Kanata, Vertical, $13.95)
FROM THE BACK COVER:
"Kittens, at one point or another, have to set forth and explore the world. Whether it is to test their abilities or expand their territory, a few good excursions are a must for proper feline maturation. Outdoor cats in particular need to find a place of their own where they can settle in away from the pressures of humanity. But the little shorthair is going to have to learn when exploring and scouting is taken too far. There are many dangers out there, but sometimes, as there more resourceful kitties know, for the sake of personal growth challenges must be tackled head-first."
EVIDENCE FOR:
Well,
Chi's Sweet Home
finally went
there
. This volume does the whole "kitten stuck up a tree" scenario ... but does so with tongue-in-cheek humor, making the best of a cheesy situation. And it isn't just the tree incident where Chi battles the odds: this entire volume seems to be the action-adventure special, with stray kitten Cocchi leading Chi on a series of explorations. Squeezing through gaps in neighborhood walls, running from overexcited dogs, making mischief in an old man's shed (and then escaping dramatically when he comes after them)—each chapter flows seamlessly into the next, at a brisk pace that belies the series' supposedly "slice-of-life" nature. But it isn't all just scampering about the neighborhood: the rivalrous friendship between Chi and Cocchi develops more solidly in this volume than the last, and there's a brief, tearjerking moment where Chi recalls her mother once more. Through it all, Konami Kanata uses a simple art style to maximum advantage—the clean, compact panels move the action along quickly, while Chi's strong expressions and gestures make it easy to understand feline feelings. Bright colors also add an extra visual dimension.
EVIDENCE AGAINST:
Every now and then,
Chi's Sweet Home
still falls into the trap of those "Chi bums around the house and does nothing" moments. Is there anything to be gained by seeing Chi chase a frog, or try to eat snacks she isn't meant to touch, or try to disrupt her owners' daily lives? These scenes may be cute and fun, but they're also pointless. Even the chapter where Chi gets pink-eye and has to wear one of those comical "radar dish" collars, amusing as it may be, is simply filler to the story. Chi and Cocchi's adventures aren't immune to plotless meanderings either—quite a few times we see them chasing each other through the neighborhood, with no particular goal in mind. That may be how real cats operate ... but that shouldn't have to be how manga storylines operate. Oh, and those compact, fast-paced panels? They actually use the same technique over and over: a shot of Chi in motion and a "meow" floating in the blank space somewhere, which soon gets annoyingly repetitive.
FINAL VERDICT:
Even with some lulls, this volume of
Chi
is one of the most satisfying yet—a dash of adventure to go with the cuteness and humor, and good enough for an
A-
.
---
DAWN OF THE ARCANA


Vol. 2
(by Rei Toma, Viz Media, $9.99)
FROM THE BACK COVER:
"Princess Nakaba of Senan and Prince Caesar of Belquat only married each other for the sake of peace between their two warring countries, but things take a surprising turn when Caesar finds himself falling for his strange wife! Caesar tries to get Nakaba to return his feelings, but she maintains that he is her enemy and that she hates him. So when Nakaba has a vision of Caesar getting killed, will she say anything to save him?"
EVIDENCE FOR:
After a first volume that didn't really go anywhere,
Dawn of the Arcana
finally shows some direction in this one. A couple of assassination attempts against Prince Caesar sets the wheels of intrigue in motion, both on a political and emotional level. Various characters start claiming that they could and
would
do it, causing enough doubt to leave readers wondering what will happen next. Yet it's the doubt in Nakaba's heart that really drives the story: will she stand by Caesar out of loyalty to her husband? Or will the vengeful intentions of her childhood protector, Loki, guide her actions? Such a simple two-way dilemma, yet the moral implications are fascinatingly complex. And if that's not gripping enough, don't forget the subplot about the mysterious "Arcana" power lurking within Nakaba. The exotic costumes and fantasy setting make the artwork appealing, and with Loki flashing his blade more than a few times, there's some action going on as well. Simple, uncluttered layouts move the visuals along at a steady pace, and striking character close-ups really bring out the mood—especially in that climactic kiss scene.
EVIDENCE AGAINST:
Interesting story elements begin to show up in this volume, but it's still not enough. In 180 pages of material, we get two assassination attempts on Prince Caesar, and a whole lot of back-and-forth banter as Nakaba tries to decide whether she loves him or not. That's ... something you could probably squeeze into a single 36-page chapter. Plus, don't forget all the padding where Nakaba and Caesar spend alone-time together, arguing back and forth about their feelings. And even though Nakaba's Arcana ability is explained at last (in an awkwardly placed monologue from Loki), it still doesn't play a big enough role—instead, that magical power just works as a convenient poke-in-the-back to make Nakaba go do something. If this series doesn't pick up the pace soon, everything's going to stagnate: the drama, the politics, the magic, all wasted. The art needs a lot of help as well, with lots of blank or barely-filled-in backgrounds, and stiff, two-dimensional poses that show the limits of Rei Toma's skill. The castle interiors usually look half-finished, and the characters' attempts at action appear frozen in time. In those cases, simpler
isn't
better.
FINAL VERDICT:
It's an improvement from the debut volume now that serious plot elements are taking hold, but the shallow story content and underdeveloped art still hold this to a
C
.
---
A DEVIL AND HER LOVE SONG


Vol. 1
(by Miyoshi Tomori, Viz Media, $9.99)
FROM THE BACK COVER:
"Meet Maria Kawai—she's gorgeous and whip-smart, a girl who seems to have it all. But when she unleashes her sharp tongue, it's no wonder some consider her to be the very devil! Maria's difficult ways even get her kicked out of an elite school, but this particular fall may actually turn out to be her saving grace...
Maria's frank nature gains her more enemies at her new school, but her angelic singing voice inadvertently catches the attention of Yusuke Kanda and Shin Meguro. Can these boys mend her hardened heart, or will they just end up getting scorched?"
EVIDENCE FOR:
Few manga protagonists are as striking as Maria Kawai—an antiheroine who's completely willing to make herself the bad guy, if that's what it takes to expose phonies and upend traditional classroom hierarchy. It's hard to imagine cheering on someone who acts standoffish or even mean to her peers, but behind that façade lies Maria's uncompromising principles and rebellious streak, which is what makes her so appealing. There's no sweeter satisfaction than seeing her stand up to the girls who run the class and call them out on their deceit—haven't we all wished for that kind of courage (and the snarky attitude to go with it)? The occasional glimpses of her soft side also add to Maria's charm; when Yusuke helps her out after a foot injury, Maria's mellow reaction reveals that her personality may not be as harsh as previously imagined. Then again, her stunning "femme fatale" character design also makes it hard to gauge just what kind of person she is. Looks, as they say, can be deceiving—especially when all the main characters are so attractive at first glance.
EVIDENCE AGAINST:
Aside from having a really interesting main character, is there anything actually good about
A Devil and Her Love Song
? A compelling storyline with a purpose? Nope, don't see it. A strong chemistry between the main romantic leads? Don't see it either ... And forget about social commentary on the dynamics of high school friendships. Ultimately, the series has one strong element, but dumps it into a mishmash of poorly planned clichés. You'll probably find yourself wondering, "What is the point of this? Is the story going anywhere?" It's sort of about Maria dealing with the mean girls, but then it's not; it's sort of about her meeting those two cute boys, but then it's not. This lack of focus throws the storyline into a death spiral of meaninglessness—and it's only Volume 1! The artwork also fails in many ways, most notably with Maria wearing the same droopy-eyed pout on her face the whole time. Worse yet, the page layouts show no sense of logic: panel size and position seem to be decided at random, canceling out any dramatic scenes. The generic classroom backgrounds also makes it hard to find anything visually interesting about the setting.
FINAL VERDICT:
While this does have some appeal with a rebellious lead character, the unremarkable art and a dull, meandering storyline drag it way down to a
D+
.
---
RIN-NE


Vol. 8
(by Rumiko Takahashi, Viz Media, $9.99)
FROM THE BACK COVER:
"After a mysterious encounter in her childhood, Sakura Mamiya gained the power to see ghosts. Now a teenager, she just wishes the ghosts would leave her alone! Then one day she meets Rinne Rokudo, a boy who is far more than what he seems.
Rinne finds himself acting as a mentor for the shinigami Shoma, an elementary school student from the afterlife. Although Shoma is supposed to be learning how to help spirits pass on, he only wants to go after the biggest evil spirits he can find—despite the fact that he's never done it before! The devil Masato offers Shoma an easy road to success, but can Rinne show the young shinigami the right path?"
EVIDENCE FOR:
Just as in previous installments,
Rin-ne
never misses a chance to poke a little fun at itself and the whole ghost-hunting genre. If all the great urban legends and mysteries are about finding the creepy among the mundane, then it's
Rin-ne
that smartly points out how silly some of the mundane stuff is: spiritually unhappy pet alligators, a possessed hand-knitted scarf, or a disgruntled ex-student haunting the home economics kitchen. But more than just spilling out ideas at random, Rumiko Takahashi goes one better in this volume and strings several of them together—the result being the Shoma storyline. What starts out as a babysitting scenario blossoms into full-fledged shinigami combat when demon Masato steps in, and that rollercoaster ride from comedy to action (and back) is part of what makes the series so fun. Takahashi's prolific imagination also means a fresh roster of eye-catching supernatural creatures, some of which are huge and monstrous and some just downright cute. The freewheeling, fantastical art also lends itself to witty visual gags (you'll love the "fried chicken ghost") and pratfalls that deliver the series' trademark humor with ease.
EVIDENCE AGAINST:
At this point, it's really starting to look hopeless that
Rin-ne
will ever evolve beyond brief, episodic ideas. The Shoma arc shows some ambition, but it's really just an expanded version of every other chapter: a new character appears, becomes the central figure of some supernatural crisis, and Rinne and Sakura have to solve the problem. (Come to think of it, Sakura barely even gets to participate this time, being relegated to a cheerleader in the later stages.) Even the climactic battle between Rinne and Masato is a disappointment—eventually they just end up chasing each other and shooting enchanted spells back and forth. The other chapters, meanwhile, are so lightweight that their storylines are barely worth critiquing: there's that obligatory hint of romance that never goes anywhere, and some forgettable school incidents starring classmates who'll never be seen again. Apparently, having lots of silly ideas means it's okay to treat them as disposable. Also, the series' full artistic potential is never explored—no trips to the Underworld and no major bursts of action (aside from Rinne and Masato's showdown) means we just get all the same old schoolroom and neighborhood shots.
FINAL VERDICT:
It shows some promise when the elementary schoolkid enters the picture ... then never lives up to it, settling for cute but lightweight storylines that get a
C+
.
---

AMAZING AGENT JENNIFER


Vol. 2
(by Nunzio DeFilippis, Christina Weir and Kriss Sison, Seven Seas, $10.99)
FROM THE BACK COVER:
"Back when Jennifer Kajiwara was a rookie agent, well before she became
Amazing Agent Luna
's no-nonsense handler known as 'Control,' she aced her freshman year at the Agency. But her first field mission did not go as planned. When an important political figure is assassinated, Jennifer and her team become fugitives in the rogue state of Bruckenstein. Determined to learn the truth about the murder, Jennifer discovers someone close to her may have betrayed her. Embroiled in a game of love and espionage, she will be forced to question everything she believes in. The answers she finds will lead to an ultimate showdown that could either break her or make her into a master agent herself."
EVIDENCE FOR:
It may be a side-story prequel to
Amazing Agent Luna
, but the finale of
Amazing Agent Jennifer
is complete enough to stand on its own as a spy-thriller masterpiece. It's one twist after another as the Bruckenstein mission snowballs into a full-fledged international crisis—dramatic escapes, shocking deaths, and a behind-the-scenes betrayal that is masterfully concealed until right before the end. With so many double-crosses and changes of heart, it's a non-stop rollercoaster trying to guess who the real heroes and villains are. As the story develops, Jennifer's emotional arc hits all the right spots: confusion, anger, grief, introspection, and finally, noble determination as she fights for truth in a duplicitous world. At one point she even revisits that annoying college friend from Volume 1 ... and it ends up being a vital turning point in the story. The clean, stylish artwork suits the genre perfectly—fast-paced action scenes make effective use of dynamic poses and tricky angles, while meticulous backgrounds of European architecture set the scene for the Bruckenstein mission. Yet even with all this action, the memorable character designs make every fight scene a breeze to follow, right up to the satisfying finale.
EVIDENCE AGAINST:
While it succeeds as a spy thriller, the series' original intention as Jennifer's back-story gets rather sidetracked by all the political ping-pong. Things like her romantic involvement with Agent L are mentioned only out of necessity in the story—the rest of the time it's more like she's married to the Agency and trying to work
that
relationship out. As a result, Jennifer's love life never seems convincing. Meanwhile, her family connections are touched upon in one scene, but are otherwise left to rot. The one part of Jennifer's "normal life" that does get sufficent coverage is the relationship with her former college roommate—perhaps too much so, because it ends up being 80 percent idle chatter, some emotional counseling, and one dramatic revelation. There are also some balance issues with the artwork, where a lot of critical scenes get the plain white background treatment. While this is understandable for the sake of clarity, it soon becomes hard to believe that almost every hallway and room in Bruckenstein has perfectly smooth, unadorned walls. A little dirt and detail wouldn't be such a bad thing.
FINAL VERDICT:
If you felt that Volume 1 was interesting enough to check out, you'll be well rewarded with this thrilling finish—all the action, intrigue, and drama is worth it.
---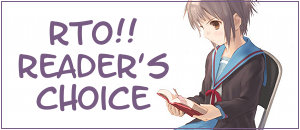 Guess who's back! Nope, guess again ... this time
Jean-Karlo
returns with a review for a rather surprising comedy. If you've submitted to RTO!! before or are a brand new reader, it doesn't matter—your reviews are always welcome, and fresh opinions are the lifeblood of Reader's Choice!
FUJOSHI RUMI


Vols. 1-3
(by Natsumi Konjoh, Media Blasters, $11.99 ea.)
Fujoshi Rumi
(written and drawn by Natsumi Konjoh, published in the U.S. by Media Blasters and Jmanga.com) is a unique beast. The concept reads like a bad rumor spread by high-schoolers: Abe is in love with Rumi, but Rumi thinks that Abe is in a homosexual relationship with his best friend, Chiaki. Matsui is fiercely protective of Rumi, although she can't deny the riotous sexual tension she has with Chiaki. The execution, thankfully, is more like a shojo-romance told from the perspective of the boy: Abe can't get his intentions through to Rumi because she's so entrenched in yaoi culture that she can't fathom the concept of heterosexual relationships.
The love triangle (quadrangle?) is rather messy, and most of the plot twists are either forced (like the resolution to Rumi's "Kaworu" moment) or just confusing. Is Matsui really in love with Rumi? Was Chiaki just posturing when he kissed Matsui? Thankfully, these twists get lost amidst the character interaction. One-note personalities they may be, but who says they can't be likeable? What's annoying is Konjoh's cluttered art style. The character designs and backgrounds are crisp enough, if not slightly simple, but there are editor's notes packed in every inch of blank space, explaining the numerous otaku references that Rumi and Matsui toss out. This leads to the next flaw: the references themselves. You'd imagine that mecha fans would love this series, given all of the allusions to
Gundam
and
Evangelion
, but the rest of us who don't have Char Anzable shrines will have to settle to referring to the glossary in the back of the book.
Despite these flaws,
Fujoshi Rumi
is an entertaining read. Abe is the source of much delicious schadenfreude, and the combined antics of Matsui and Chiaki are endearing to a surprising degree. Rumi is the female equivalent of the cast of
Genshiken
, rolled up in a pigtailed package, and our occasional glimpses into her mind show us how deep the rabbit hole that is yaoi fandom goes. The fanservice can get forced at times, as well as shockingly risqué, but it is thankfully used sparingly. Mecha fans will come and stay for the
Gundam
allusions, but everyone else should come to laugh wryly at the mess Abe is getting himself into. Recommended, but with some reservations. Please note that Media Blasters only released the first three volumes, which are still in print. Interested readers can also find
Fujoshi Rumi
[as "Otaku-Type Delusion Girl"] on Jmanga.com.
---
Is there a hidden gem of manga you'd like to reveal to the world? Is there a piece of garbage that deserves to be bashed in public? Or is there a title that didn't get a fair grade here, and you want to set the record straight?
Now's YOUR chance to be the reviewer! Write a review of about
300-400 words
(a little more or less is fine) and include:
- Your name
- Title of manga (and volume no., if applicable)
- Author/Artist
- Publisher
- Briefly describe the story, then explain why this manga is great, terrible, or in between. Be objective, but also be entertaining.
Then send it in to
rtoreaders (at) gmail (dot) com
(plain text format preferred). One review will be selected out of all the submissions and will be published in the next column. All types of manga and manga-inspired comickry are accepted, from past and present, from Japan and beyond—what matters is that it's the Reader's Choice! NOTE: Submissions may be edited for formatting and grammar.
---
discuss this in the forum (10 posts)
|