×
remind me tomorrow
remind me next week
never remind me
Subscribe to the ANN Newsletter • Wake up every Sunday to a curated list of ANN's most interesting posts of the week.
read more
The Gallery
Yasmin Saaka
by Evan Miller,

This week's banner comes to us courtesy of last week's featured artist, Alice Meichi Li. Click the banner for the full version, and be thankful that Alice drew the banner instead of me (unless you like poorly drawn stick figures). Thanks Alice!
This week, we present the tale of an artist who won Tokyopop's Rising Stars of Manga contest and lived in Japan for a year. Both experiences have affected her style - but not in the way one might expect.
---

Original work for The Gallery

"Renegade"
In becoming an artist, the path to achieving some kind of legitimacy can be as difficult as the process of making art a profitable career. Yasmin Saaka knows this truth all too well; when she first talked with her parents about attending art school, their disapproval spurred her down a different path - to Williams College in Massachusetts, where she is currently a senior majoring in Japanese. Consequently, she can't devote all of her time to her artwork. However, a few life-changing events since the beginning of school a few years ago may have changed the role that art plays in her future.
Saaka first gained an interest in art much like many other North American anime fans. After years of creating doodles and sketches as a child, she was exposed to the Sailor Moon anime at a young age and quickly became a fan of the genre. Although a long time has passed since then, Saaka admits that some of the first manga she ever read still influence her drawing style. Specifically, ever since she read CLAMP's manga X in fifth grade, the influence the group has had on her style has been significant.
Inspired by her love of manga, Saaka kept working on her own drawing skills by creating her own webcomic when she was in eighth grade, a fantasy-romance tale called Target. As her first experience with drawing manga on a regular basis, the series was usually unplanned and eventually became more of an opportunity for her to practice drawing rather than a series that followed a set storyline. Eventually, Saaka decided that the most important changes she could make to her work weren't based in how she drew, but how she planned out and organized how the works themselves would come together. "I've always been a bit impatient," says Saaka, "but the prior planning really helped me improve my work."With a new planning-focused work philosophy in place, she decided to end Target and set her sights on bigger challenges; namely, applying to Tokyopop's Rising Stars of Manga contest.
The hard work paid off in 2006, when Tokyopop awarded Saaka with the second place award and featured her story Girl/Boy in the sixth volume of Rising Stars of Manga. After many years of applying to the contest, the win vindicated Saaka's efforts - and inspired a bit more support out of parents and others who had previously questioned her pursuit of being a professional artist. However, after the excitement surrounding the contest died down, the prevailing emotion was not happiness, but confusion. After trying to achieve a Rising Stars win for so long, Yasmin Saaka now found herself at a creative crossroads where she wasn't exactly sure where she wanted to go as an artist. Fortunately for her, another unique experience was waiting Just Around the Corner - one that would not only impact how she worked, but how she viewed the entire experience of being a manga artist.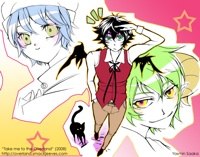 "Overland"
In 2007, Saaka left for a year of study abroad in Japan at Dōshisha University in Kyoto. After adjusting to life in Japan and visiting a few manga clubs at other schools, she joined the Dōshisha club, known as the "Manga Research Club." After years of working on her manga by herself, Saaka found herself in an environment where working in a group to produce a club dōjinshi was the standard. Her first impression?
"It's not like everyone there is trying to become a professional artist," said Saaka. "It felt like I could simply join in a group of friends and do what I love." It didn't take long before the longtime solo artist embraced the surprisingly stress-free environment of the club, sharing a love of drawing, swapping story ideas, and exchanging works that spanned all genres and talent levels. The intimidating image of a tough group of aspiring manga-ka was just a mirage; for Saaka, the environment was the perfect place to share what she loved to do with other like-minded fans. Of course, the experience came with all sorts of other memorable moments, from Karaoke nights, festival trips, and the occasional drinking party. According to Saaka, the club experience also showed her that some manga is more realistic that is seems, admitting, "I can't help but compare [the experience] to Genshiken!"
Now, back in the States for her senior year, Saaka finds herself working on a new project: a webcomic called Overland. Saaka views the work as more than just another piece in her portfolio, calling it her best opportunity to "show off" what she has learned from all her experiences: to plan, to correct the little mistakes in her work, and most of all, to have fun with the hobby she loves. "Self confidence is always a factor," says Saaka, who confesses that there is a constant struggle between figuring out her strong points and winnowing out the places where she could improve. One thing is certain though; Yasmin Saaka has come quite a long way from her Target days, and if she keeps at it, the "hobby" she loves so much could become a career before she knows it.
---
IN DEPTH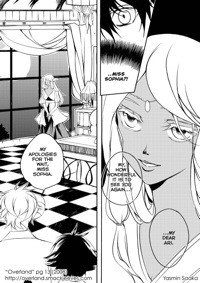 Page 13, "Overland"
ANN: I get a lot more of a macabre feel from your recent works; was there something specific that motivated that change?
Yasmin Saaka: I guess I'd attribute it to a mere change in my reading materials. Initially the majority of what I read consisted of shoujo manga, so most of my inspiration came those sources. As of late I've been reading a lot more shounen, seinen, vintage shoujo, and aside from the usual Japanese fare, American comics in general. I've been really inspired to reevaluate my inking, which has come down to attempting to use starker lines and more black. While I would hesitate to say my current art is drastically different from it's ever been, it's a gradual change that I hope to refine as I move along.
ANN: You're currently working on the series Overland. What did you set out to do differently with this series when compared to your past works, such as Girl/Boy?
YS:Well, over the past few years I've mainly been focused on stories dealing with romance, drama; typically more shoujo-esque comics (Girl/Boy is a prime example of that sort of work). Overland is bit of a departure from that, as I'm planning for it to be more of an adventure story with patches of drama here and there, but not entirely dramatic in general. Judging from the responses of the eighteen or so pages I have up so far, people are finding it, if anything, more humorous at times. Overland is also a departure from some of the artistic choices I've implemented over the years. I'm trying to go for a more solid, clearer look to the pages instead of the usual light and wispy art I've done in the past.
ANN: You mentioned that planning a lot of things ahead of time has helped you create better work, not to mention win Rising Stars of Manga. Do you usually start this planning process the same way each time, or do you mix it up a bit? What kind of planning process went into Overland?
YS: For the most part I start the same way with each of my comics. It usually begins simply as a specific scene I want to illustrate, and from then I write a paragraph or two elaborating on the concept behind that scene. Since I've been doing short stories for a while, usually the concept encompasses the entire story and from that point on I start working on a script based on it. For Overland, since it's a longer story, I'm finding that along with the general synopsis I have to write little summaries of what happens in each chapter before writing a script. My scripts usually consist of little more than dialogue, as I sketch out thumbnails while writing the script. All in all, as much as this seems like a lot of initial work, it makes the actual creation of pages that much more easier, since everything else was planned in advance. Furthermore it leaves room to edit things early on, and fix little problems before they become too much to handle. I've made it a rule to only continue on a page if I can complete it and be happy with what I produced-after all, there's no point in worrying about what you could have done better if you do your best from the beginning.

"Ophelia's Demise"
ANN: What inspired the kind of character design you used for your representation of Ophelia from Shakespeare's Hamlet?
YS: To be honest, rather than focusing on the character, I wanted to focus on the emotion of that scene and try my best to render it sequentially. In that respect, Ophelia's design was probably one of the things I paid the least amount of attention to as opposed to the general design of the page. Instead, it's the decent into madness leading to her eventual death by drowning that takes center stage.
ANN: Do you feel like your Japanese friends in the Manga club at Dōshisha responded and interpreted your work differently when compared to your American readers?
YS: At first they were very surprised at how "wafuu" (or "Japanese-esque") my work was. It seems that they were expecting something more like superhero comics, or something more akin to what you'd see in American newspaper comic strips. Nonetheless, they were very accepting of it, and even let me do the cover to one of the dōjinshi we made later that year. Oftentimes when I'm in America I feel I have to explain why my art is more "Japanese-esque" (for lack of a better word), but I felt like within the club we could push aside labels and simply look at each other's work for what it is—comics. I often had to catch myself from referring to manga as if it were something different than comics because, frankly, when speaking Japanese in Japan that differentiation simply doesn't exist, so no one would understand what I meant if I described my work as "manga-inspired". If you think about it in English it's like, duh, of course it's comic-inspired, it's a comic!

"Amelia's Flight"
ANN: Tell us a bit about Amelia's Flight. What made you want to explore a kind of "fairytale" feeling in this work?
YS: Amelia's Flight is a short story I would like to work on one day about a little chicken girl who wishes to fly. This is the only page I've done from the story as of yet (a few more are sketched out, but this was mainly done for practice). I was going for a theatrical look for the characters and the pages of this story. All of the characters are supposed to be different animals (in this page you have Amelia, the chicken, looking up in awe at a swan she admires very much), but rather than literally giving them features of the animals they are, I wanted to design them as if they were actors (or dancers, I should say) in a play representing their animal. Following this idea for example, the concept of "flight" is represented by dance; chickens typically don't fly long distance and tend "fly" in short hops, so I'd imagine that as more of contemporary sort of dancer opposed to the graceful swan, which I try represent through a ballerina-inspired design. Additionally, I was very inspired by classic shoujo manga, as many of them have a very dreamy and "fairytale"-like look to their pages.
ANN: For Overland, which one of the characters did you find was the most difficult to create?
YS: While I wouldn't say that any character in particular was hard to create (on the contrary, most of the designs for the characters came to me quite easily!), there are certain characters that I have to focus more on keeping on model than others. In particular, Viktor's design is more stylized than I'm used to, and I find myself constantly having to keep myself from softening his features simply because I'm way more used to drawing characters that fall more in the realm of "cute/pretty" than "creepy", which Viktor more often than not is. However, this is precisely the reason why Viktor is probably one of my favorite characters to draw, the slight challenge makes it fun to render him. 
---
Want to check out some more of Yasmin's work? Here's where to go: 
Yasmin's online portfolio contains samples of her many works from throughout her career. If you want to check out Overland, the comic can be found on a separate website here. She also maintains a deviantArt page here. 
---
Are you an aspiring manga artist looking for some extra page views? Do you have a friend or loved one who draws extremely good original manga but needs a boost? Don't just sit there! Submit two links to your work, including one original piece (no file attachments please! File attachments shall be converted into plastic bags for supermarket use), to evan [at] animenewsnetwork dot com, and you could be featured in a future Gallery column!
All works © Yasmin Saaka.
---
discuss this in the forum (5 posts)
|