News

My Hero Academia Reveals Character Designs For Momo Yaoyorozu, Fumikage Tokoyami

posted on by Rafael Antonio Pineda
The official website for the television anime of Kōhei Horikoshi's My Hero Academia (Boku no Hero Academia) manga revealed the character designs in and out of costume on Monday for characters Momo Yaoyorozu and Fumikage Tokoyami. This year's ninth issue of Shueisha's Weekly Shonen Jump magazine announced the voice cast for the two characters on Monday.
Marina Inoue (Haganai's Yozora, Owarimonogatari's Sodachi) as Momo Yaoyorozu


Yoshimasa Hosoya (Free! Eternal Summer's Sōsuke, Haikyu!!'s Asahi) as Fumikage Tokoyami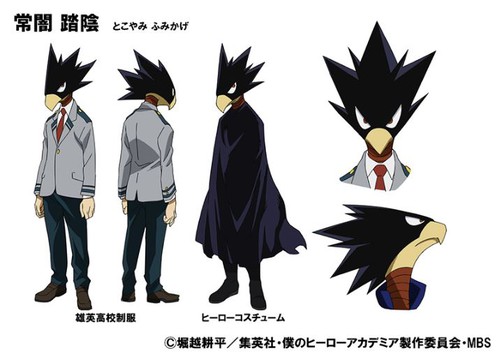 The rest of the anime's cast so far includes:
Daiki Yamashita (Yowamushi Pedal's Sakamichi Onoda, Log Horizon's Tōya) as Izuku Midoriya
Kenta Miyake (Assassination Classroom's Akira Takaoka, JoJo's Bizarre Adventure: Stardust Crusaders' Mohammed Abdul) as All Might
Nobuhiko Okamoto (A Certain Magical Index's Accelerator, Bakuman.'s Eiji Niizuma) as Katsuki Bakugō
Ayane Sakura (Love Live! School idol project's Arisa Ayase, Terraformars' Eva Frost) as Ochako Uraraka
Kaito Ishikawa (One-Punch Man's Genos, Gargantia on the Verdurous Planet's Ledo) as Tenya Iida
Aoi Yūki (ERASED's Kayo Hinazuki, One-Punch Man's Tornado Tsumaki) as Tsuyu Asui
Ryou Hirohashi (Girl Friend BETA's Nozomi Miyauchi, Baccano!'s Chane Laforet) as Minoru Mineta
The anime will premiere in April on the MBS/TBS channel network's "Nichigo" timeslot every Sunday at 5:00 p.m.
Kenji Nagasaki (Gundam Build Fighters, Classroom Crisis, No. 6) is directing the anime at the studio BONES (Blood Blockade Battlefront, Concrete Revolutio, Fullmetal Alchemist). Yousuke Kuroda (Gundam Build Fighters, Honey and Clover, Trigun) is overseeing the series' scripts. Yoshihiko Umakoshi (Air Master, Heartcatch Precure!, Berserk) is designing the characters for animation.
Images © Kōhei Horikoshi / Shueisha, My Hero Academia Production Committee, MBS
Source: MoCa News
---