Level E (manga)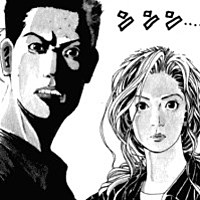 Alternative title:
レベルE (Japanese)
靈異E接觸 (Chinese (Taiwan))
Plot Summary:
Tsutsui Yukitaka is a freshman who has finally convinced his parents that he is ready to live on his own. When he arrives at his new apartment, he is surprised to find that someone has arrived before him; A young man who claims that he is an alien and that he is suffering from amnesia. A series of short stories involving aliens on Earth.
User Ratings:
36 ratings have been given [details]

 Masterpiece: 6 votes

(Eng:2, raw:2, dub:1, sub:1)

 Excellent: 7 votes

(sub:3, Eng:2, edit.dub:1, dub:1)

 Very good: 13 votes

(sub:6, Eng:5, dub:1, raw:1)

 Good: 6 votes

(Eng:4, sub:2)

 Decent: 4 votes (raw:1, Eng:1, sub:1, others:1

1 Portuguese

)

Seen in part or in whole by 80 users, rank: #997 (of 5143)
Median rating: Very good
Arithmetic mean: 8.139 (Very good), std. dev.: 1.2054, rank: #772 (of 5310)
Weighted mean: 8.026 (Very good), rank: #900 (of 5310)

(seen all: 8.19 / seen some: 7.22)


Bayesian estimate: 8.000 (Very good), rank: #474 (of 3031)

Volumes:
#1. An Alien On The Planet
#2. Here Come Color Ranger!!
#3. Full Moon...!
Vintage:
1995 to 1997 (Shonen Jump 1995 No.42 to 1997 No.3+4)
Official website:
You can contribute information to this page, but first you must login or register
Japanese staff
Japanese cast

(none)


Japanese companies
French staff
French companies

(none)


French cast

(none)


Portuguese staff
Portuguese cast

(none)


Portuguese companies
Chinese (Taiwan) staff
Chinese (Taiwan) companies

(none)


Chinese (Taiwan) cast

(none)

This encyclopedia is collaboratively edited by the users of this site
# A B C D E F G H I J K L M N O P Q R S T U V W X Y Z
Manga anthology